The Challenge
Attendees want to spend time making valuable connections, not waiting in line.
Open Banking Excellence (OBE) is a leading event organisation working with global brands like Mastercard and Equinix to build a community of like-minded banking experts from all around the world.
But to grow the community and keep attendees coming back, OBE needed to provide a seamless event experience.
Members want to spend their time making valuable connections with like-minded people from the financial sector, not on things like wasting time waiting to sign in or searching for event information.
Are you looking for a partner to help you create a successful Events app?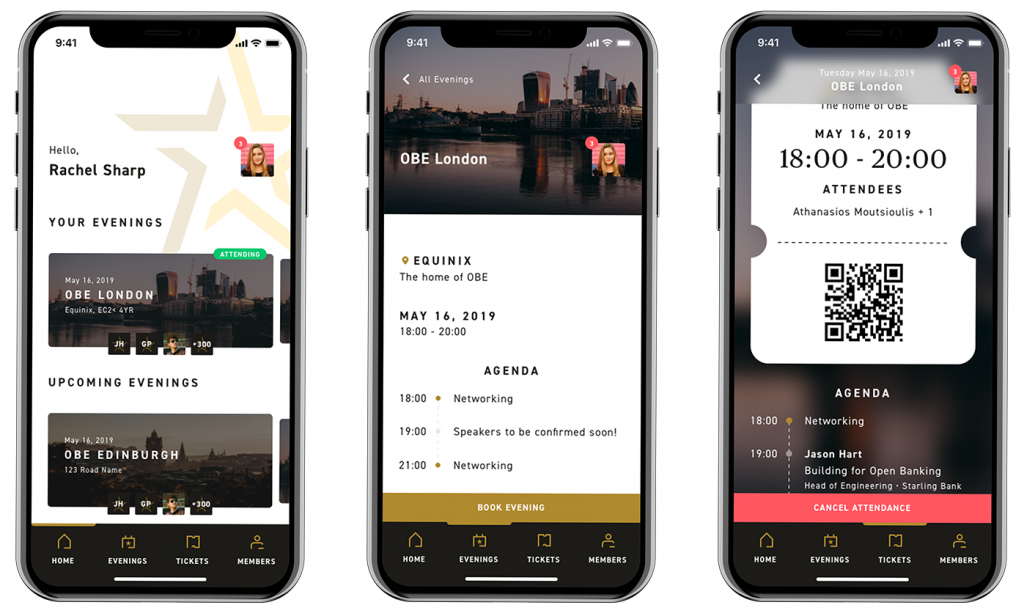 Our Approach
We interviewed the attendees, speakers, and organisers.
Our design lead attended an event at every location to observe the entire experience for themselves from start to finish. This gave us the chance to ask attendees questions and examine different people's behaviour throughout the evening.
We followed this up with a user focus group and round of one-to-one interviews which showed us what the audience wanted from the OBE app. But, more importantly, it showed us their key frustrations, motivations and goals.
It was also important to understand the organisers' challenges which we identified during a workshop. It was here our designers understood the frustrations organisers had with their existing solution: an off-the-shelf app that stopped OBE from owning the relationship with its audience.
The OBE event app, had to balance what attendees wanted with OBE's business goals.
"The initial feedback we've received from the user testing so far has been fantastic. Not only does the app perfectly compliment our brand, but it also lends credibility to our community too."

Helen Child, Co-Founder at OBE
The Solution
A personalised event experience for every attendee.
Registration through the OBE app is superfast. Ituses geo-location to recognise as soon as users arrive at the venue. When they launch the app, their unique QR code ticket is pinned to the home screen for instant access. A sign-in process that used to take minutes now takes seconds.
As soon as users successfully register, the home-screen ticket is replaced with an up-to-date agenda for the evening showing topics, speakers and sponsors. All this information is visible in real-time to OBE, showing them exactly who attends each event without having to manually cross-check their list.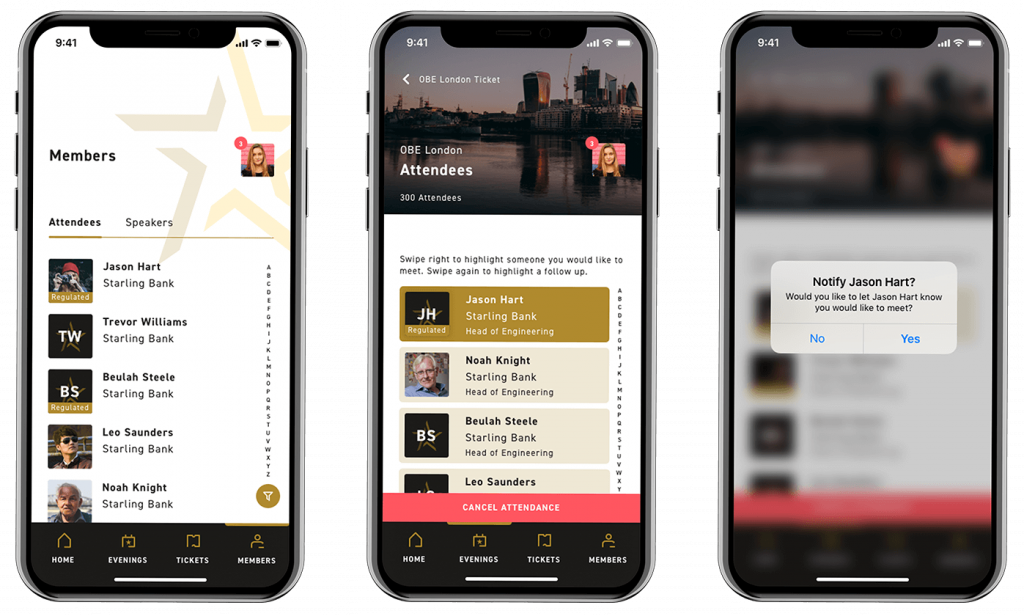 The OBE app enhances networking for attendees. Leading up to each event, users can see exactly who else is attending. Each member has their own profile with contact details, a photograph and professional bio.
With just a swipe, users are able to highlight the key players they want to network with. During or after an event, a second swipe lets users quickly highlight the key players that they need to follow up with. This intuitive UI design encourages more connections and collaborations.
In-app notifications are personalised making them more engaging. As part of its onboarding process, the app lets users choose the communications they wish to receive, locations they're interested in and the reasons they're attending. Based on this, members receive personalised push notifications suited to their specific interests.
For example, users wanting to learn more about open banking regulations receive notifications with upcoming talks and topics of interests. Those interested in networking, however, get real-time updates letting them know if members they've shortlisted register for an upcoming event.
Making a difference.
£564m of Gift Aid isn't reaching UK charities each year. But an integration with Swiftaid's Gift Aid service means OBE charities get an extra 25% automatically.
While every event is free, attendees can choose to donate to a charity that resonates closely with OBE and its founders: MyBnk, SSAFA, and EACH.
Let's build a best-in-class event app.