Increasing app downloads for Explore Thames by 90%.
We worked closely with British Marine Thames Valley, an association of British Marine, to make their River Thames guide 'Explore Thames' interactive. For those living, visiting or exploring locations near England's longest river, this is the mobile app for them.
The app was originally established in 2014 to assist users who were either visiting locations along the Thames or searching for things to do. Users can specifically state which attractions/places of interest appear as their results by choosing from a range of options including boat hire, hotels, historical land marks, fishing sites and more.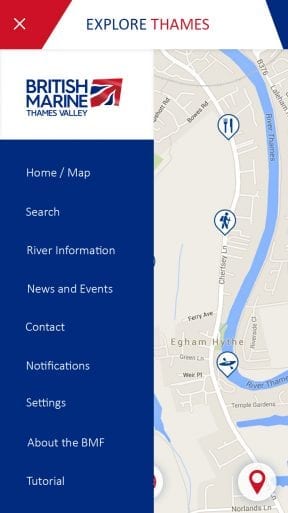 An embedded Google Map on the homepage ensures that users are always aware of their current location in real time; and through push notifications are kept up to date with the latest news and environmental developments. In addition to this if users find a place of interest of their own which isn't listed on the app, they can recommend this directly to the British Marine Thames Valley team by dropping a pin directly on the map and adding a comment.
British Marine Thames Valley then decided that it was time for a rebrand, and this is where we assisted once more. Utilizing the brand's traditionally British colours of red, white and blue, we ensured that these were replicated throughout the app to give it a slicker, more modern, user-friendly feel. The redesign also reinforces British Marine's dedication to promoting local business across one of Britain's oldest and valuable assets, the River Thames.
The app continues to be a success on the App Store and has witnessed an incredible increase in App Store views, which in turn has lead to a 90% increase in downloads (QOQ).