Tatlin
Art collecting is a billion-pound industry and a passion that sweeps across the globe. Despite there being art-focused apps available, the visibility of art pieces, their movements and individual collections are often hard to follow in the real world.
Our client behind Tatlin wanted to launch an app that allowed exhibitors and collectors to view, make purchases and follow various art pieces. Together, we created two versions of the app, one for exhibitors and one for collectors, giving the user a fully personalised experience.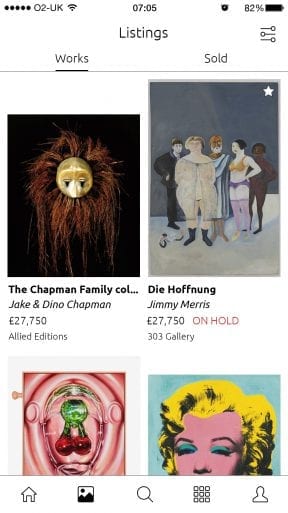 Both galleries and collectors can create social profiles, search artworks, upload their own collections and follow other users.
Galleries have the additional option to sell artwork, giving Collectors the opportunity to put pieces on hold to initiate a sale. The app provides the initial communication between the collector and the gallery to begin the purchase process, which is then continued offline.
The app also supports natural mobile gestures, inducing a long press functionality, creating more interactions and simplifying the user experience. Users can tap and hold images to display more options, such as follow, contact gallery or add to favourites.
Tatlin is the ultimate art collectors app, bringing exclusive exhibitors and collectors together. Giving users a platform to showcase, search for, buy and sell their favourite art pieces.
Access to the app is by invite only.