Driving customer engagement for Schwartz and Morrisons
Schwartz approached Sonin to complete a discovery phase looking to create a personalised app experience for their customers and help make cooking new dishes easier.
We explored how Schwartz could both engage with their customers and strengthen their brand image through the most accessible technology. We reviewed progressive technology, including Facebook Messenger, voice systems such as Alexa and Google Home and of course mobile.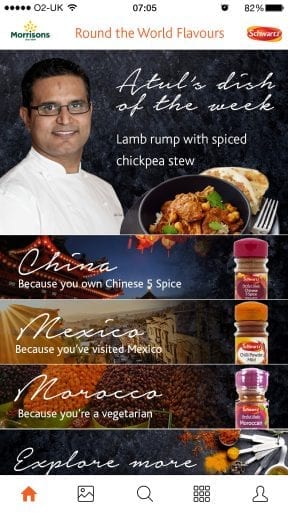 It was key for Schwartz to be able to reach the consumer in the moment, whether that was in their kitchen, on their commute or in the supermarket.
Following a series of focus groups and user flow workshops, we conceptualised a campaign that supported a number of key user requirements; cooking healthy meals for a family unit, having the ingredients list to hand when shopping and knowing what recipes use ingredients they already own.
The discovery phase revealed that people want to cook, but often found they didn't have the right ingredients when they started cooking, lost the recipe or couldn't remember what seasonings they already have when they're in the supermarket.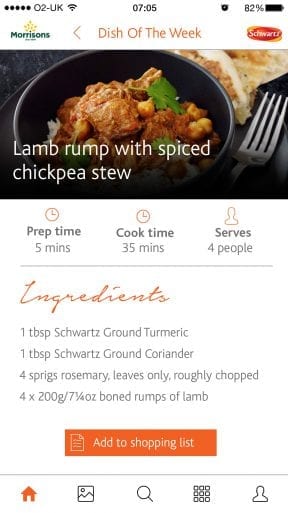 The Schwartz brand app concept included a digital spice rack feature, allowing users to input the seasonings they already own by scanning the bar-code, and also supported shopping basket integration with Morrison's, streamlining the online ordering process and automatically updating the users Spice Rack with future purchases.
Using data on previous purchases and the digital spice rack allows Schwartz to personalise the entire app experience, by suggesting new recipes dependant on the spices and herbs a user already owns.
To encourage continual engagement throughout the year, seasonal personalised content can be pushed to the user, using smart algorithms to understand not only the spices a user owns but also the recipes they've made before, the types of food they like and the people they are cooking for.
The Schwartz app concept utilises the latest technology to engage with the user in the moment and provide a personalised app experience.