Helping people create and share their memories with SwonSong
In today's digital world where smartphones and tablets allow us to communicate with friends and family in an instant, SwonSong saw an opportunity. They wanted to create a mobile platform to extend our communications after we've passed and create digital memories for loved ones to cherish forever.
We worked closely with the SwonSong team to design, develop and launch a new mobile app that utilised some of the latest technology to enable their clients and users to send personalised communications at a time of their choice.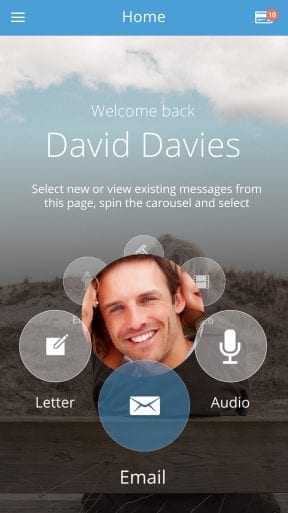 A key feature of the app is the creation of a video eulogy. Our developers built a program which merges multiple assets together to create a downloadable MP4 file. Allowing the user to select audio, video, images and a background song, the app will automatically create a video file. The bespoke feature uses AVAsset (Apple's API) and other CoreAudio, AVFoundation to not only merge the files together, but also adjust audio and music volumes accordingly. The file can be exported and downloaded to a memory stick, enabling the user or recipient to play wherever and whenever they like.
To help users record their own personalised videos, we included a feature called Autoscript. Allowing the user to write a script in a simple text format, which when they are ready to record a video, appears on the screen for them to read. Located next to the front camera with the ability to adjust scrolling speeds, users can set the pace and relax.
In order to make writing letters, and scripts as easy and quick as possible, we've enabled the app to integrate with Siri. This allows the user to dictate their messages, which are then instantly transcribed within the app. Similarly to all other content the user creates, these can be scheduled for a particular date, when the letter will be printed with accompanying images and posted to the recipient.
Because a user's content isn't necessarily shared immediately, we created a release schedule, allowing the user to request when their message, email, video or audio clips are sent. All content is uploaded to a secure server, encrypted, and saved there until it's needed, whether it's 5 days or 5 years.
The SwonSong app presents users with a simple yet friendly platform to document important memories and create everlasting memories at the touch of a button, wherever and whenever the user wants.
You can download the SwonSong app on the App store or click here to visit the website.