Giving patients instant access to healthcare advice with Smart SAA.
Our client PERGALI is an international consulting practice that works with ambitious organisations to deliver new market revenue and transform commercial performance.
Currently one in four UK citizens turn to search engines for medical advice and as a country we're now referred to as a 'nation of impatient patients', with 21.8 per cent of people self-diagnosing using internet sources. This project's aim was to substitute untrusted, unreliable sources for credible information from professionals that will make a noticeable difference.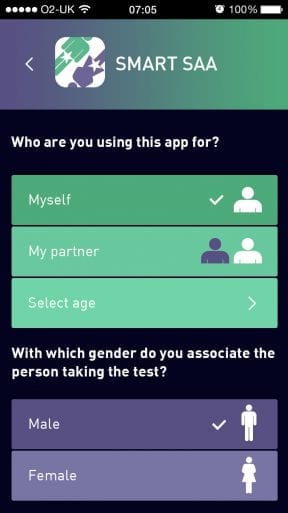 The SMART SAA mobile app is an extension of the Sexual Advice Association who provide professional sexual health advice to men, women and couples, whilst raising awareness about well being.
To diagnose and provide advice, users are required to fill out various questionnaires. The answers provided then form the basis on an in-app diagnosis where helpful advice on next steps is provided, including taking up more exercise, eating healthier or visiting a GP for further tests. Users can also pre-set push notification reminders to remind them when to book their appointment. If a GP visit is required users are given a list of helpful questions so that they can prepare accordingly.
You can download the app on iTunes and the Google Play Store, and view a visual demonstration on our YouTube channel. For all PR enquiries please contact OOKII Company.