Changing the way people watch sports with Gamification.
As a modern day take on the traditional pound-in-a-jar game played in our pubs and sports clubs, Forfeit Football unites friends and family through their mobiles to enjoy the game wherever they are.
The gaming app gives fans the opportunity to interact, place small bets and access the latest updates from the match all in one place. Players can continue the football banter with each other through the chatroom feature, whether they're in the same room or miles apart. The app is also fully integrated with Facebook so fans can invite friends and family to join in with the fun at any time.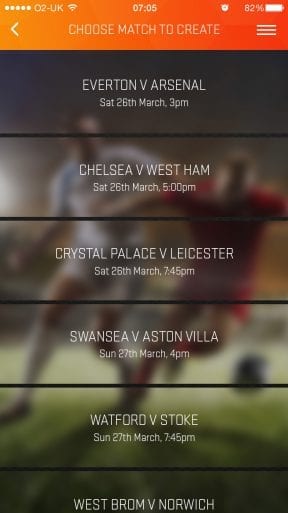 After setting up or joining a game, players agree and set the stakes for a range of in-game events, including free-kicks, substitutions, corners and penalties, for a range of matches worldwide. Stakes can be set to minimal amounts of only a few pence, and games can be easily integrated with any bookmakers' wallets allowing players to play with virtual currency or their favourite bookmaker account.
As the game plays, a sophisticated algorithm combines real time match events with the pre-agreed match stakes, growing the pot in the middle of the table as it gets passed round. Whoever is holding the pot when either half time or full time is called or a goal is scored, wins the pot!
The app is now available to download from the App Store, or for a visual demonstration of the Forfeit Football mobile app, click here.