Creating movement within any company can be challenging. If you want your enterprise app to succeed, then you have to treat it like you would any digital product. At Sonin, we use many of the same tactics in enterprise app development as we do every app we build to ensure its success.
In this article, we break down:
Where change can go wrong
What stops companies from moving forward
How to build your own movement
How Can Change Go Wrong?
87% of senior business leaders say digital transformation is a top priority for their company. In times of uncertainty, digital can create competitive advantages that make you more efficient and more resilient. But despite this, only 40% have been able to scale up their digital initiatives and move them past the pilot stage.
We've all heard the same story over and over again. A good idea for how an organisation can achieve its goals gets raised. There's a buzz of excitement. A brief is built, budget is assigned, timelines are created, stakeholders are set, and partners are brought on board to help deliver this new and exciting game-changing solution.
After a longer-than-expected amount of time, the product is delivered. But it doesn't have the desired impact. It doesn't gain traction within the organisation and it doesn't get used. Then, after a few months, it's quietly phased out. The worst part being it's unclear what (if any) lessons were learned.
It doesn't have to be like this. No one sets out to build the wrong thing, after all. But when you look at the world of digital business transformation, there's a clear gap between what a lot of organisations aspire to and what they're able to achieve.
At Sonin, we know that creating a movement that drives change within any organisation is challenging. Our process is designed to fill that gap and make sure what you're building not only delivers the results you want, but does it in a way that delights your employees.
---
Do you want to make sure what you're building delivers the right results?
---
What Slows Companies Down?
One of the main things that stops movement in the right direction is treating internal digital initiatives differently from how you would a customer-facing product. The way that you bring your digital product to market matters just as much as the way you build it. An enterprise app is no different. 
You can't rely on it being internal. You can't fall back on rules, policies, or handbooks to get people to use your app. The truth is you can't force software on people. If it doesn't solve a real problem for your employees, then it won't engage them.
We've seen it first hand when clients come to us with pre-existing solutions they've sunk time and money into but that don't deliver the right results they want and aren't being used by their workforces.
Even worse is when the wrong solution is being used by a workforce but in doing so, it doubles the workload of the people it's meant to help. In some cases, you even end up with employees continuing the same manual processes the product was meant to replace but repeating them in the app at the end of their shift because that's the policy.
The Most Common Mistake Companies Make
We always start by diving into the problem our clients are trying to solve, the people they're solving it for, and their processes. Because far too often, companies make the mistake of starting with the solution and working backwards to find all the issues it might solve.
When you work backwards like this, people get attached to the project and not the pressing problem at hand. Perspectives get skewed, assumptions are made, and biases begin to creep in. The people at the heart of the problem aren't involved in any of the decisions.
By the time the employees that need the app the most get their hands on the app, it's too late. Too much has been invested in the wrong thing. That's how you end up with multi-million pound products that sit on the shelf.
How do you avoid falling into the same trap? How do you know what you're building is going to make the right difference to you and your users? You have to start with the problem.
How to Build Your Movement

1. Research
Before you begin thinking about the solution, you have to understand the problem. Assumptions early on can lead you to skip important steps in the app discovery phase that provide context into the challenge you're trying to solve. Without that context, you risk creating a misalignment between what your business wants and what your employees want.
This means talking to your employees first. After all, they're the people who are going to be using your app the most! This helps us to understand the problems they face from their first-hand perspective.
Approaching this separately from your business goals at first helps to remove any biases or uninformed opinions from lowering the product's chance of success. It means you can move at a rapid pace and prove what's most likely to deliver the right results in the right way for your employees – all with minimal risk and investment on your part.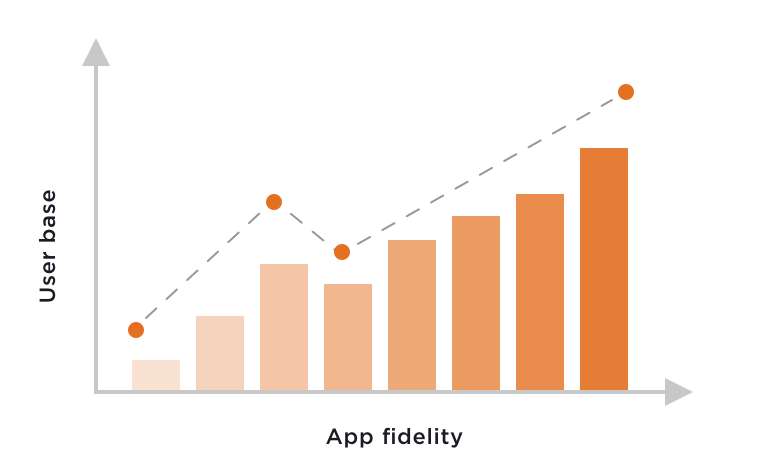 2. Rollout
You have to treat the rollout of your enterprise app like you would a public-facing product launch. In a similar fashion to the research phase, it helps to start small. Starting with focus groups lets you observe the early success signals. It also lets you spot the warning signs of potential issues that need ironing out before you move ahead.
The key to a successful rollout is that every target employee understands the value proposition and key benefits of your product. They need to understand why your app will help them achieve what they want to achieve – the same way your customers would if you were building a consumer app.
Once you have that initial adoption within your organisation, you can expand your user base by persona, team, or segment – tailoring your messaging to each as you gain momentum.
---
Define your product's value proposition.
---
3. Revise
The third and most important step is to iterate and improve upon your product. Projects are finite and finished but your product will evolve and add value over time.
To ensure that it keeps adding this value, you need feedback from your employees. Funnel feedback from focus groups and internal channels into regular retrospectives. These inform where you should spend your resources during the next development cycle if you want to deliver the results you and your users are looking for.
You can then use these same channels to share successes and show you're listening to feedback. This encourages further engagement from your employees and increases the return on technology investment you see from your product.
Final Thoughts
If you want your internal app to succeed, you have to treat it like you would any product. You can't skip the fundamental steps of the digital product development process that help to make sure you end up with something that supports your business goals and your employees.
If you're looking to build an enterprise app or improve an existing product, get in touch. For fifteen years, we've helped companies create movements within their organisations by building the right digital products that deliver the right results. It begins with a discovery phase to create that alignment between what your business and employees want to achieve.
Recommended next: How Product-Led Acquisition Helps You Grow