Our clients are made up of a mix of start-ups, multinationals and global companies. This means when we're developing new products for them, we find a range of restrictions to innovation. From legal and compliance to security and procurement.
However, we know how important it is for businesses to keep innovating and for our clients to stay ahead of their competitors. So, we've developed an innovation model that enables businesses of all sizes, from start-ups to large corporations, to experiment and adopt new cutting-edge technology without risk or restrictions.
Introducing the 4 Ps Innovation Model
By following this model, you can test technology within the isolation of the wider business. It's a low-risk solution to innovation and allows you to prove an idea within months.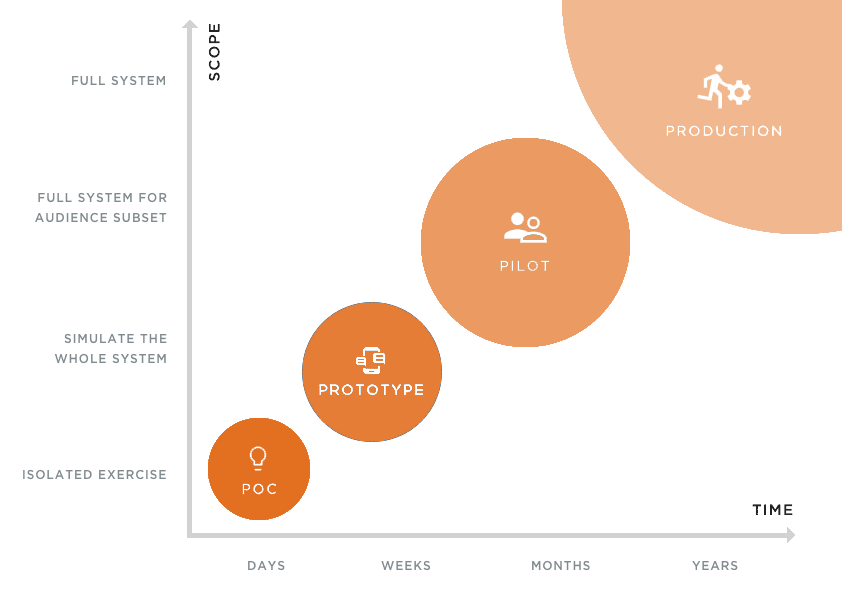 POC & Prototype
Before speaking to Sonin about what you want to achieve, set out what it is you want to achieve internally. Hold initial idea-generation sessions with various members of the team and begin brainstorming ideas. Once you have some ideas, speak to your developers and research new technology to get an understanding of how it can work.
From this get some sketches down on paper and discuss your ideas with small focus groups. This is your chance to start building out a concept that will bring value to both your business and your users. So, make sure to include a wide range of people in these initial discussions, such as management, employees, contractors and customers.
At the end of this stage, you should have a clear direction as to what you want to achieve and how. It's at this point you should partner with an external development company.
Pilot
Pushing the initial build of the app to an external company reduces risk across multiple areas. A development company like Sonin will be able to build out your concept with minimum integration to your core systems. This means the app will be in total isolation from the day-to-day running of your business. Minimising legal and compliance, reducing sign-off processes and no worry about managing user's personal data.
The idea of piloting your idea is to prove the technology will with for your business. By developing a fully functioning app you can test your idea with a live audience and get real-world feedback without full system integration.
After a 1 to 2 month Pilot phase, you should have proven the technology and have a strong business case to put forward to the business for full production.
Production
It's only at the production stage where the app becomes fully integrated into the core business systems and there is a need for legal and compliance. And it's here that you'll have the full scope of what to develop, saving a considerable amount of time and cost.
Why adopt the 4Ps Innovation Model?
Essentially, following this model allows businesses to innovate and experiment with new technology to prove a concept before integrating it into the business. Saving both time and money in the short term and providing better ROI in the long run.
To discuss your business' approach to innovation, speak to our experts today.