In this article, we break down why we recommend a discovery phase for every app development project we work on. We take you through how we use a discovery phase to turn an app idea into a focused set of features with proven value before you even begin development.
Brief
Before we begin app development, we recommend carrying out a discovery phase to define your concept and gather feedback early on. This shows you exactly what your users want from your app. More importantly, how this compares with what you want from your app. It's important to balance these two things so that your app provides real value to both your business and your users at the same time.
It's important that any app we build brings real value to both our client and their end-users. An in-depth discovery process proves the need for your app before you even begin the development phase. Here's how we approach the discovery phase of our app development projects.
User Interviews
One-to-one user interviews are an essential part of our app development process. It's during the user interviews where we gather valuable qualitative data. This data and insights will ultimately inform the user experience, interface and features that end up in the final app.
Here's how we approach the user interview stage of our discovery phase…
The Set-up
We've found that the best number for user interviews is between five and six people. Any more and there's often too much noise, any less and it's too small a sample size.
We always try to do user interviews in-person if possible. This is because doing interviews over the phone only gives you part of the picture. When you're speaking with someone in person, you get more context on what they mean rather than just what they say. Getting to experience things like small facial expressions first-hand will always provide more insight than a phone call does.
The Conversation Map
It's important that we get all the information we need when we interview a potential user, customer or employee. After all, their time is valuable and we're often representing our clients or partners. So to make sure that we ask and answer every question, our Senior Designer Sarah writes out an entire conversation map before she begins her user interviews.
This conversation map has branches for a range of responses. It helps us collect qualitative data in a methodical and measurable way. Using this map, we can easily identify trends and extract useful statistics. We're then able to use these findings to back up our final recommendations.
The Questions
For each set of questions, we follow the user journey or process as closely as possible. This structured approach makes sure that we don't miss anything and that interviewees don't jump around with their answers.
As an example, when we carried out an app discovery phase for a bespoke event app, we asked questions in the order of the event attendee process. So we started with specific questions about the sign-up process and moved through to ones about attending and signing out.
Once we've gone through the process from start to finish, we then ask an open question to see what features interviewees would like to see in the app. We make sure though to get the context behind each of these features. It's important to understand why someone requests a feature and how they feel it would help them personally.
We also have a list of specific questions at the end if they haven't been mentioned. These are often surrounding specific features or parts in the journey or points raised by the client.
Personas
Surprisingly, not every question we ask is about the app or even the general user experience. We also make sure to ask questions like what type of phone the interviewee has and why. We ask these questions so that we can assign a key persona to each interviewee, helping us to understand their key traits and characteristics.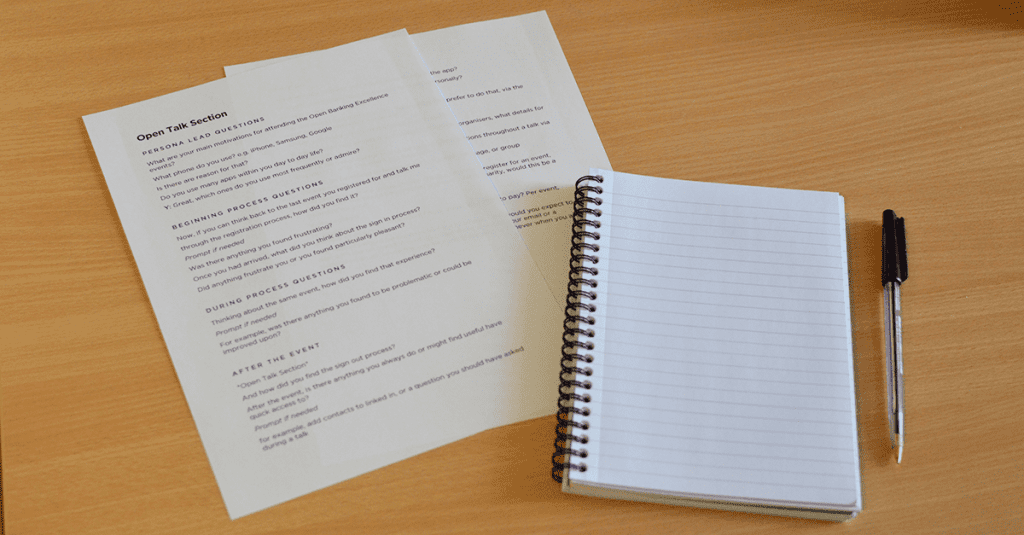 This gives us much more context on the answers we get which helps us to understand factors like:
Are they an early adopter or a market follower?
How technologically savvy are they?
What do they value?
The User Journey
To fully understand all the points raised during the mobile app discovery phase, our Senior Designer Sarah gets on-site wherever possible.
We're working with a company to develop a bespoke event app for their community. So Sarah attended their events to understand the answers that the event attendees had given her during the user interviews.
In this example, doing the field research helped us to map out the entire user journey. All the way from registering for an event through to attending. And finally including what people wanted to do after an event too.
Feature Map
After finishing the user interviews, our Senior Designer Sarah then maps out all of the requested features on a whiteboard. Each feature gets a note with dots to show popular requests. This is a great way to visually display the most requested user features. And it gives clients a clear idea of what their users want from the app.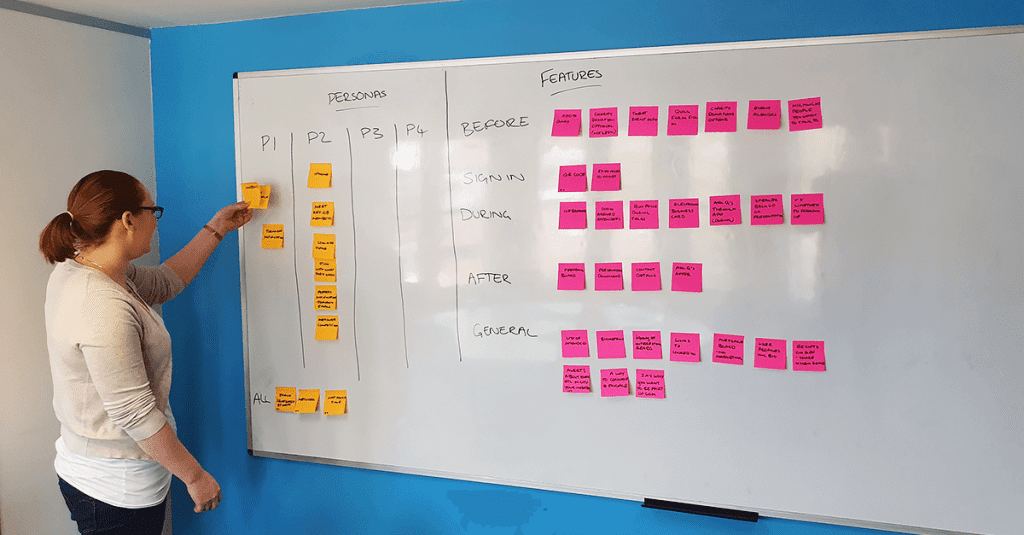 Feeding Back Our Findings
At this point during our discovery phase, we will have a wealth of user research and a clear list of the most demanded app features. We then find the best way to feed these findings back to our clients. One way to do this is by creating a custom user journey graph.
In this graph, we will map out all the key actions along the user journey. We then use our interview answers to rate the emotional experience of interviewees at each point. Finally, we match quotes from users to points along the journey.
This gives us a comprehensive overview of the current user journey. It includes the frustrations, the highlights and the featured in-demand. But most importantly, it shows them in an intuitive way. Using this, we then work with our clients to pinpoint areas where we can improve the user journey and bring them the most value.
What's Next?
A discovery phase lets you prove the need for your mobile app before you begin development. We've worked with clients to design, prototype and even pilot solutions to their key business challenges. An app discovery phase is the first step to connecting with your customers, engaging your employees and transforming your business.
If you're interested in a discovery phase, give us a call on 01737 45 77 88 or send us a message at info@sonin.agency.