Enterprise Mobility for the Remote Workforce
Remote working is the future and it's growing faster than we ever would have thought. By 2020, 50 percent of the UK workforce will be working remotely. Effective virtual work increases productivity, drives efficiency and attracts talent from all over.
But despite this, many businesses are still hesitant to embrace the distributed workforce. Mostly because of the challenges that come with managing distributed teams. Communication, engagement, productivity and safety. These can be a challenge in any traditional business. But with remote management, they only become more difficult to control.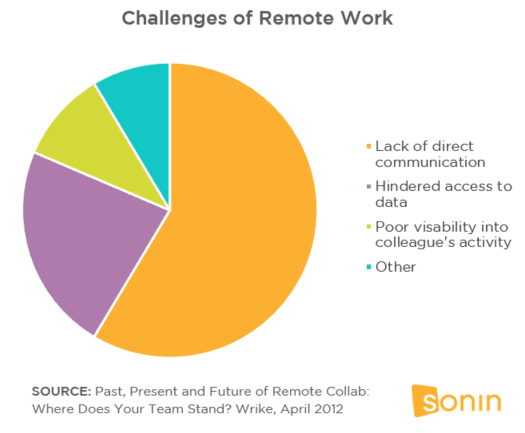 For many of the core challenges associated with remote work, however, the answer is easy. It's in your employees' pockets and they carry it with them wherever they go. Enterprise mobility helps you to engage your remote workers. Empowering your virtual team with the tools they need wherever they are.
So, how can you use mobile to make the most of everything remote work has to offer? How does enterprise mobility supercharge your remote workforce management?
Streamline Communication
In the traditional workplace, miscommunication often ends up with employees repeating or rushing work. Which costs us £2.7bn every year. With poor communication, efficiency also takes a nosedive. This drives down employee satisfaction and increases your staff attrition. And all this when your employees are sitting just a few feet away from one another!
In a distributed workforce, communication is even more essential. It's the cornerstone of every other challenge we explore. Because if you and your remote workers aren't on the same page, then engagement, productivity and employee safety all go out the window too.
For example, productivity can improve by up to 25 percent in companies where employees are connected. A well designed mobile app does just this, it channels all of your internal communications. Turning communication into a conversation.
But communication isn't just about the performance of your remote workers, it also has a huge impact on their wellbeing. 21 percent of remote workers cite loneliness as their biggest struggle. So, connecting with your employees and giving them a platform to communicate won't just encourage efficiency, it also makes your remote workers happier! And much more likely to stick around.
Improve Employee Engagement
Communicating with a distributed workforce is one thing. Actually engaging them is another thing completely! Only 13 percent of employees worldwide are engaged. Which is a huge missed opportunity since highly engaged businesses can see a boost of up to 10 percent.
But mobile and engagement go hand-in-hand. The average person now spends over five hours on their mobiles every day. So, it's the perfect platform for connecting with your employees, while providing you with in-depth insight into what works and what doesn't.
Push notifications are direct call to actions. And the more tailored they are to your employees, the more engaged they will be. Many businesses already use push notifications in their employee apps for delivering personalised content to their staff. Whether it's company-wide news or success stories from standout staff in their region. Effective remote work has been proven to increase employee engagement by 9 percent, and mobile is your key to ensuring this.
Another, more direct way of engaging your employees are reward schemes. But these can be expensive. A cost-effective alternative is mobile gamification. Where you assign levels, badges or points to employees based on their personal development. Gamification drives employee engagement among remote workers, helping to connect isolated employees in a way that's fun. 40 percent of Global 1000 companies already use gamification, are you?
Increase Productivity
But beyond communication and engagement, mobile also increases visibility which is key for measuring your employees' output and their productivity. For many businesses, the productivity of remote workers is a major concern. Those managing distributed teams often worry that without direct supervision, lone workers will not make the most of their time.
For this situation, apps are an invaluable tool that meets your employees where they already are: their mobiles. Turning a potential distraction into a productivity platform, making it easier for staff to manage their projects and schedules.
First and foremost, mobile streamlines your remote workers' tasks. Whether they're simple, administrative duties or complex in-the-field processes. Mobile often acts as a touch point for emerging tech like Artificial Intelligence (AI) and Augmented Reality (AR). These technologies, used through mobile, will guide your employees through their processes or automate them completely. This helps your remote teams to work faster and makes it easier than ever to train new starters in the field.
All this will boost your employees' productivity and have a huge impact on the future of your business. But the more your employees' tasks are linked to mobile, the more insight you will also have into their progress. This pinpoints where you can help your employees and give them the tools they need to make the most of their time. Through mobile, you can improve your remote workforce productivity in a cost-effective way.
Quickfire Case-Study: Alpine Talent Management
We were approached to establish the Alpine Talent Management System, a piece of enterprise software which enhances business procedures. While also giving managers valuable data on their workforce activity.
Through the app, employees can track their personal development and fill out feedback forms. All this information is then fed back to managers, supporting their strategic decisions and helping them to respond to problems quickly before they escalate.
Through enterprise mobility, managers can pinpoint areas in their businesses where small changes can have big impacts. All thanks to the increased visibility and advanced automation that a mobile solution can provide.
You can read more about Alpine Talent Management System here. Or, if you're interested in a mobile remote workforce management system yourself, contact us today.

Ensure Employee Safety
Finally, for anyone managing lone workers in the transport, logistics, construction and utility sectors, safety is a big concern. But the traditional lone worker safety system of a three tier alert system is perfectly suited to mobile.
Lone worker devices are often expensive and don't integrate well with your existing systems. But company-issued handsets, loaded with your very own custom app, are cost-effective and easily-managed. An in-app safety screen with large buttons makes it easy for users to report back to their supervisors in real-time. And the device's gyroscope can recognise automatically when employees have had a fall on-site.
All information from these encounters is then fed back into a centralised system. Making it easier than ever for you to review your existing procedures. Mobile gives you the tools you need to improve your remote employees' safety on-site.
Mobile in Your Remote Workforce Strategy
The final thing you need to consider is how you will integrate mobile into your remote Workforce Management (WFM) strategy. Only by making enterprise mobility the bedrock of your workforce strategy will you fully realise its benefits. Mobile helps you turn your distributed workforce into a collaborative team.
Here's what you need to know about introducing mobile into your remote workforce management:
We've said it before and we'll say it again. You should always start with your employees. If you don't consult with them first, then you risk everything: your ROI, your engagement, your productivity and safety. Start by mapping out your remote workers' employee journey. You'll then be able to ask:
Where are the pain points, the frustrations and the inefficiencies in your remote workers' processes?
Which repetitive, low-value tasks could be streamlined or automated?
Could mobile open up a new direct channel of communication for you and your employees no matter where they are?
How will you measure the success of your mobile app for managing your remote workforce?
Answering these questions is the first step to identifying where mobile can make a difference to your remote workforce management. And if you're considering mobile for managing your distributed team, then we'd love to hear from you.
Are you keen to ensure communication and collaboration while maintaining high engagement and productivity? Enterprise mobility is the answer. Meet your employees where they already are, their mobile devices! We've already helped so many of our clients solve important business challenges, and we're here to help you too.
Give us a call on +44 (0)1737 45 77 88 to talk to us today or visit sonin.agency/work to see what we've done for our clients.
Sources
1. Lone Working: Everything an Employer Needs to Know, People Safe
2.The 2017 State of Endpoint Security Risk Report, Barkly
3.The UK's biggest cybersecurity and data breaches in 2017, PolicyBee
4.Stanford Professor Says Working From Home Makes You Happier & More Efficient. There's Just 1 Catch, Inc
5.Does Working from Home Work? Evidence from A Chinese Experiment National Bureau of Economic Research
6.Gartner Reveals Top Predictions for IT Organizations and Users Gartner
7.Half of the UK workforce to work remotely by 2020, Harvard Business Review
8.To Raise Productivity, Let More Employees Work from Home, Harvard Business Review
9.The Cost of Poor Communications, SHRM
10.The social economy: Unlocking value and productivity through social technologies, McKinsey & Company
Related Reading from Sonin App Development
Engaging Employees for Enterprise Mobility: Having a secure app that answers all your employees' needs and manages your data is one thing. But getting employees to use it is another thing completely. And it's likely the biggest challenge you'll face. Here's what you need to know about engaging employees for enterprise mobility.
Enterprise Mobility That Supports Your Business Goals: Your employees will check their phones 5 times every hour. But enterprise mobility turns a potential distraction into a game-changing opportunity. Enterprise apps empower your employees, increase productivity and improve staff morale. But what challenges do you need to consider?
[WEBINAR] Enterprise Mobility, Security & BYOD: Our Managing Director Paul Jarrett joined a panel of mobile and security experts and delivered an exclusive webinar with Info Security Magazine. He speaks about the benefits, trends and security precautions surrounding enterprise mobility, security & BYOD. Find out what predictions he made for 2018 and beyond.