10,000 new people are diagnosed with a respiratory illness every single week. Conditions affect every aspect of a person's life including work, sports, and activities; even their relationships and mental wellbeing.
Patients with respiratory illnesses want to live their lives uninterrupted. The better these patients understand their individual conditions, the easier it is for them to manage them. As a result, the less impact on their daily lives and the less pressure on the NHS.
To achieve this, patients need instant access to information on the health of their lungs wherever they are in the world. This is the challenge that OpenAir Med approached us with.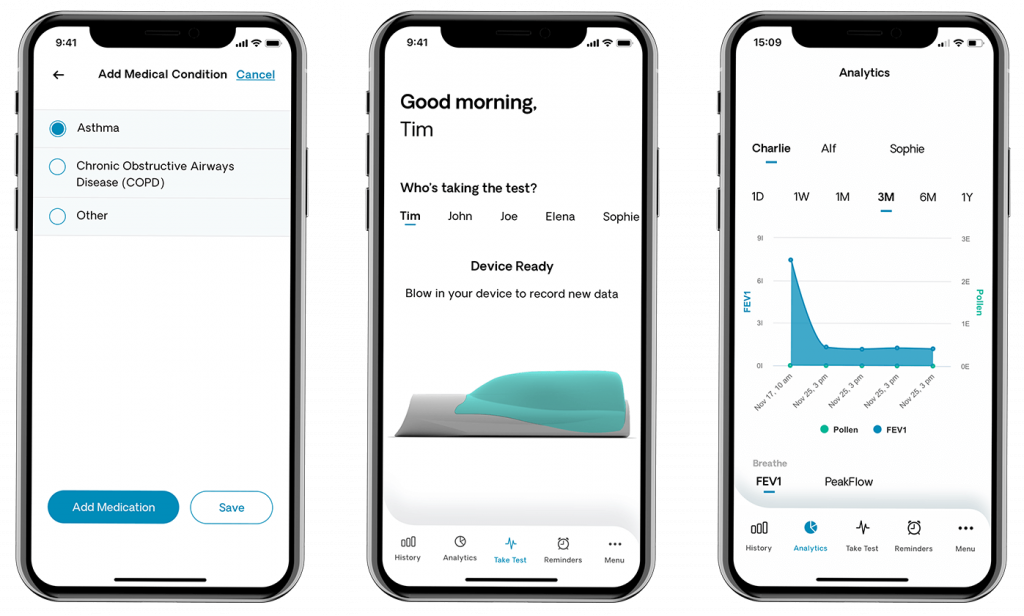 OpenAir Med is a healthcare app that provides patients with personalised and proactive advice on their illnesses.
Registration and set-up is superfast. Users enter their essential medical information step-by-step. Intuitive instructions show patients how to pair with their IoT-connected device in seconds.
The slick UX and seamless integration means that new patients can register and take their first reading in just a matter of minutes. Meanwhile, family members can create multiple profiles to keep a close eye on their loved ones.
Feedback after each reading is instant. A universally accessible traffic light system shows users their peak flow and lung capacity rating straight away. False positives are immediately flagged.
All data is enriched with contextual information. OpenAir Med automatically captures the time and geo-location of readings. It then draws from third-party services to collect data on weather and pollution levels which helps patients to understand why a reading may be low.
Are you looking for a partner to help you create a successful Healthcare app?
Proactive push notifications that save lives.
OpenAir Med warns users proactively before problems arise. The app prevents attacks and reducing strain on the NHS during a time when capacity is critical.
Through the app, users can also access a map with hotspots of previously registered attacks and potentially dangerous conditions based on their recordings.
Working with OpenAir Med.
We worked closely with OpenAir Med from the initial idea all the way through to launch – making sure that every decision we made was traced back to our findings during discovery.
During each sprint that followed, we tackled the key challenges faced by our product personas. For patients, the set-up had to be intuitive, feedback had to be instant, and advice had to be proactive.
Clinical staff, meanwhile, needed an understanding of each individual patient's condition so that they could provide personalised healthcare advice.
We're experienced in Healthcare App Development. Click here to see how we can help you!
Transforming patients' lives with personalised healthcare.
In the past, patients who suffered from broad categories of illnesses were grouped together, given the same advice, and treated with the same medicines. That's changing – fast.
Healthcare apps like OpenAir Med are laying the foundation for a completely new kind of healthcare: a more personalised, proactive, and scalable one. Giving every patient the tools to measure the health of their lungs means that advice can be tailored to individuals instead of generic illnesses.
Shortlisted for multiple awards.
In the short time since launching, OpenAir Med has been shortlisted for multiple awards within the healthcare sector.
The app was a finalist for 'User-Led Innovation & Experience' at the Health Tech Awards as well as 'Health & Fitness App of the Year' in the UK App Awards. Looking forward, we're excited to support OpenAir Med's continued growth and provide personalised healthcare on an unprecedented scale.
Let's build a best-in-class healthcare app