In this article, we break down the top 5 best hotel apps and what the hospitality industry can learn from each one. Any hotel that's serious about driving revenue and enhancing its guest experience should explore mobile. The smart hotel is no longer a thing of the future, it's happening right now. Hotels relying on outdated check-in systems and disconnected hospitality management systems will fall by the wayside.

1. The Hilton Honors
The Hilton Honors hotel app boasts over 37,305 five-star reviews on Android with a 4.8-star score on iOS. Through the app, guests can check-in from anywhere before they've arrived. They can choose their room through the app (using street maps to get the perfect view) and even use an in-app digital key to unlock their door. This way, thanks to mobile technology, Hilton guests can skip reception and head straight to their rooms.
With a streamlined hotel app like The Hilton Honors, regular travellers also have a single place to view all their invoices. But it also acts as a platform for driving guest engagement. Through the app, guests get access to the hotel's rewards program. From here, they can count their points and monitor their progress against goals. Through mobile, Hilton has gamified customer engagement. This encourages customer loyalty and drives revenue.
The app gives guests a personalised and transparent experience which, in today's sharing economy, is expected. But where the app really shines is in its proactive experiences. These are intelligent suggestions and actions that remove friction from guests' stays. For example, when a Hilton guest is at a hotel or resort, their digital key is accessible from almost every screen. Similarly, the app uses geo-location tech and launches straight into guests' reservation details during their stay.
Through mobile and proactive experiences, the Hilton Honors app makes travel more straightforward, more personalised and more memorable. This drives guest satisfaction and makes sure Hilton is always the first choice for many travellers around the world.
By embracing mobile technology, Hilton has been able to:
Give guests the flexibility to choose how they check-in, making for a more tailored hotel experience
Digitise the hotel booking experience, gamification of customer engagement and capturing long-term loyal customers
Read our article: How to Improve Customer Experience – Your Biggest Challenge in 2019
2. Ritz-Carlton Hotels & Resorts
With the Ritz-Carlton mobile app, Marriott International aims to bring its legendary service to mobile. Through the hotel app, guests can make and track reservations with just a few taps. Users are able to browse destinations and hotels with photos, maps and amenity details from wherever they are.
Similar to The Hilton Honors app, Ritz-Carlton offers several proactive experiences that enhance their guests' stays. A personalised homepage updates with the user's current reservation details. Guests receive push notifications when their room is ready for mobile check-in. By starting with using mobile to add value to the hotel guest experience, Ritz-Carlton has laid the ground for much more engaging promotions.
By embracing mobile technology, Ritz-Carlton has also been able to ensure that as much of the hotel experience is happening in their app as possible, driving revenue to both the hotel and its partners.
__________________________________________________________________
To discuss your approach to building a hotel app, speak to our experts today.
___________________________________________________________________
3. Marriot International Rewards
The Marriot app gives guests a much more personalised hotel experience. Like the other hotel apps, it lets them skip the front desk and head straight to their rooms with a 'Mobile Key' feature. Guests can also make room service requests from within the app through an intuitive 'quick selection' feature. This lets them select commonly requested services, toiletries and add-ons with just a couple of taps.
This doesn't just make it easier for Marriot to upsell to their guests and increase revenue, it also reduces the strain put on front desk staff. Which is why Marriot even goes so far as to offer in-app discounts for orders made through the app.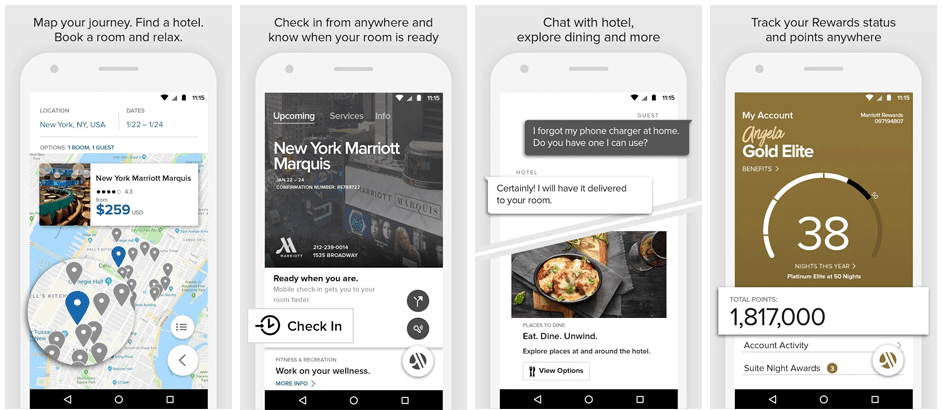 The hotel app also features a messenger that directly connects guests with hotel staff at any point in time 24/7. This lets guests ask questions in the run-up to their stay, make special requests during or contact staff afterwards. Through mobile, Marriot International is able to offer a flexible and streamlined hotel experience.
By introducing a hotel app, Marriot International has managed to:
Personalise its guest experience
Upsell more services and add-ons, driving revenue per guest up
Increase efficiency, freeing up its hotel staff to focus on high-priority tasks
4. AccorHotels
The AccorHotels app features more than 2000 destinations from a wide variety of sub-brands that include Ibis, Sofitel and Fairmont. Through the app, users can explore offline interactive maps and travel guides for their chosen destination. By creating an all-inclusive environment, AccorHotels ensures that a huge portion of the holiday planning occurs within its app. Similar to Ritz-Carlton's app, this helps AccorHotels to drive more revenue to its hotel chains and partners.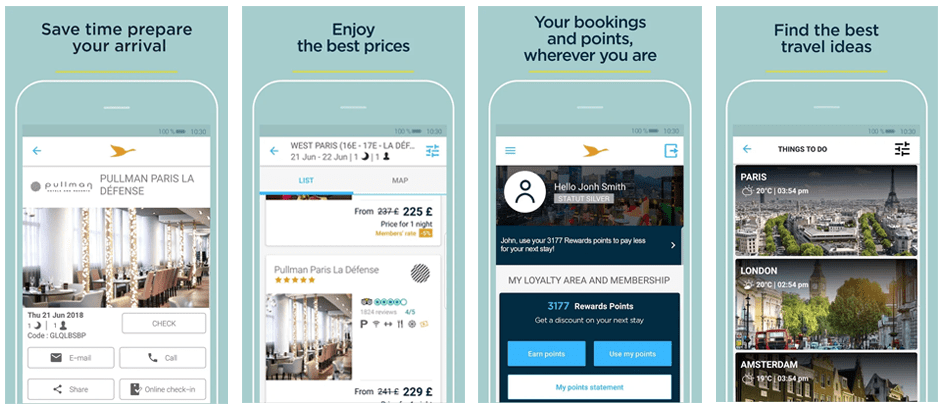 One standout feature within the app is the 360-degree views of hotel rooms and amenities. Using this, AccorHotels guests are able to explore different destinations through an immersive experience. The more memorable interaction and extra level of insight help AccorHotels to stand out in the holiday booking process.
By embracing mobile technology, AccorHotels has managed to:
Streamline the hotel booking process
Make planning holidays possible in just a few taps, all within AccorHotels' system
Deliver a much more personalised customer experience to users
Open up a direct channel of communication with hotel guests for promotions
5. Premier Inn Hotels
The Premier Inn Hotels app features over 750 hotels across the UK. Its advertised as the "fastest and easiest way to book your perfect hotel." With a 4.8-star rating in iOS and over 100,000 downloads on Google Play, it's definitely doing something right.
The key to its success? Simplicity. First, you search for a hotel… Then, you book a room! Compared to some of the other hotel apps we've looked at, this sounds rather simplistic. But mobile apps work best when they're streamlining processes or fixing focused problems.
Driving revenue is obviously a key benefit of adopting hotel technology. But your hotel app can't just be a thinly veiled way to upsell services to your clients. Because guests will see straight through it. First, you have to delight your users. Successful apps start with minimum desirable products, not minimum viable products.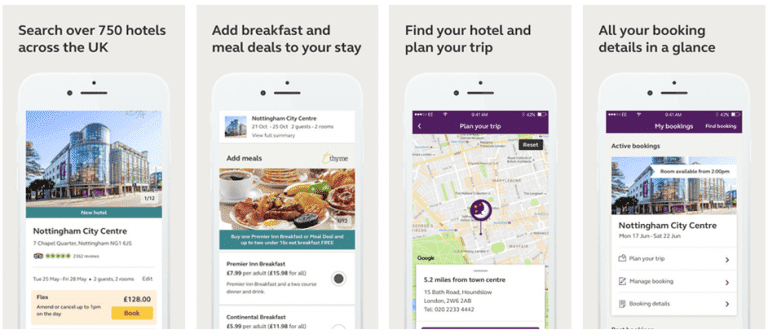 Premier Inn's app, for example, streamlines the entire hotel booking process, letting guests search for locations and book their stay with just a few taps. During this journey, Premiere upsells simple pre-order services like breakfast and meal deals. Once finished, the booking details are then saved and easily accessible.
Another key benefit of the app is an 'exclusive saver rate' which discourages potential guests from going through hotel comparison sites and saves Premiere Inn Hotels money.
By adopting a hotel app, Premier Inn Hotels was able to:
Streamline the hotel searching and booking journey
Discourage users from booking through price comparison sites and increase revenue per guest
Make it more convenient for customers to purchase add-ons

.
Read our article: Successful Products Start with a Minimum Desirable Product. Not an MVP.
Hotel App Development
Mobile technology is changing the hotel industry. And looking forward, customers will expect more and more from their accommodation. As one of these companies, a bespoke hotel app meets your customers where they are: their smartphones. A custom hotel app opens up a direct channel between you and your customers, one that you have complete control over.
This helps you to:
Upsell personalised services, driving revenue per guest while ensuring customer satisfaction
Streamline your internal processes, driving your business efficiency
Encourage long-term customer loyalty and thrive in the sharing economy
We're Sonin, an app development agency and we build apps that transform businesses. Over the years, we've built hundreds of successful apps and there's something that links every single one. Each app is built around your specific business goals. Our app development process helps to ensure to a return on your mobile investment, providing value for both you and your users.
Call us on 01737 45 77 88 or send us a message today to discuss your hotel app development project.