At Sonin we feel it's important that we deliver the latest mobile news to our readers from an industry that is constantly evolving. Whether you're new to mobile, an industry leader, a start-up or a multinational brand, having access to the latest mobile news is vital for your app development. So here are the top stories from January 2018 Mobile News. Make sure you don't miss out on the latest mobile news by signing up for our newsletter to stay informed.
Quick links to top stories from January 2018 Mobile & Tech News:

Last updated: 25/01/2018
---
Gartner Release Predictions for 2018 and Beyond
To kick off the new year, Gartner released its tech predictions for 2018 and beyond. There's a heavy focus on Artificial Intelligence (AI) and intelligent things. But at the centre, personal devices and mobile! So, here are some of the top tech predictions for the next few years:
Mobile has become an integral part of our day-to-day. Because it acts as a touch point for so much tech. And the more we interact with mobile, the more intuitive our experiences will become. Because intelligent things, personal devices and apps will be able to better understand our needs. And this understanding will only become more advanced as we shift towards zero-touch interactions like voice, biometrics, gestures and more.
Recommended Reading: Enterprise Mobility Trends for 2018
---
Inside Amazon's Alexa Lab
Amazon wants you to be able to talk to Alexa no matter where you are, or what device you're using. So they've worked with companies to bring over 50 third-party Alexa-enabled devices to market. But before launching, Amazon still needs to make sure users are getting a consistent Alexa experience.
That's where Junior Rover (JR), Amazon's Alexa performance robot, comes in. And Wired writer David Pierce got a behind-the-scenes look at the JR lab. Where any upcoming Alexa-based products must undergo a thorough analysis. This includes a host of questions with variables like different volumes, accents and languages. Speakers in the lab will play background noise from white noise to a bustling kitchen. The average product test takes the robot six hours but it's running tests continuously; day and night, seven days a week.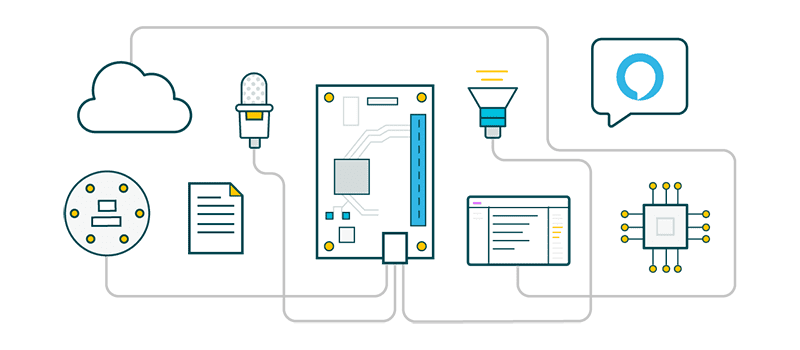 At CES 2018, Amazon and Google continued to battle it out. With Amazon's Alexa voice assistant now in over 4,000 products compared to Google Assistant's 1,500.  But numbers aren't everything. As a recent study found Google Home is six times more likely to answer your question. So, it's important to weigh compatibility with usability when it comes to using either in your business.
Where could virtual assistants empower your employees' day-to-day tasks?
Which parts of your customer journey could be enhanced with voice recognition tech?
Source: Wired
Recommended Reading: Sonin MD Paul Jarrett talks what's next for the virtual assistant
---
App Annie Estimates Consumer App Spend Exceeded $86bn in 2017
In its annual retrospective, AppAnnie recorded a monumental year for the global app economy. With consumer app spending exceeding $86 billion and global app downloads surpassing 175 billion! User engagement also hit new heights. The average smartphone user now accesses close to 40 apps per month. And they spend over two hours in apps every single day.

Looking forward, App Annie predicts that consumer spending will exceed $110 billion in 2018. App Annie also highlighted the importance of mobile to some specific industries like retail. Because with 2017 being the first $2 billion mobile shopping day ever, it's clear mobile will become increasingly important to the retail customer journey. And, thanks to a mixture of mobile and intelligent things, the line between e-commerce and brick-and-mortar is blurring.
Sources: AppAnnie's 2017 Retrospective and AppAnnie's 2018 Predictions
---
Microsoft Wants to Know What's on Your Mind…
This month, Microsoft applied to patent a mind-reading device. A series of electrodes on the user's head would recognise changes in brain activity. In theory, users would be able to launch and control applications just by thinking about it! Examples Microsoft gave included 3D modelling software, word processors, video games, VR and AR.
And this towards move mind-reading tech follows Facebook's similar announcement last year. So, these major companies are looking to redefine how we interact with our personal devices and apps. Even if that means fewer or no direct interactions.

Source: TechRadar
Recommended Reading: The Post-App Era: What does it mean for app development?
---
Amazon Opens Its First Amazon Go Store
Amazon Go, the checkout-less convenience store, opened its first location to the public. For Amazon, the project started with one question: how could they use tech to improve on customer convenience? The answer was a network of intelligent things with mobile at the centre. The Amazon Go app generates a unique QR code that customers scan on their way into the store. And after that, they can grab what they want and just walk out. A digital receipt is immediately sent to the customer's phone and saved forever in the app.
Amazon Go improves the convenience of the in-store experience. And it gives customers more transparency over their spending. Amazon announced they had no plans for further expanding the Amazon Go model. As they want to focus on their flagship store at the moment. But with their recent acquisition of Whole Foods and their newly-opened physical bookstores, we could be seeing a lot more of this tech in the future.

Source: Recode
---
Apple Promises Next iOS Update Will Let iPhone Users Disable Throttling
After Apple confirmed it was throttling old iPhones to preserve battery life, they issued a public apology and offered users a battery replacement discount. According to Apple, they were slowing down old iPhones to stop them from "unexpectedly shutting down" and "to protect electronic components."
But the company agreed they could be doing more to let customers know this. So, Apple CEO Tim Cook confirmed that the new iOS update coming next month will give users more visibility over the health of their device. And offer users the chance to opt out of the device throttling. This move will give iPhone users more transparency and more control over their personal devices.

Source: Wired
---
CES 2018: The Five Minute Read
This month, almost 185,000 people descended on Las Vegas to attend the annual Consumer Electronics Show. And hot topics at this year's show included AR/VR, virtual assistants, smart-home tech, autonomous vehicles and more! Here are our top tech and mobile news stories from CES 2018:
Vivo unveiled the world's first in-screen fingerprint reader
Virtual assistant Bixby to be included in Samsung's 2018 smart TV line
HTC announced their new high-end VR headset: the Vive Pro
Hyperloop One shows off concept travel app for passengers
Kohler shows us its vision of the smart bathroom and kitchen
Razer's Project Linda prototype laptop dock turns your phone into a trackpad
Read top tech stories from CES in detail: CES 2018 – The five-minute read
Just give me the gadgets: Top Gadgets from CES 2018 via Wired
---
About Sonin
Sonin develops mobile apps and digital solutions to support your business. As your users' needs and expectations evolve, we're here to help you evolve too. By using the latest technology, we create frictionless experiences for your users in today's 'always on' world.
Our expertise lies in innovative business tools, engaging consumer apps and secure enterprise applications. We've been developing mobile software since the dawn of the smartphone. And today we continue to create smarter, more intelligent solutions by integrating emerging technology into our apps. By utilising AI, machine learning, bots and IoT devices we create apps that help everyone achieve more wherever they are in the world.
We can help with android app development, iOS app development, enterprise app development, mobile software development and more. Get in touch with us today to find out more.