What is CES? CES is an annual trade show that focuses on consumer tech and innovation in the digital space
When is CES 2018? The 2018 show will run from January 9th to 12th
Where is CES 2018? Every year, CES is held at the Las Vegas Convention Center in Las Vegas, Nevada
What can we expect from CES? The rise of Augmented Reality (AR), new smart home tech, autonomous vehicles, health wearables and more. And of course, at the centre of all this, mobile!
CES, the annual consumer tech trade show has arrived! And you can read the latest tech and mobile news right here. So, stick around because we'll be updating this page with all the highlights from around the web. And if you'd like to receive top tech stories straight to your inbox, sign up to our monthly newsletter in the footer below.
---
Vivo show off the world's first in-screen fingerprint scanner
Samsung moved the fingerprint scanner to the back of the phone for the S8 and Galaxy Note 8. Apple skipped it completely in favour of FacedID for the iPhone X. But with some help from Synaptics, smartphone maker Vivo have integrated the fingerprint scanner underneath the OLED display!
 
This intuitive technology lets users get the best of both worlds: a no-bezel display and easy unlocking of their smartphone! Now that Synaptics has begun mass production of its 'Clear ID' sensor, it's likely we'll see this tech being rolled out to major mobile phone manufacturers in 2018.
Source: TheVerge
---
Hyperloop One announces passenger app
Virgin Hyperloop One and mapping company HERE teamed up with a passenger app. But the prototype mobile app isn't just for Hyperloop travel. It combines ride-sharing services with the booking system. This lets users plan their entire trip from within the app. So, Virgin will be able to provide its customers with a door-to-door travel experience.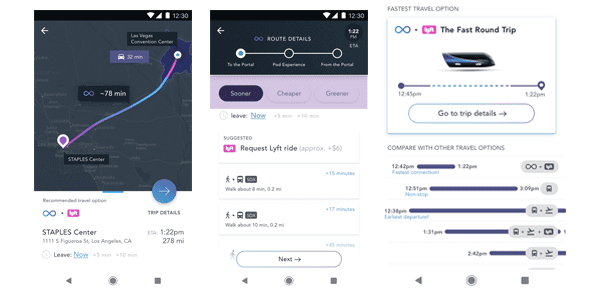 According to Virgin, customers will be able to plan their journey based on several factors: speed, cost and most ecological. The Hyperloop passenger app will give users more flexibility and makes for a seamless customer experience at all times.
Source: TechCrunch
---
Virtual assistant Bixby included in Samsung's 2018 smart TVs
Samsung announced they'll be adding their virtual assistant Bixby to their 2018 smart TV product line. Bixby will let users search for shows and control their TV by voice. But Samsung also announced Bixby will integrate with their SmartThings hub too. So, via Bixby, customers will be able to control their various IoT devices by voice through their smart TVs.
Source: Endgadget
---
HTC's new premium VR headset: Vive Pro
HTC's new virtual reality headset has a 78% better resolution. Which means much clearer text and graphics in the display. Further to this, Vive has recognised complaints of comfortability in previous Vive headsets. So, the new Vive Pro will have enhanced ergonomics and better balancing. This means a more immersive experience for users.
 
HTC also announced a wireless adapter for both its Vive headset and the newly-announced Vive Pro. The Vive Wireless Adaptor would make HTC the first major company to market with a truly wireless VR headset. And a wireless option helps increase the quality bar, making virtual reality more attractive to businesses and consumers alike.
Source: Vive
---
Google helps users get the most from Google Assistant
According to Google, you can perform more than a million actions with Google Assistant. But discovering all these actions is proving a challenge for users. So, Google have launched an all-new directory page of Google Assistant skills.
The new hub showcases skills that are new or trending. And users can either search through the entire catalogue of actions or browse categories. Did you get a Google Home for Christmas and wondering what you can do with it? Or have you got Google Assistant installed on your mobile phone or laptop? Read our top 10 things you can do with your new smart speaker.
Source: TechCrunch
---
Kohler brings connectivity into your bathroom
Kitchen and bathroom manufacturer Kohler have launched a new line of smart bathroom and kitchen appliances called Kohler Konnect. The new line (made up of a shower, a bathtub, two toilets, a bathroom mirror and a kitchen sink) connect to your phone through the Kohler Konnect app and lets you set preferences for different users. So you can make sure your shower is always at the perfect temperature.
But what's most exciting is that the new smart mirror has Alexa built directly into the unit. Which means you can control the lights and access the rest of Alexa's skills without leaving the bathroom. Kohler has given us a true glimpse into the future of smart living.
Source: TechCrunch
---
Razer's Project Linda turns your phone into a laptop
Project Linda is a prototype dock for Razer's flagship mobile phone. Which lets users can slot their phone into a laptop dock, using their mobile as a multi-media trackpad. The bigger screen and keyboard lets users interact with apps in tablet mode. Which could be more suitable for some productivity-based apps like media editing. And would boost productivity for remote workforces working on-the-go.
The new concept by Razer shows how the line between different devices is blurring. It's unclear whether this prototype will see the light of day. But in today's digital world, mobility tech like this means more empowered workers no matter where they're working from.
Source: TheVerge
Using mobile and emerging tech to connect with your customers and employees
It's an exciting time for us with new and emerging tech changing our processes and workflows. And often at the centre of this is mobile! It's the key to bringing this exciting tech into our day-to-day. But how can you use mobile to find new ways of interacting with your customers and employees?
If you're interested in finding out about making the most of your mobile offering, then we'd love to hear from you! Get in touch through our Contact Page or give us a call on +44 (0)1737 45 77 88.