For our first Sonin Career Stories we sat down with Tom to find out what life at Sonin is really like!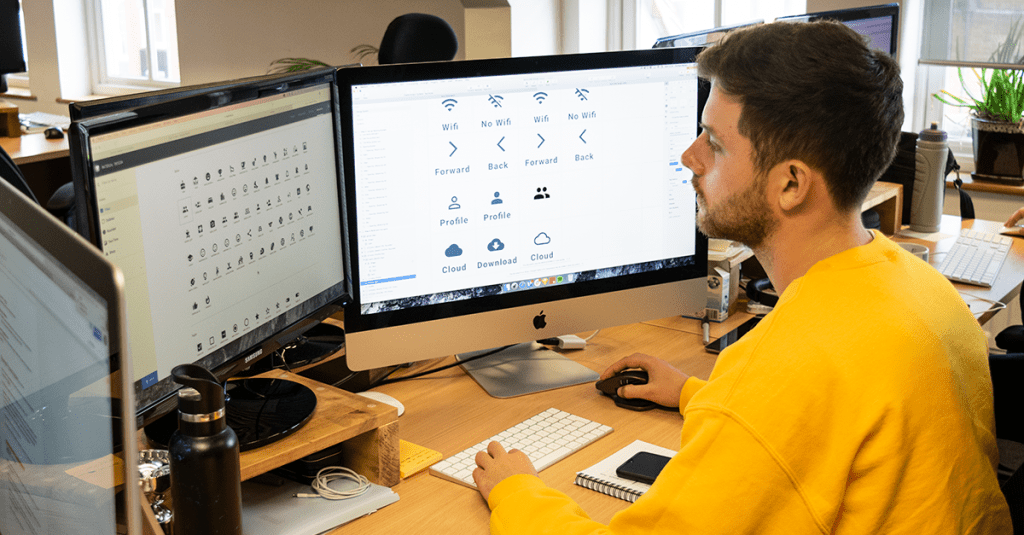 Internships are very important to Sonin. In the wake of opening two new offices of app developers in Edinburgh and Paris, we're very proud to be able to offer internships to the next generation of designers, developers, and project managers.
It might have only been six weeks since our latest intern Tom, an aspiring designer joined us, but it already seems like he's become a mainstay in the Sonin office. He's already secured his own coffee cup and managed to negotiate a place on the Sonin sofa (which is by no means an easy feat).
Six weeks into his internship Tom has thrilled us with his app concepts and wireframe designs and we're delighted to announce that we've offered Tom the position of Junior Designer!
Earlier this week we caught up with Tom to see how he's finding his new role as a Junior Designer and how he's found working with his energetic (and inspiring!) colleagues.
What's it like working at an app design agency? 
It's so hard to sum it up in words, it's been amazing, everyone is so lovely and so supportive and I feel as though I've learnt so much in what I feel has been such a short amount of time.
It seems like you've always been part of the Sonin Team, was it easy to settle in?  
After the first two days of my internship, I felt at home. Everyone's been really supportive and down to earth so I definitely feel like part of the Sonin team now.
What's a typical day like? 
So, I start my day by having look through Design Week and Dribbble to find inspiration and see what's happening in the design world. Then I'll usually check-in with the iOS and Android teams to see what they've made of my design concepts and the next phases of designs. So, it's nice to be working with different people and its always amazing to see your designs come to life and start working.
What's the most interesting thing you've worked on? 
As I've started to take on more projects, I'm often checking with developers to see how feasible our designs are to develop. So, seeing what's possible to be made, and understanding what the possibilities of design and development are and how you merge the two has been really interesting.
What is your favourite thing about working at Sonin as a Junior Designer?
Definitely the culture, I think Sonin's work culture is spot on, everyone works hard but at the same time jokes are going on all the time and everyone's having a laugh so it's nice to be part of a very interactive office space.
What role does design play in our development process? 
As designers, we work alongside development, we do the initial research, design mock ups and of course, we're always checking with developers to see if we can amend or perfect our designs. So, design really helps to give a face to features and what is being made, and it's the combination of the design and development that makes a well thought through product.
How can design influence the way we use apps?
Design massively influences how we use apps. When you initially go into an app, if the design is poor or the user experience is poor, the first couple of screens are where you could potentially lose customers or create a bad user experience. Everything comes down to the user experience, design can improve the user experience (UX) and make users enjoy the app or it could be where you lose customers.
What is your proudest moment at Sonin so far? 
It has to be getting the first project I contributed towards signed off. The whole process of doing first-hand user research, developing designs, sitting in on client meetings, visiting their HQ and then seeing my designs start coming to life was amazing. It's definitely something I'm really proud of.
Would you recommend other people take up an internship at Sonin?
Yes definitely! Initially, when I was looking for jobs all I wanted was a bit of experience and Sonin seem to be very experienced, so I felt it was the perfect app design agency. The amount of knowledge Sonin gave me in those first two weeks was amazing, and I can really see myself growing at Sonin, so I would 100% recommend people do similar internships.
Here at Sonin we make career progression a priority and we're very proud of how Tom progressed from intern to Junior Designer. Our Senior Designer Sarah explains how Tom has been able to make a real difference to our design team:
"During Tom's work experience he displayed great ability to think outside the box and his base UI skills were brilliant. To match this he was collaborating with the rest of the team, had a great forward thinking personality and a desire to soak up as much knowledge as possible, which is the essence of what Sonin's culture is. He has the potential to grow into a stunning designer with great user empathy and we are very much excited about him joining the team."
We're always on the lookout for driven people like Tom to join our team. For more information about how to join Sonin, see our vacancies.
If you don't see your role in the list but still want to join the Sonin Team, then we would love to hear from you. Please email paul.jarrett@sonin.agency with your CV to discuss your requirements. We look forward to hearing from you.