After two weeks of shadowing our in-house design team, Tom sat down with us to talk about the highlights of his work experience at Sonin. But first, we wanted to know 'why design?'
I suppose it started at school, it was always one of those subjects that didn't feel like work. It just came naturally to me. In fact, I was so happy doing designs I would want to continue working on design projects after school and back at home. So, I've always loved designing as it's something that hasn't felt like work to me but more of a hobby.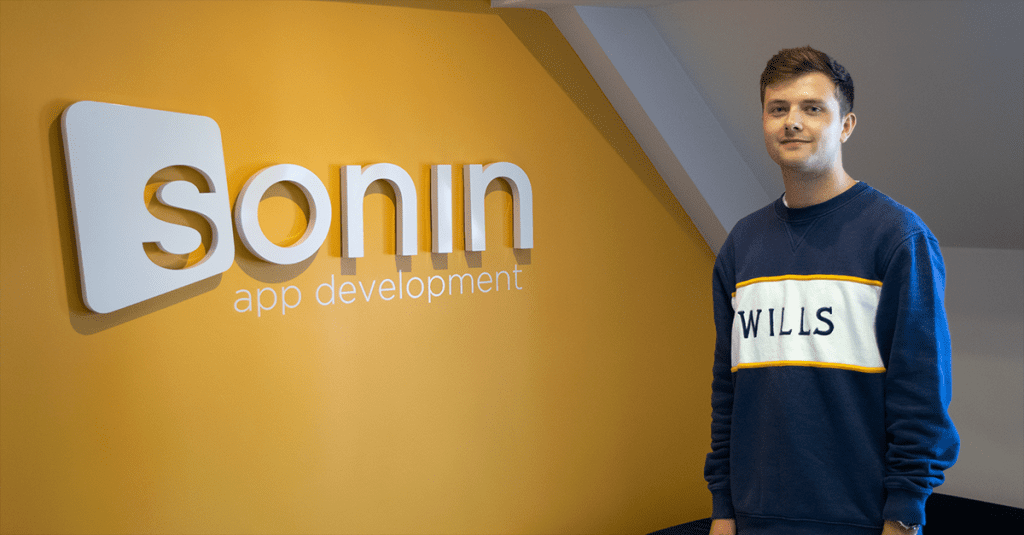 What did you get up to during your internship?
Initially, it started with me learning about using more advanced design software than I had experience with at school or university. Once I got my bearings, I started doing mocks-up for Sarah (our Senior Designer). I then got the chance to shadow her as she worked on a live project. This was brilliant as I was there from the first kick-off call to see the whole process from concept to final delivery.
So, what did an average day look like for you?
So, to begin with I would start my day going through a live project run-through with Sarah. There, we'd discuss upcoming projects, internal design requests and the schedule ahead. Within the first couple of days, I was already cutting my teeth on internal projects as part of our Sonin Create initiative.
For this, I'd often look at Dribbble for inspiration, read some articles and see what's happening in the design world. Then I would usually begin sketching out wireframes and refining my design with regular meetings with Sarah to discuss my work and refine it with feedback.
What's been the highlight of your internship?
Being able to learn from Sarah as I shadowed her on a live project was a real highlight for me. Getting to suggest ideas for a real-world project with an international client has been such a great experience.
What was the biggest challenge and how did you overcome it?
Remembering everyone's name! I may have had the team page open for the first couple of days… But once I got accustomed to the office and the really friendly people here, I've found I haven't come up against too many challenges.
What made you chose Sonin?
Being from Reigate, I wanted to join a local business. So I spent a lot of time looking at local businesses' work and what they had been doing. Sonin drew my attention because it had a really nicely laid out website, which was really easy to read. You might expect this from an app and web development company but some of the others don't.
So, it looked like a lovely company to start with and as I delved in a bit deeper, I could see it was a bit of a family rather than just a workplace and that really made a difference to me. The work was good and the people seemed lovely so it was an ideal place to apply for.
Has anything surprised you about being at Sonin?
It would have to be how lovely and approachable everybody is. For a company that's at the forefront of app development, it is so lovely to be somewhere that's doing big projects for brands I recognise, but who are still having fun with it. So, I think I was pleasantly surprised by the atmosphere at Sonin.
We're always on the lookout for new talent to join our team. If you're interested in joining Sonin, please see our hiring page for more information about our roles and opportunities.