In these uncertain times, a lot of people are unsure of what the future holds. There's a strong temptation to enter emergency mode – to put everything on-hold until this blows over. But short-sightedness like this will leave you playing catch-up for the rest of 2020.
Instead, take the time to think and to plan. This is the best opportunity that you'll get to prepare for when business bounces back – which it will!
That's why I sat down with our Managing Director Paul Jarrett, our Project Manager Sophie Parsons and our Design Lead Sarah Preston. I asked them how they're adapting to remote working life and what businesses should be using this time for.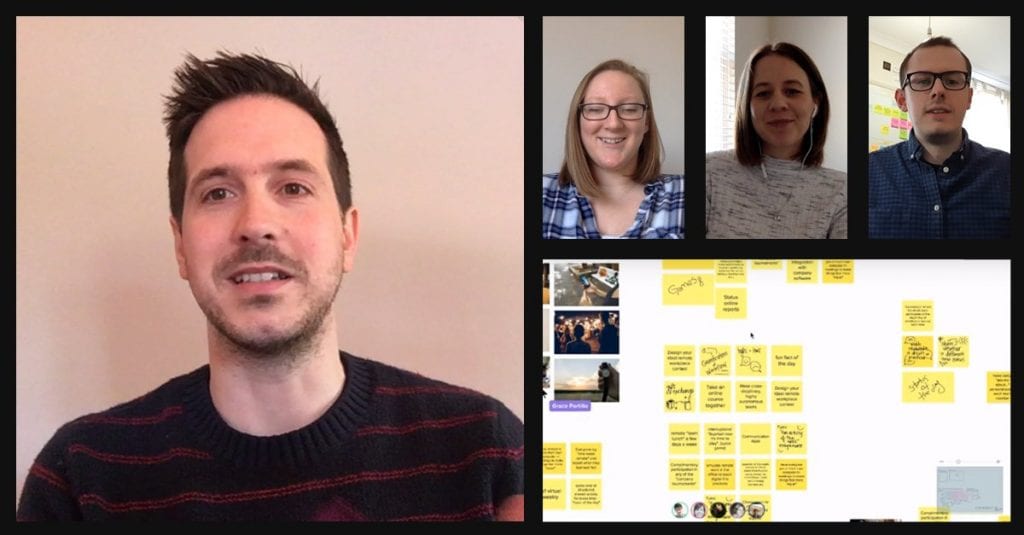 These are strange times – how's life at Sonin changed over the past few weeks?
Paul Jarrett: Well, it's been interesting, We, like a lot of businesses, have gone fully remote over the course of the past couple of weeks. We're probably more adjusted to it than a lot of other companies. Because a lot of the software we use is cloud-based. And a lot of the working practices we use are agile which works well.
So, in many ways, it's been an easy transition. But it's also just been really interesting to see how the business, in general, has reacted. This time makes you take stock of how you do things. And it's not just us. I'm noticing customers, suppliers, all kinds of different people revisiting what it is they do and how they do it.
A lot of people having a really hard time of it. But there are silver linings in everything. Things will bounce back, after all. Business, as usual, will return.
There aren't many times that you get this level of disruption. Or the opportunity to revisit how you do things and what you do and understand the value that people are getting from you. Do that and your business will be in a prime position coming out the other side of this.
And how about on more human day-to-day level?
Paul Jarrett: One of the main changes that we've seen for us is that human contact piece. We're all used to working in an office with people on a daily basis. So, when that translates into remote work, we need to make sure we're paying extra attention to everybody else.
It's really important that everybody stays physically and emotionally fit. When you're working from home under lockdown like this, it's easy just to stay in one place all day. And then, when you're done, you can spend your entire evening in the exact same place.
What steps are you taking to address that?
Paul Jarrett: Obviously, we can't physically be together – that's a given! But easy steps include recreating those normal office interactions people are accustom to.
Take breaks, for example. People will often go to the kitchen to make a cup of tea, have a coffee and they'll talk with other people, asking their evenings were etc. All of those kinds of things, we're doing our best to replicate those in any way we can.
We're doing regular video calls in the morning to kick-off the day. We're working on that 3pm slump where you find people will often go for a tea or coffee by bringing it online through a video call. Hangout calls and Zoom rooms are obviously invaluable during this time!
It's basically anything that we can do to make sure people still have that interest in one another that you naturally have when you're together.
When you talk about the opportunity, what is it that businesses should be using this time for specifically?
Paul Jarrett: It's a great opportunity to re-align everyone to your business goals. Take the time to understand where the value is and the processes you have in place to drive towards that.
We find that a lot of our clients have processes that have gone unchallenged for a long time. Because "that's always been the way we've done that." When you're in the office, it's easy to develop tunnel vision and you often don't see how you could be doing things better.
Working remotely, you'll start to see the bottlenecks a little more clearly. Those problems that go ignored in the busy day-to-day office life start to surface. What was once a minor inconvenience is now having a huge impact on your operational efficiency or your customer experience.
So, right now, ask yourself: are there opportunities where you could improve your customer experience? Are there ways that you could increase efficiency?
Taking Action
Paul Jarrett: Off the back of this, we're also seeing a lot of businesses using the time to pivot. From local suppliers to larger companies. Whether you're making lager or hand sanitiser. You've got cafes and restaurants who are now no-contact delivery drop-offs only.
This isn't just about asking what you could be doing better for your customer, it's a chance to reposition your brand in your customers' minds.
What you do may have to adapt to the current climate. But why you do it and what you stand for as a brand – that's what customers will remember as normal business resumes.
So, how does this work when your entire leadership team is remote?
Paul Jarrett: Sure – this is one of the challenges we've faced over the past couple of weeks. Whenever we work with clients, it's always a close-knit and collaborative process.
So, traditionally we kick-off projects with business discovery workshops where we meet key decision-makers and stakeholders in-person. During these workshops, we help them to pinpoint where they could improve those key areas: customer experience and operational efficiency.
The big challenge for us has been that we can't be in the same space as our clients. Initially, this was within a few metres. But now, not at all.
I've been really pleased personally with how our team have managed to adapt things to make sure that our clients get what they need out of those workshops.