At Sonin we feel it's important that we deliver the latest mobile news to our readers from an industry that's constantly evolving. Whether you're new to mobile, an industry leader, a start-up or a multinational brand, having access to the latest mobile news is vital for your app development.
So, here are the top stories from March 2018 Mobile News. Make sure you don't miss out on the latest mobile news by signing up for our newsletter in the footer below.
Quick links to top stories from March 2018 Mobile & Tech News:
Android P – What You Need to Know
This month, Google revealed the next version of Android as a developer preview. The update, called Android P, will include several interesting features outlined below:
Doubling Down on Privacy: No longer will background apps be able to use the microphone, camera or system sensors. This gives users more control over how their apps access their personal data. More benefits of Android P are better backup encryption and stronger protection from unsafe traffic.
Multi-Camera-Support: Most flagship phones have a front-facing and back-facing camera. But very few support the use of more than one camera at a time. So, Google are providing more APIs for camera controls with the hope that developers take full advantage of them. Third-party camera apps are about to get much more powerful!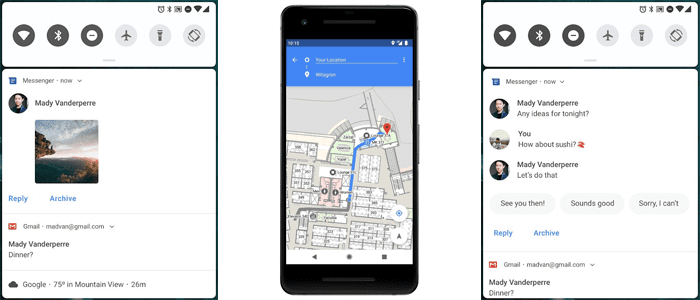 Indoor Positioning: Google has announced their plans for indoor Google Maps directions. But signal inside large buildings is a key a problem. So, as part of Android P, Google is taking advantage of Wi-Fi signal to position users. Using this, Google Maps can deliver accurate instructions to users no matter where they are.
Notifications: In the Android P update, more of users' conversations will move to the notification centre. For example, email attachments will now be visible in push notifications. And updated instant replies will give users suggested responses for quicker conversations.
Notch Support: At MWC 2018, we saw the continued rise of the bezel-less phone. But as screens expand, there's less and less room for the camera. So, a wide range of Android manufacturers have recently adopted the notch. Which will likely only become more common in the next few years. So, Android P provides developers with a mix of APIs and sims to help developers preview their apps.
While the Android P update isn't a huge change from Oreo, it does include several important features. Features that let users do more with less. As we continue into the post-app era, developers must prepare for how the app experience is changing. And understand what that means for business app development.
Co-op Trials Scan and Go Mobile App In-Stores
Co-op is set on creating a truly frictionless shopping experience. So, they're currently testing a scan-and-go shopping app in their stores. Using just their smartphone, customers will be able to checkout as they move through the store.
By using their phone's camera, shoppers can quickly add items to a virtual basket. And once they're done, all they have to do is tap checkout and walk out.
Co-op said the move was partly in response to the fast fall of cash payments. More customers are looking for easier, alternative payment methods. Which is shown by the £975m spent last year through mobile contactless.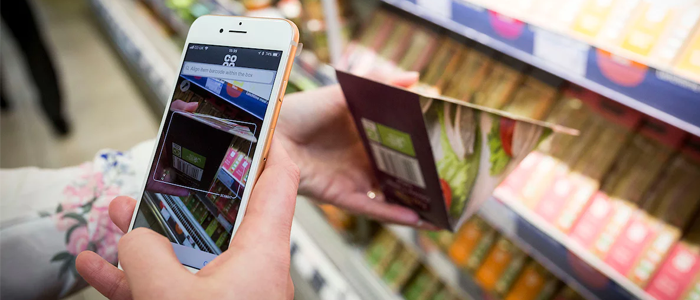 Despite this, Co-op has made it clear the new system is meant to complement the current one, not replace it. Using mobile, the supermarket chain is giving customers more choice in how they shop. The app will also provide a wealth of data to the Co-op group for measuring the success of its campaign and finding out more about how its customers want to interact with the Co-op brand.
Similarly, restaurant chain Wagamama recently released a mobile app to improve the customer restaurant experience. The app, developed with the help of Mastercard, will put an end to customers waving their hands in the air to get the waiter's attention. Similar to the Co-op, the CIO at Wagamama stressed their focus on creating a truly "frictionless" experience. Mobile is the answer to this.Recommended reading: Supercharge your Customer Journey with Intelligent Things
Apple & IBM Team Up for the Smartest Apps Ever
Apple and IBM have been working together to improve business processes. The partnership combines Apple's design sense with IBM's enterprise expertise. So far, the pair has focused re-engineering these processes for mobile and touch. As a result, Apple and IBM have worked together on hundreds of enterprise apps in the last several years.
But at Think 2018, the two companies announced the latest step in their partnership. They are combining IBM's Watson machine learning (ML) with Apple's Core ML. This will make iOS enterprise apps more intelligent and easier to develop.
All of this will be done through IBM's new cloud console. A platform which simplifies the connection between Watson and iOS enterprise apps. Adding machine learning to mobile apps will be much easier with this cloud console.
Another key benefit for businesses is the ability for apps to feed back their findings. This gives developers data they can use to update their machine learning modules. Whereas before they would have to rebuild each time.
This won't only help businesses, it will have a huge impact on users too. The new regular feedback system means that developers can fine-tune their apps. So, users get a continually improving user experience (UX). One that responds intelligently to their interactions and feedback.
Companies like Coca-Cola are already testing the new setup. They're using Watson and Core ML to see how AI can empower their employees. Field technicians inspecting Coca-Cola vending machines would benefit from image recognition tech. Where an AI-app could identify faults straight away or train new staff in the field.
Sources
1. Android P In Depth, ComputerWorld, March 2018
2. Android P: Top 6 things you need to know! Android Central, March 2018
3. Scan and go: Co-op shoppers to avoid tills with phone app, Guardian, March 2018
4. Wagamama Teams with Mastercard to Let Diners Leave Without Having to Wait for the Bill, Mobile Marketing Magazine, March 2018
5. Apple and IBM Unveil Artificial Intelligence Service That Coca-Cola Is Testing, Fortune, March 2018
Related Posts