The problem in insurance is that most of your customers only deal with you when they've got a problem or when they're making a claim. This is why a staggering 30% of insurance customers haven't had a single positive experience with their provider. As a traditional insurance provider, you have to look at how you can increase the number of touch points with your customers. As well as how you can increase the value of what you're offering. So, how can mobile help you do exactly this?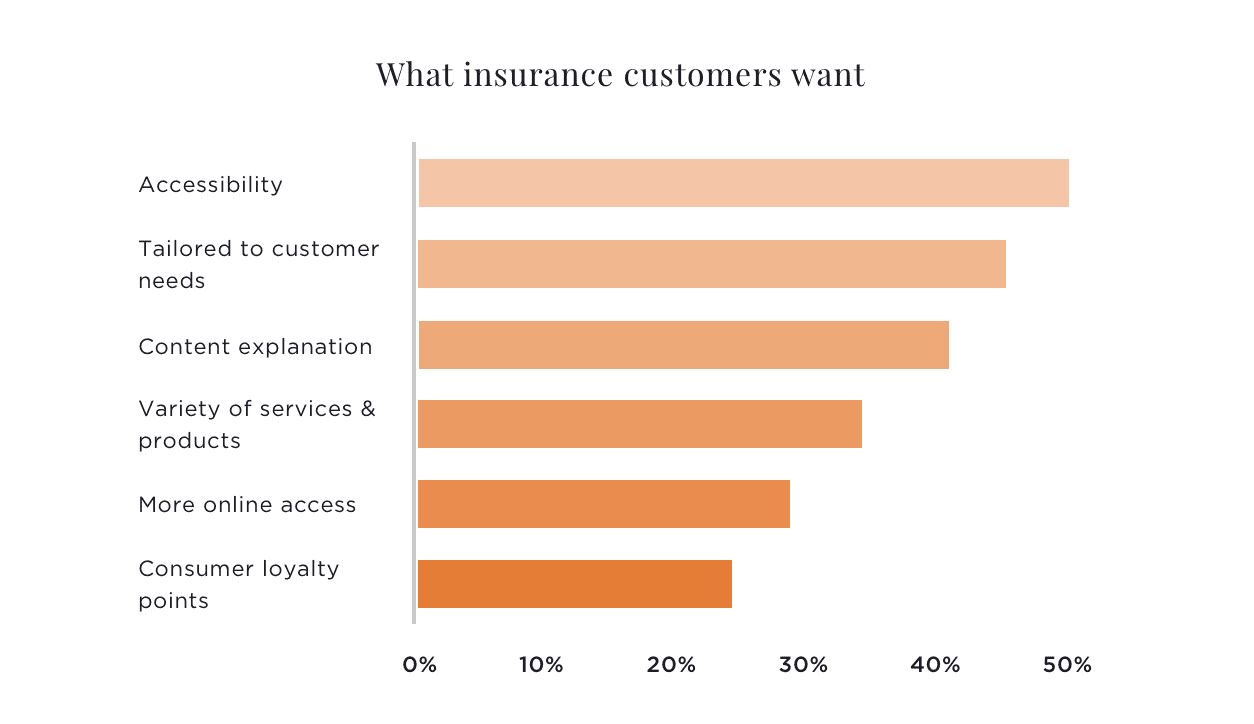 Accessibility
Right now the UK's leading insurance companies fail to answer more than two-thirds of questions asked through the web, email and social media. On the other hand, you've got virtual assistant chatbot apps like Lemonade's Jim that can process and pay out an insurance claim in just three seconds. Yes, you read that right.
Today's customers expect immediacy. They want instant access to support and advice from wherever they are, whenever they want. In 1989, First Direct launched as a cutting-edge, personalised and completely over-the-phone financial service. Nearly thirty years later, the insurance industry is still relying on call centres and paper-based processes.
But with a bespoke insurance app, you can build an accessible experience around your customers' needs. Offering them a personalised platform with real-time responses to their questions. Whether you're offering human support over live-chat, human-like 24-7 chatbots or an intelligent blend of both. Using automated support to answer simple questions or get details up front before passing along to a human operator.
Just because the insurance industry is by and large behind when it comes to meeting that expectation, it doesn't mean it's not a priority. Because as we're already seeing in the banking sector, new entrants with lots of flexibility will emerge and meet that demand.
Personalisation
When it comes to insurance, personalisation is not a nice-to-have. With such an intimate service, it's absolutely essential. So it's no surprise that more than 80% of insurance customers today are after personalized offers, messages, pricing and recommendations from their insurance providers. Why then, have under a quarter of insurers launched personalized, real-time digital or mobile services to date?
If you want to fill this gap then these are the four Rs of personalisation that you have to consider:
Recognise: You need to be able to recognise each of your customers on an individual basis. That includes profiles, demographics, geography as well as shared interests. According to Gartner, by 2022 our personal devices will know us better than our own family. This makes mobile the perfect platform to gain valuable insight into your customers and their behaviours.
Remember: Being able to track your customers' actions across your entire digital offering is essential. Whether they launched an insurance claim but never completed it or whether they renewed their policy. You have to be able to understand where these actions happen and the context behind each one. If a customer started a policy renewal on their phone, then they should have the option to finish it when they open your insurance app.
Reach: You must deliver the right content through the right channel, reaching your customer segments on the platform they prefer. For today's on-the-go customers that demand instant responses, it's mobile. How can you use the direct channel mobile offers to turn communications into conversations? Conversations that drive customer engagement in insurance.
Relevance: How you interact with your customers needs to be highly personalised, taking into account key factors like their location. Mobile gives you this insight into your customers, helping you respond with a tailored and memorable offering. The more relevant your message is, the more engaging it will be for your insurance customers.
Content Explanation
The third most popular demand by insurance customers is 'Content Explanation.' 72% of consumers claim that the language used by insurance providers is too hard to understand. Mobile, on the other hand, is all taking overly complex processes and streamlining them.
For example, when you apply for an in-app overdraft with challenger bank Monzo you get an easy-to-read breakdown of what it is you're agreeing to. Sections are clearly labelled and written in plain English. The process even makes use of Emojis to match Monzo's customers' natural language. Banking is rife with disruption right now. What can the insurance industry learn from this? Mobile-first is essential if you want to keep competitive and engage today's connected insurance customer.
Read our article on challenger banks
Do You Need a Bespoke Insurance App?
We're working with clients from the insurance and financial services sectors right now. Helping them use the latest mobile technology to drive customer engagement and streamline internal processes. If you're interested in a bespoke finance app, then we'd love to hear from you!
We understand innovation in insurance and finance can be difficult. And this is why we've worked with multinational organisations through innovation labs and lighthouse projects. This way, you can take a concept from idea to digital product in a short space of time. Helping you prove the value of your mobile app development without having to worry about battling bureaucracy or efficiency-obsessed company cultures.
If you want to talk about an upcoming project, then get in touch with us today on 01737 45 77 88 or send us a message.