Challenger banks are winning the war for customer engagement in financial services. Monzo bank, for example, has gained over half a million users without opening a single branch. How are these challenger companies doing it? By taking a finmobile-first approach and by raising the bar for the finance app user experience.
Monzo: Championing Customer Service
You've probably seen at least one of Monzo's "hot coral" coloured cards out-and-about. They're hard to miss, after all. Monzo is one of the most popular mobile-only banks in the UK with a user base totalling over 600,000 users. Initially popular among travellers for fee-free cash card for spending and making withdrawals while abroad, Monzo has since built a loyal customer base of current account holders. Many of whom are brand advocates that refer friends and family.
Benefits of the mobile-only bank (like many others) include the ability to freeze your card with just a tap, real-time push notifications and quick peer-to-peer payments. The user experience is clean, streamlined and functional with great microinteractions throughout. For example, temporarily freeze your card in the app and it'll frost over.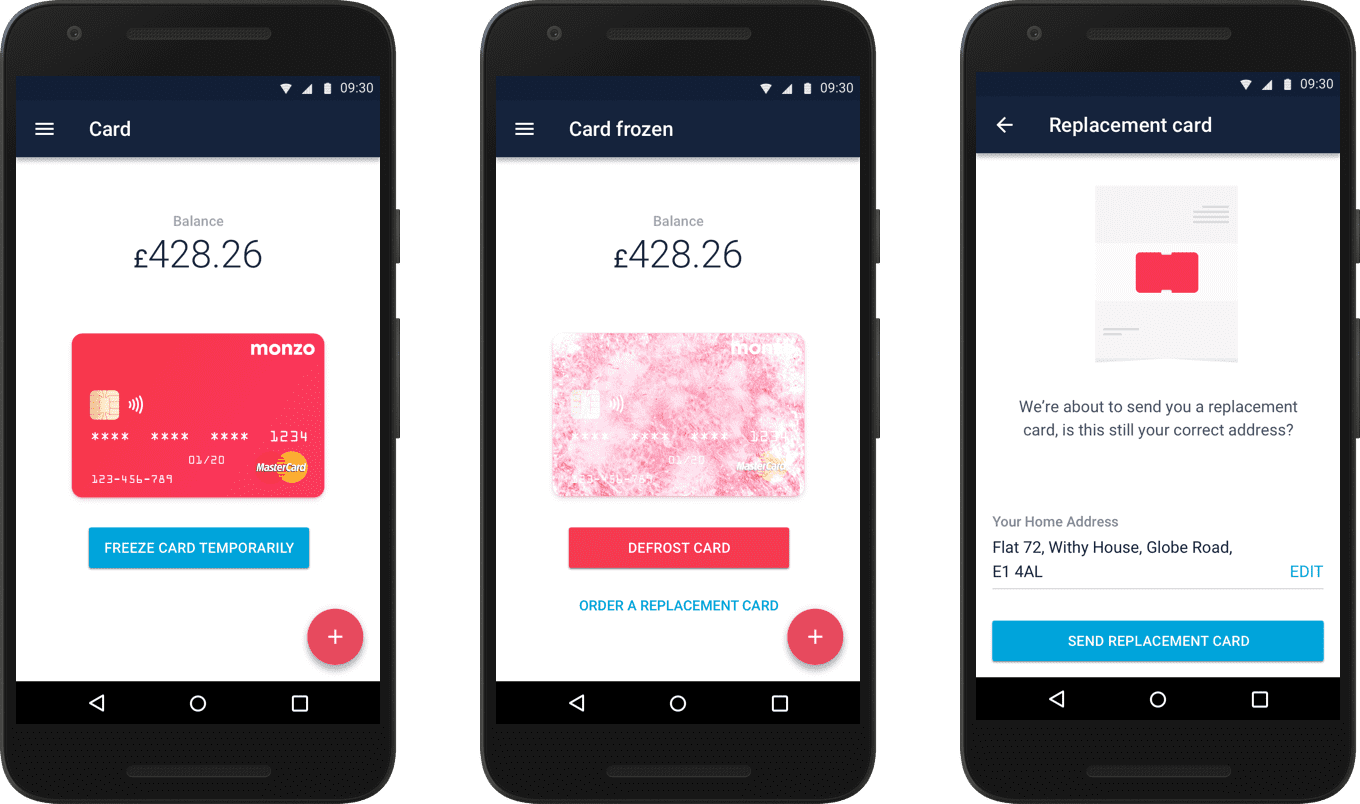 Another huge part of the in-app UX is proactive experiences. With Monzo, you'll receive push notifications prompting you when you're over your budget. Landing in a foreign country? The app will send you the current exchange rate automatically. These interactions increase transparency between Monzo and its customers, boosting engagement and encouraging long-term loyalty.
But one of the key thing Monzo has built its brand on is customer service. In 2017, exactly 1,370, 012 messages were sent over 450, 876 conversations between users and Monzo's customer service teams. The mobile-only bank offers 24/7 365 in-app customer support through live chat. Logging in, customers can choose to submit an urgent or non-urgent request. And after each conversation, users are prompted to rate the support they received.
Source: Monzo – 2017 in Numbers
Starling Bank: Innovative Offerings
Starling Bank, recently voted Britain's Best Bank 2018 by SmartMoneyPeople, was founded with one aim: to create the best current account in the world. Within the challenger bank space, Starling has time and time again demonstrated the importance it places on innovation.
Very quickly, the bank has been able to successfully position itself as a fintech hub with open APIs, partners and integrations. Similarly, the the bank was the first to offer a joint account with a mobile-only application process. It was also the first mobile-only Challenger Bank to launch Apple Pay on its app. As well as being the first mobile-only bank to offer business accounts. (The list goes on).
Since launch, Starling Bank has been used at over 1.2 million retailers with a combined 18 million Apple and Google Pay payments. Its transactions total over £459 million from a user base between 18 and 88!
Source: Starling – One Year Later
Atom Bank: The Power of Personalised UX
Atom Bank, a self-professed "customer obsessed" organisation, champions personalisation above all else. According to its Marketing Officer, "no one should have exactly the same experience of Atom." One way the app achieves this is by letting its users create their very own personalised logo. This custom colour palette then drives the entire in-app visual experience.
And if that wasn't enough, the mobile-only bank has also re-imagined the mortgage application process. It typically takes just 22 minutes to receive a full mortgage offer in Atom. With the entire remortgage application to completion process taking just nine days. According to Atom, the fastest time it processed a mortgage application in 2017 was just 16 seconds. So, it's no surprise, that Atom is the fastest growing mortgage lender in the UK.
By embracing automation and a unique user experience, the challenger bank has added 34,000 new customers in 2017 and maintained a five-star rating on TrustPilot.
Source: Atom's Annual Report
Revolut: Driving Customer Loyalty
Another key challenger to note is Revolut. In addition to the common features found across most mobile-only banks, Revolut also offers disposable virtual bank cards. This is a great example of identifying a customer challenge and using mobile to answer it. Disposable cards are a huge help to customers when signing up for trials or entering card details on an unfamiliar website.
Other interesting features that Revolut includes are an in-app cryptocurrency exchange, global medical insurance through the bank's partners and a gamified in-app cashback perk scheme. Gamifying the finance app user experience can be a challenge and many banks are wary to approach this. But at the same time, there's a whole host of budgeting apps on the play store that successfully gamifies and encourages savings. Integrating something similar into your finance app would drive customer engagement as well as loyalty.
What Financial Services Should Take-Away
What can established financial providers and banks learn from these challengers? Most importantly, mobile-first is no longer an option… it's expectation. Your branches, your staff and your brand ambassadors are no longer the faces of your company, your mobile app is! Challengers know this and they're winning the war for customer engagement.
If you want to stay relevant with millennials and the new generations of banking customers, then you have to keep the following in mind:
Don't just focus on scoring downloads or acquiring customers, instead you need to win brand advocates through a streamlined and delightful user experience.
Look for ways to personalise your app, your product range and your service offering. Even seemingly small features like a customisable UI colour scheme can help position your company as a tailored and unique.
With straying into gimmick terrority, explore how you can gamify the finance customer experience. Look for ways to delight and engage your users.
Embrace innovation, fintech and open banking APIs. Work with complementary services and apps to provide your users with the best customer experience possible. Test emerging technology continuously if you want to stay competitive.
Are You Interested in Developing a Finance App?
Innovating at a large organisation often presents a lot of challenges. Progress is mired by bureaucracy and efficiency-obsessed company cultures. But with a small-scale discovery phase or innovation lab, you can quickly build working prototypes to test concepts. This lets you mimic the startup innovation process, helping you to develop products that meet rising customer expectations fast.
We're working with multinational organisations right now, helping them to innovate and rethink their customer experience as mobile-first. If you've got a finance app project you're interested in developing without corporate constraints, then we'd love to hear from you. Give us a call on 01737 45 77 88 or send us a message us today.