In 1989, First Direct launched as a cutting-edge, personalised and completely over-the-phone financial service. In its initial plans, the bank predicted a future linked to "banking using a PC in the customer's home". The World Wide Web was launched just two years later.
Over thirty years on, personalisation is more important than ever to customer engagement. No longer a novelty, a staggering 66% of consumers now expect personalisation. Why then, are so many financial providers still missing the mark? Because as it stands, just 40% of brands manage to meet this expectation.
So, how can you use mobile to drive customer engagement in financial services? By setting yourself apart from your competition with a mobile-first approach to customer experience.
The customer engagement challenge
Looking back, customers could only ever interact with their financial providers during working hours on physical premises. But the growth of the internet and smartphones means that today's customers want to engage with you on their terms. That includes while they're on the go, away from their laptops and PCs.
In 1989, First Direct caused a stir by offering out-of-hours call centre support and predicting home banking through a computer. But between 2008 and 2013, the number of phone calls to banks dropped by a staggering 43%. Further to this, 46% of consumers now use digital-only channels, compared to just 27% four years ago. Interactions through ATMs, branches and even desktops are all dropping while mobile banking is only increasing.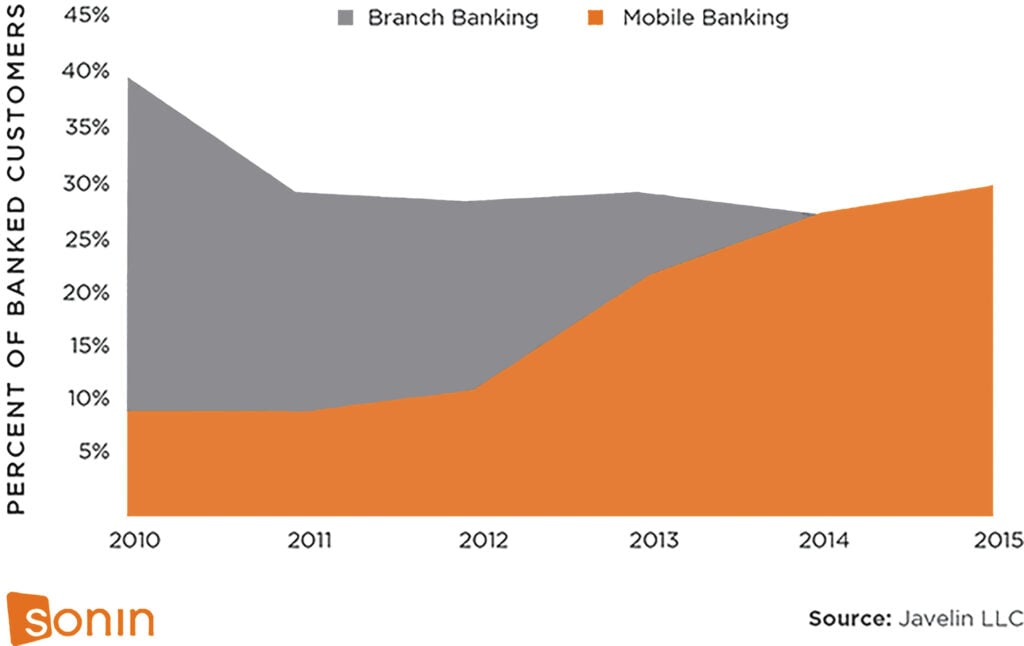 Branch banking vs. Mobile banking (Javelin LLC)
Looking forward, we'll see more and more digital-only financial customers. As more and more customers turn to mobile as their primary point of contact, financial service companies relying on desktop websites and call centres will fall to the wayside.
To respond to the rapid shift in expectations, and engage today's more digital-savvy customers, you must do the following:
Make your products more proactive and easy-to-use
Deliver real-time information, offering your customers more transparency
Pinpoint the time, place and channel each customer prefers
Offer relevant and valuable personalisation for both your products and services
Let's look at why mobile is the perfect platform for achieving these goals.
Finance apps for driving customer engagement
1. Make your products more proactive and easy-to-use: Finance apps today are smarter than ever before. As part of what we call the post-app era, our mobiles will know us better than even our own family and friends. Using this insight, you can create more proactive user experiences for your finance app.
As an example, the mobile-first banking app Monzo monitors how much money its users spend commuting by train. Using this, the financial provider then knows whether a travel card would be able to save its customers money. So, how can you use your customer data to provide proactive advice and support that enhances your customer experience?
2. Deliver real-time information, offering your customers more transparency: For today's connected customers, everything has to be instant. No one wants to wait days for an item to show up on their statement or weeks for a loan approval confirmation. They want real-time push notifications straight to their phone letting them know about transactions, unusual requests and loan alerts. How can you use mobile to give your customers more transparency over their financial services?
3. Pinpoint the time, place and channel each customer prefers: Mobile gives you a direct channel of communication with your customers. But what's even more useful is just how measurable this channel is. In-app analytics give you a huge amount of insight into how best to engage your customers. With them you can A/B test push notifications, user journeys and UI layouts to find the perfect communication for each customer on an individual basis.
4. Offer relevant and valuable personalisation for both your products and services: With a well-designed finance app, you can deliver personalised push notifications for highly relevant products and services. With a well-placed and personalised push notification, financial institutions can boost customer engagement by up to 350%!
We recommend reading our article: The Future of Finance Apps
Successfully adopting mobile in financial services
Mobile is a more important part of customer experience than ever before. Looking forward, finance apps will only become more of a priority for consumers during their decision process. But it's still only a part of a successful service offering. There are still essential aspects of the financial service customer experience that many prefer in person. These are often the more complicated actions like opening new accounts or applying for a loan.
As the most expensive channel for you by far, it's important to identify which specific activities people prefer branches for. But more importantly, why do they prefer them? 37% of consumers prefer using financial advisory services in-branch. It can be tempting to put this down to the personal touch. If that's the case, though, why do 53% of digital natives want access to personalised financial advice via mobile?
The key to successfully adopting mobile in your financial services is working out where the platform can automate processes. Applying for a loan may be something that a segment of your customers will always want to do in person. But with mobile, you can still streamline some of that customer journey.
Booking the in-branch meeting, for example, should be doable with a couple of taps in your finance app. With a diary, event added automatically to the customer's calendar. After the meeting, a push notification can then prompt your customers to provide feedback on their session or give them a channel to ask further questions.
We recommend reading our article: Lighthouse Projects: Navigating Digital Transformation
What's next?
The industry is still figuring out the optimal mobile mix for engaging customers. And that's without even considering emerging technologies in financial services. But what we know is that personalised experiences and proactive experiences are essential if you want to engage today's connected customers.
We've already helped companies in the financial services industry use mobile to solve key business challenges, and we would love to help you too. Call us today on 01737 45 77 88 or use the contact form below to get in touch.