Mobile technology is reshaping the restaurant and food delivery industry. Almost a third of people order food online. One in four people has at least one restaurant app on their phone. Food apps and online ordering offer customers more choice and convenience. All while helping restaurants to drive efficiency and boost business performance.
1. Starbucks and Customer Loyalty
The Starbucks app offers customers an easy way to pay for their order without a wallet. But it also provides a personalised platform that drives digital engagement. It's no surprise that a recent survey found that Starbucks has the most regularly used loyalty rewards app.
Like many other loyalty programs, the Starbucks app gives users rewards like free in-store refills and special member offers. With in-app challenges that encourage customers to buy specific items in return for reward stars. But where it really shines is the personalised user experience and in-app promotions.
Users receive free beverages on their birthdays and tailored suggestions based on their past orders. Both of which are hugely engaging for customers. And further to this, little touches throughout help to delight the user. For example, once they're in a store, users see what songs are playing at that time. A button then lets them quickly add this to a Spotify playlist. This shows why successful apps start with a Minimum Desirable Product, not a Minimum Viable Product.
Another example of a company using mobile to create an encourage customer loyalty is Nando's. Their app digitises their Nando's card, gamifying the dining experience and encouraging customers to keep coming back in return for rewards and freebies.
2. Qkr and the Dining Experience
Several UK restaurant chains including Waggamamas, Ask Italian and Zizzis have teamed up with Mastercard's quick payment app Qkr to enhance customers' dining experience. Through the Qkr app, users can easily split the bill and pay without having to wait or wave down a waiter. All in a way that's secure, safe and simple. This lets customers leave when they're ready, not when the restaurant is.
The way Qkr works is that when once customers have checked in to a restaurant, the app generates a unique code so that the app and table are linked. Customers can then see their bill update in real-time throughout the meal. And once they're ready to leave, they can quickly pay with a card, Google Pay or Apple Pay. This alerts the restaurant staff that the meal has been paid for and the customers are free to leave at their leisure.
By taking advantage of mobile, restaurants can put customers in control of paying. This makes for a more relaxed dining experience that meets customers where they are: their mobile phones.
3. Domino's and Digital Transformation
When Domino's CEO Patrick Doyle first talked about being a tech company that sells pizzas, many people were sceptical. Ten years ago the company's stock price was at $2.61 a share. Fast forward to today and it's closer to $260. How did they do it? By investing in consumer technology.
Early on in their 'Turnaround' campaign, the pizza company discovered a huge opportunity. While the number of people aware of online ordering was low, those that were ordering online did so more frequently and at a higher average value. All at a higher customer satisfaction level. So, Domino's set the goal of increasing their ratio of online orders… In a time where ordering food online was still in its infancy.
The Dominos app lets customers choose from over 1.4 million pizza combinations. Favourite combinations and regular orders can be saved to speed up the process. And once customers have ordered, they can track the creation of their pizza in real-time as it moves through each stage. Once the order is out for delivery, customers can even track its GPS location!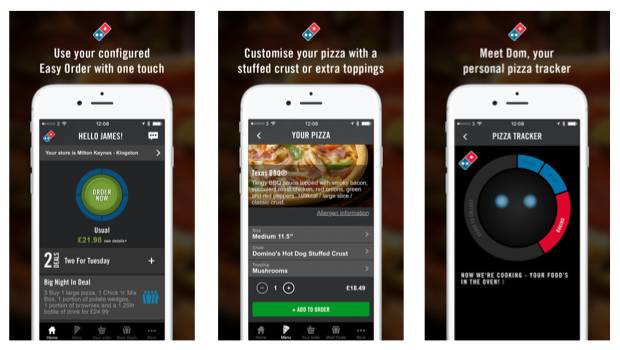 Through digital transformation, Dominos has been able to create a truly engaging and completely personalised customer experience. By embracing mobile and emerging technologies, the company has been able to drive engagement and enhance their ordering process. Completely rebuilding their reputation and boosting business performance.
When asked what's next for the food industry, Domino's SVP of eCommerce Kelly Garcia said that conversational commerce is where we're heading. This uses artificial intelligence and automation to create more natural customer interactions. Whether they're in-app chatbots or voice control, conversational interfaces are key for customer insights and engagement.
4. Wetherspoons and Customer Satisfaction
When customers are out for a drink or meal with friends or family, they want to spend that time together not standing behind the bar trying to get the waiter's attention. The Wetherspoons app solves this key problem by giving diners a full, up-to-date menu on their phones. Through the app, users can see an extra level of information on the food they're ordering. This includes different prices, sizes, calories and optional extras available. With easy payment options available through Google Pay and Apple Pay. This way, food and drink can come to them and customers get to enjoy their evening together.
On the other hand, the app also streamlines the ordering process for staff with an easy-to-read overhead screen of orders. This reduces time wasted due to miscommunication and drives efficiency for the pub.
Digital Transformation in the Restaurant Industry
Mobile technology is reshaping the restaurant and food delivery industry. Companies still relying on responsive websites and PDF menus to stay current will fall by the wayside. To stay current and remain competitive, restaurants must take a customer-centric approach. And in today's world, that means a mobile-centric approach.
If you're interested in a bespoke app for your restaurant, then we'd love to talk to you. We've built hundreds of successful apps over the years, transforming businesses and providing real ROI. Call us on 01737 45 77 88 or send us a message using the contact form below.