At Sonin we feel it's important that we deliver the latest mobile news to our readers from an industry that's constantly evolving. Whether you're new to mobile, an industry leader, a start-up or a multinational brand, having access to the latest mobile news is vital for your app development.
So, here are the top stories from April 2018 Mobile News. Make sure you don't miss out on the latest mobile news by signing up for our newsletter in the footer below. Here are the quick links to top stories from April 2018 Mobile & Tech News:
Global App Store Records Shattered Yet Again in Q1 2018
2017 was a record year for the mobile app economy. But the first quarter of 2018 saw the strongest sales figures we've ever seen. This quarter, app downloads grew more than 10 percent since last year. While app purchases grew 22 percent year-over-year to reach a staggering $18.4 billion.
In addition to this, the gap between iOS and Google Play downloads narrowed by 10 percent during Q1. Despite the fact that Apple's storefront still brings in 85% more money than Google's.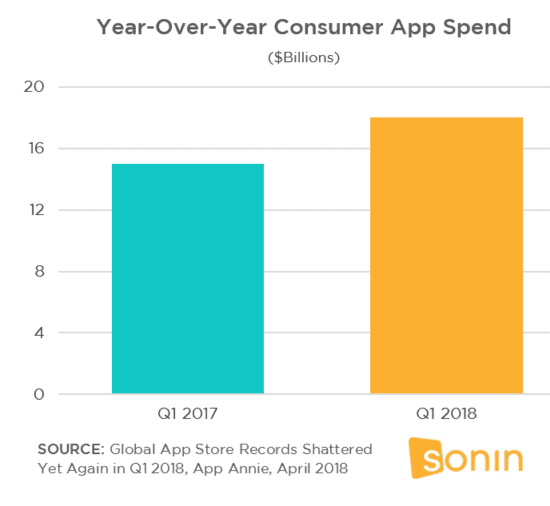 App Annie identified shopping apps as one of the biggest drivers towards the growth across-the-board. As both e-commerce and traditional retailers continue to double down on mobile, it's quickly becoming the cornerstone of the new shopping environment. Combining mobile with the IoT offers up a huge opportunity for retailers everywhere.
Suggested reading: Redefining Your Retail Customer Experience with IoT
It's also been a record-breaking quarter for both Google Play and the App Store. We can't wait to see how consumers will continue to embrace mobile throughout 2018. As mobile becomes a more integral part of our every day, both personally and professionally.
Netflix and Google Home Partner to Promote New Shows
To promote the releases of its original shows, Netflix has partnered with Google Home to create several immersive experiences. Through these audio games, customers can interact with their favourite characters. The latest being for the new 'Lost in Space' show.
Smart speakers set to become a common household item in 2018. With a staggering six million smart speakers expected to be shipped this year. And 50 percent of device owners using their smart speaker at least several times a day. This is a great example of using AI and voice tech in an existing and relevant way, not just for the sake of it. It'll be interesting to see how more companies make use of voice assistants to create new and unique customer experiences.
AI Voice Assistants for Engaging Your Employees
This month, we had an article published in Enterprise CEO: AI Voice Assistants for Engaging Your Employees. Voice is one of the most natural forms of communication out there. Voice assistants (VAs) are accessible, intuitive and easy-to-use. And they're quickly becoming the default interface for interacting with the IoT. With smart speakers set to be one of the fastest growing consumer techs this year. So, it's clear to see why so many brands are already taking advantage of VAs to engage their customers. Whether it's to reach new audiences or offer more personalised shopping experiences.
But the benefits of voice assistants don't stop there and the same tech can be used in the workplace too. Voice tech can automate so many of your employees' day-to-day tasks, saving them time and freeing them up to focus on high-value tasks. Read more the benefits of AI Voice Assistants in the workplace for increasing your employee engagement on EnterpriseCIO.
Gordon's Gin uses Mobile to Turn Train Delays to Their Advantage
Mobile marketing works best when it's combined with a good understanding of your customers. A recent example of this is Gordon's Gin who used messages that only triggered when commuter's trains were late. Through this campaign, the gin brand aimed to convince recipients to make a spontaneous purchase and buy a can of Gin & Tonic then and there.
This was thanks to the in-depth data mobile provides, which let the brand identify the specific commuters that match their unique requirements. Because of the nature of the campaign, it was important that recipients matched a specific set of criteria. Otherwise, the brand would be bombarding recipients with an irrelevant message. They needed to be a known traveller over the age of 18 and their train had to be late. Otherwise, the entire campaign would have fallen apart.
But thanks to the precise data mobile gave them, the brand was able to convince 21 percent of recipients to purchase a can of Gin & Tonic. Which translated to about 20,000 consumers. Gordon's took advantage of the direct channel of communication mobile offers, partnering it with the in-depth insight it provides. The campaign was so sucessful that it will return soon, this time coupled with promotional discounts.
Sources
1. Global App Store Records Shattered Yet Again in Q1 2018, AppAnnie, April 2018
2. 'Lost in Space' Gets Its Own Audio Adventure on Google Home Speakers, Variety, April 2018
3. How to engage your employees with AI voice assistants, Guardian, April 2018
4. Gordon's Gin Integrates Telco Data to Power Commuter Campaign, Mobile Marketing Magazine, April 2018
Recent Posts from Sonin App Development
Apps in Marketing: The 2018 Game-Changer: Our Marketing Manager Emma Humbey explores the role of mobile and apps in marketing, customer experience and workforce mobility. As tech continues to evolve and we welcome the next generation of users, how will mobile marketing change in 2018?
GDPR for Apps Infographic and Checklist: We've had lots of questions about the steps to take to make sure your app is GDPR compliant. So, our latest infographic is a handy compliance checklist. 55% of mobile apps may not meet GDPR privacy standards in time, don't let yours be one!
The Future of Finance Apps: Finance apps are at a tipping point. So, our MD Paul Jarret spoke at The Financial Gap event, hosted by Codehouse. There, he gave actionable advice to professionals in the financial services industry on the future of the finance app user experience.