Since 2009 Paul Jarrett has crafted Sonin from what was a one-man start-up, into a first-class team that has grown 66% in the past 12 months alone. Our team of highly-skilled developers, designers and project managers, who continue to produce the highest quality apps for our clients, form an integrated app agency who continue to thrive in the industry.
In 2016 we are delighted to unveil some news in what is a key milestone for everybody affiliated with Big Orange Software.
Over the past few years the industry has evolved, our clients' needs have changed and the services we offer have shifted. Enterprises require solutions to improve internal processes and reach new audiences through consumer-media technology, whilst budding app entrepreneurs need access to the latest software to help them thrive in the digital arena. We've been evolving too and require a new brand identity to reflect this.
Therefore, we are very excited to announce that from June 13th 2016 Big Orange Software will become Sonin.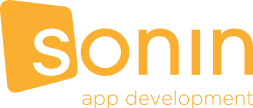 "This is an exciting time for the team, and I feel that this re-brand recognises the incredible accomplishments we've achieved together", says Paul. "We've worked hard on creating a service that delivers more than just a technical solution and therefore we required a brand identity that represents this".
Establishing an app is no longer enough in today's market, now it's about integrating it into a business and seeing tangible results. Sonin grasps that each business is different and understands, supports and guides all of our clients to ensure they're seizing the best opportunities. It's this ethos that we've carried with us since 2009 and something that we'll continue to demonstrate going forward.
"Evolving our identity and becoming Sonin wholly reflects our commitment to offering app solutions that go beyond our clients' expectations and highlights our ambitions to continue evolving with the market and exploring the latest technology".
The re-brand will coincide with an office move to house our expanding team. But there will be more on this news later this month.
We're looking forward to what the future holds and to continue working with our clients, old and new.
We'll still be contactable via email, through our website and over the phone throughout the whole transition, so do let us know if we can help in any way.
If you have any queries please contact our Marketing Manager emma.humbey@sonin.agency