Last week Google announced a new experimental feature that will let Android users stream app content through mobile search, which will enable people to access certain functionality that is exclusive to apps. So far there are only a handful of businesses who have partnered with Google to trial the new technology, but if successful it could prove to be start of something revolutionary.
When we get approached to build a mobile application we advise our clients to consider catering to both iOS and Android users so that their app reaches a larger demographic. However this news should get marketers excited about the potential opportunities that Android apps will bring in the not-so-far future, and for good reasons too.
The new streaming option and the improved version of app indexing is rolling out as we speak, yet is only available for a handful of app partners. Hotel Tonight, Weather, Chimani, Gormey, My Horoscope, Visual Anatomy Free, Useful Knots, Daily Horoscope and New York Subway (currently all U.S based) were all selected after expressing an interest in testing out Google's new app-only functionality.
So why will it get marketers thinking? Well it means that your app will not only be advertised on the Google Play Store but also on Google's search platform, and you'll only be advertising directly to Android fans. People searching for whatever reason will be able to view results which will consist of valuable content pulled directly from your app. Acting almost as a 'try before you buy' scheme, if Android users find your content particularly useful they will feel obliged to download your app onto their device, something which they have never been able to do before. These apps will also appear as their native counterpart which means that users can tap and swipe as they normally would, which means that they will be able to fully test the functionality before casting their decisions.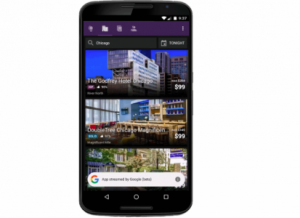 It's all happened to us in the past where we've had to delete apps off our devices to make way for new ones, undoubtedly a frustrating and surprisingly difficult task to do. The benefit of 'streaming apps' is that they will save space on mobile phones by enabling users to access app content without actually having to download them. This will discard the scenario where your app may potentially miss the download cut as you're competing with others to make it onto a users mobile device.
Another benefit of 'streaming apps' is that it will display content on Google search even if an app developer doesn't have a full-fledged website to accompany it, which has been an issue in the past. If you're a start-up who hasn't yet established a website or in a lengthy process trying to set one up, you can now rely on Google to show content from your app in the meantime. You also won't have to spend as heavily on paid search as Google will organically index your content and then prompt users to download your app onto their device.
It's been noted that Android's 'streaming apps' will prevent users from downloading apps all together, but this shouldn't be considered. From a UX point of view if a user has found your app a benefit to them they will much prefer to access your app directly, rather than having to mobile search it on every occasion. 'Streaming apps' will also only be accessible to Android users who are mobile searching, meaning that iOS and desktop users will have to download your app onto their devices to enjoy your content.
So it's a potential win-win situation for Android developers, your app can be downloaded and streamed with its content enjoyed on a wide spectrum. At the moment these points remain speculative and the prospect of stream-able apps is down to the success of various trials taking place. This said however, we advise that you seriously consider directing your app your towards Android users and capitalise on the marketing opportunities that Google's new technology will bring.
We've worked on a range of Android projects, take a look at all of them here.