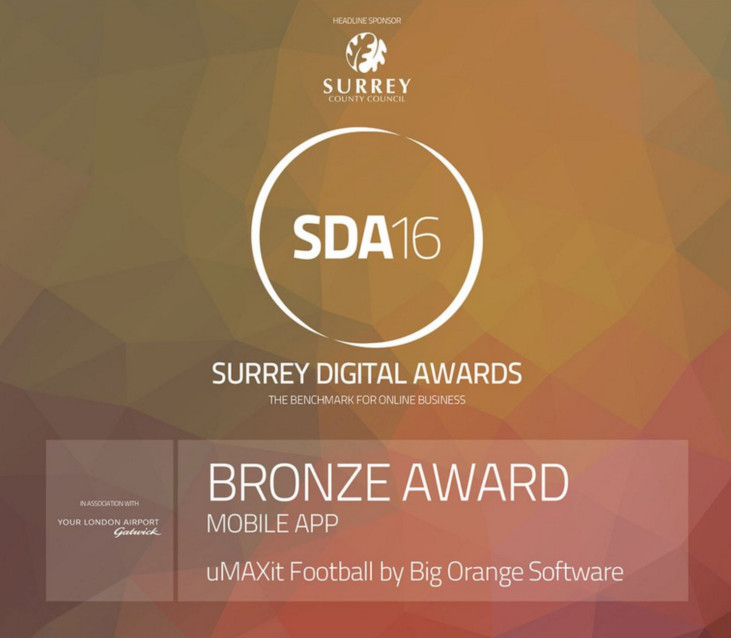 Last Thursday at the 2016 Surrey Digital Awards we were proud to be awarded the Bronze award in the 'Mobile App' category for our project work on the uMAXit Football mobile app.
Established in 2014, the Surrey Digital Awards is part of series of similar schemes looking to reward innovation and progressive thinking by businesses, individuals, events, charities or educational establishments. Our winners span several industries and range from individuals to national companies, but all have at the core of their entry a desire to use digital media as a means to achieve greater things for their business. 

(Spokesperson for the Surrey Digital Awards)
According to the event organisers, judging panel, distinguished list of sponsors and media partners at the Surrey Mirror the goal of the annual awards is to "reward businesses who have taken significant strides forward" and "celebrate a huge pool of design and development ability" whilst doing so. This is where Sonin prevailed in a tightly contested category.
On an evening where awards were up for grabs across 16 categories we were deservedly presented with ours for the popular cross-platform app that we established in 2012 and have managed ever since. Through a combination of industry knowledge and immaculate attention to detail, we successfully created an app that appeals to the masses, not just football fans.
uMAXit Football is a perfect example of how businesses can thrive purely on digital platforms. In addition to their content-driven website that is populated with the latest football-related articles, podcasts and videos, the mobile app allows users to make their weekly football predictions wherever they may be.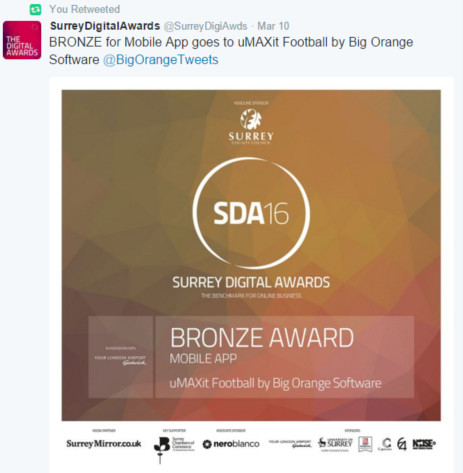 Despite narrowly missing out on an award on the evening for our work on Explore Thames, the app is further proof of how established organizations can utilize mobile technology to enhance their brand and reach a new demographic.
We'd like to take this time to congratulate the winners and nominees for their digital efforts who are continuing to make the industry one of the most exciting to work in.
Also a huge congratulations to the entire Sonin team for their efforts on working on the uMAXit Football and Explore Thames mobile apps.
Next year, it's gold.
Seeking an award winning product?
If you're after a mobile platform with award winning potential then let Sonin be the ones to make this happen. With extensive experience in working with clients in various sectors we understand everything from your initial requirements all the way to retaining your user base. Contact us now to discuss your plans in more depth.