Welcome to App-nalysis, our monthly blog series where the Sonin team analyse a popular mobile app from the month past and look at how its concept and design has played a pivotal role in its success. Our aim is to give our website browsers an insight into current mobile trends which have been applied to mobile apps in various industries.
Next up it's the turn of every mother's favourite cross-platform mobile app, Mush.
What is Mush?
Mush is designed to make parenting more fun by connecting mothers and kids in the local area. The app was devised by mothers Sarah & Katie when they met at their local playground whilst playing with their children, and upon realising that they hadn't in fact had an adult conversation all day, they knew that it was time to act! It was brought to both of their attentions that there was a growing need for a mobile platform where mothers could meet up and converse with one another about adult matters, whilst also encouraging their children to interact with others too. And here we are today.
How does it work? You sign up to the app, provide some basic information about your child (age and gender), stipulate your own interests and then you're set. You can also create your own in-app profile which actually places most of the emphasis on the mother user which makes the app totally unique in its concept; it's a giant social network for mothers! (oh and their children are invited too).
As an app designed to make the prospect of meeting other mothers less daunting, it contains a number of nice features to make the process more inviting . These are:
Me, Myself & My Child
Similar to all social networks Mush puts you fully in control of your in-app profile. Firstly you're able to set your default home location by using an embedded Google Map and geo-locating software, which ensures that search results remain accurate whenever mothers open the app. Users are then required to submit their child's age. gender, personal parenting traits and interests, which are displayed next to their profile at all times.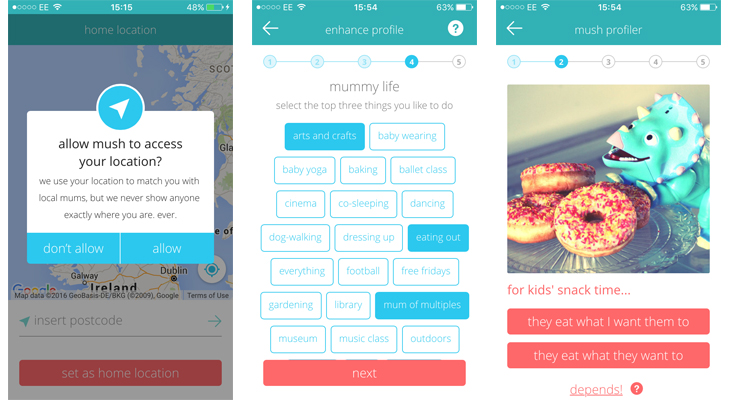 The UI is clean and simplistic and effective in its delivery, and the UX is easy to grasp. The combination of quick-fire questions and multiple answers means that users haven't got to spend a great deal of time filling out their profile. It's to the point but gives mothers the freedom to custom build their profile as they please.
Who's Around?
When a profile has been created it's simple for users to find other like-minded mothers through the app. The homepage informs you of other mothers that are near your location, and when you click to view these you can easily scroll down the page to view each individual profile, including their name, distance, amount of children and personal interests created above. You can then request to connect with them via a feature similar to LinkedIn leave a note too, so you have the option to accept and decline connections.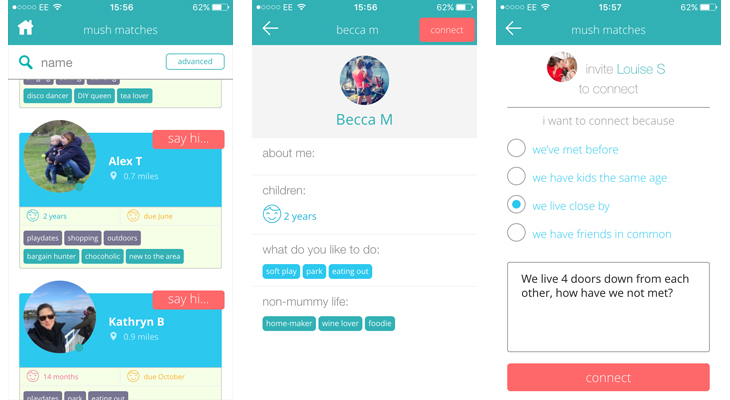 When you have connected with other mothers you can then use the in-app message feature to chat as you please. You can then set up and invite other mothers to groups and manage your play dates through your personal in-app diary, and receive notifications so that you don't miss a thing. A nice touch is the 'free to play' feature, which you can turn on and off yourself as and when you want to be contacted by other mothers.
Content
If you're not in the mood for a play date but would rather catch up on some interesting editorial, Mush has that covered. With witty yet useful titles varying from 'How To Survive The Day When You've Had No Sleep'. 'How To Survive A Trip To The Natural History Museum' and 'Tidy House Tips For Manic Mums', there is something for everyone. They're simple to digest and ideal for when you've got a spare couple of minutes to yourself.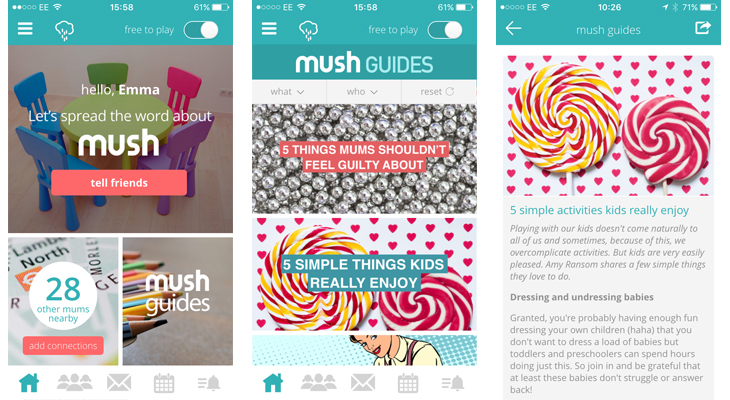 Despite being in the early stages of its release Mush has managed to hit 5,000 downloads in its first three weeks with more members joining everyday. The app was also listed in the 'New Apps We Love' category on the App Store. Mush is a perfect example of how entrepreneurs can convert an everyday common issue into a fully viable consumer product in the form of mobile app. Have a go now and download Mush on the App Store and Google Play Store now.
Want to be like Mush?
Here at Sonin we have worked alongside many entrepreneurs who wish to make their product flourish in the app industry, including uMAXit Football, Jenks & Co and Don't Mind Life. If you would like to discuss your project in more detail then get in touch with us today to discuss your plans. We'll be more than happy to help.
Like what you read?
You can receive blogs like these, amongst other hints, tips and industry news directly to your email inbox, by signing up to our newsletter The Sonin Broadcast.