Welcome to App-nalysis, our monthly blog series where the Sonin team will be analysing a popular mobile app from the month gone by and look at how and why its concept and design has played a pivotal role in its success. Our aim is to give you an insight into current mobile trends which have then been applied to mobile apps in various industries.
First up it's food and beverage locator app, Foodmood, which is taking London by storm.
Foodmood focuses on achieving two things; 1) Celebrating London's diversity of nationalities and their respective cuisines; and 2) Combining the dynamic food scene in the Capital and the growing food blogging community, whom specialise in sourcing the latest and tastiest dishes.
The app seeks to alter the way that people search and read reviews for restaurants in London too. Users can swipe through Foodmood's search engine and custom build their own preference list based on the images shown, and then either opt in for 'yuk' or 'yum' which indicates their choice. This preference list will then dictate which restaurant results are shown afterwards.
In addition to this reviews are only sourced from trusted bloggers in the food and beverage scene, meaning that users are given reliable, honest and professional advice.
Like all apps for it to be deemed a success it needs an intriguing design to make it simple to use and yet exciting enough warrant a download, especially as there are many other similar apps arising in the industry (most notably Zomato). For more information on this we recommend looking at a past blog of ours on moodboarding for design inspiration.
So what does Foodmood offer that it has made it our focus this month?
Google Map Integration & Pin Drop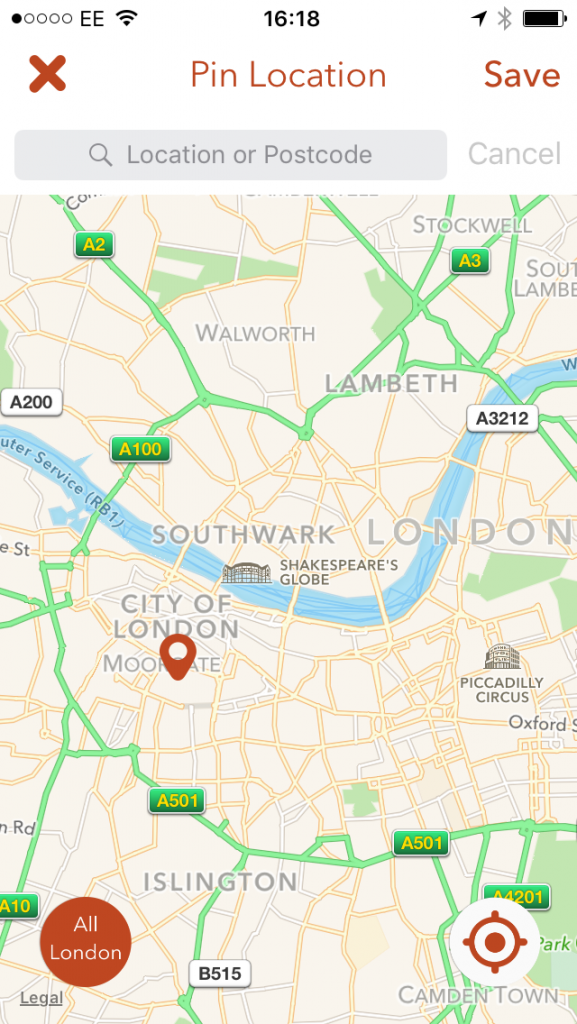 Concept
Google Map integration within apps isn't anything new, yet Foodmood have added a twist to the feature. Typically other apps allow users to find restaurants based on their location, which then opens up a Google Map for directions. What Makes the Foodmood app different is that it realises that users may not necessarily be in London when they're searching for places to eat. The Google Map allows you to either pin drop to a location where they would like to eat, or search for the location manually by entering a name or postcode. This feature gives users more flexibility when searching for eateries, and allows them to plan ahead which hasn't been explored before.
Design
Featuring a Google Map means that there isn't going to be much leeway in terms of its design, yet Foodmood has customized it slightly to fit in with the aesthetics of the rest of the app. The icons displayed on all four corners aren't invasive yet allows users to control all aspects of the map, including saving locations, auto-tracking, scoping a larger area and exiting the page.
Yuk or Yum
Concept
You'll notice that the yuk or yum feature looks extremely like another well-known mobile app. and that's because the functionalities are pretty much mirrored. That's right, Foodmood has adopted the popular Tinder swiping feature by letting users make their restaurant decision based on the types of food they see on the screen.
Yet what makes Foodmood different from Tinder is that every time a user swipes yum or yuk each response will then form the basis of the results shown afterwards. This ensures that every result is of genuine interest which saves time and effort in making their final decision.
Design
The clean and uncluttered design of this page ensures that users are kept focused of the main function of the page, which is of course the yuk or yum swipe. The layout is simplistic with minimal icons (and no menu) so that users can navigate to all aspects of all the app all in one place.
Results & Bloggers
Concept
A unique feature that separates Foodmood from its competitors is the integration of blog content for each restaurant. By clicking on the book icon users are then directed to a bloggers respective page which contains a thorough review of the restaurant.
Design
The design remains simplistic yet clearly displays everything users want to find out about . This includes the type of restaurant, its location, distance, the ability to share and the link to the bloggers material.
In the mobile industry keeping up to date with the latest developments and analysing market trends is key to producing the best app for your users. We at Sonin apply this knowledge to every project that we own work on and thrive on seeing every product prevail. If you have seen anything in the market that you feel can be applied to your own app then we'd like to hear from you, by visiting our contact page.
Li
ke what you read?
You can receive blogs like these, amongst other hints, tips and industry news directly to your email inbox, by signing up to our weekly newsletter The Sonin Broadcast.