DS Smith is a leading recycling and waste management provider, servicing clients like Tesco, Ikea and Primark in 37 countries around the globe. But with over 1,000 staff in its recycling division and thousands more subcontractors, visibility can be a key challenge.
The Challenge
DS Smith wanted to exceed customers' expectations.
Without a real-time overview of what drivers are doing, it's hard to respond to different clients' varying needs. To solve this, drivers needed an easy way to communicate problems while they were still on-site. This way, DS Smith's customer service team could provide proactive support that exceeds customers expectations. And if there were any issues, they would be able to contact clients straight away. This would avoid any problems, increase customer satisfaction and boost client retention.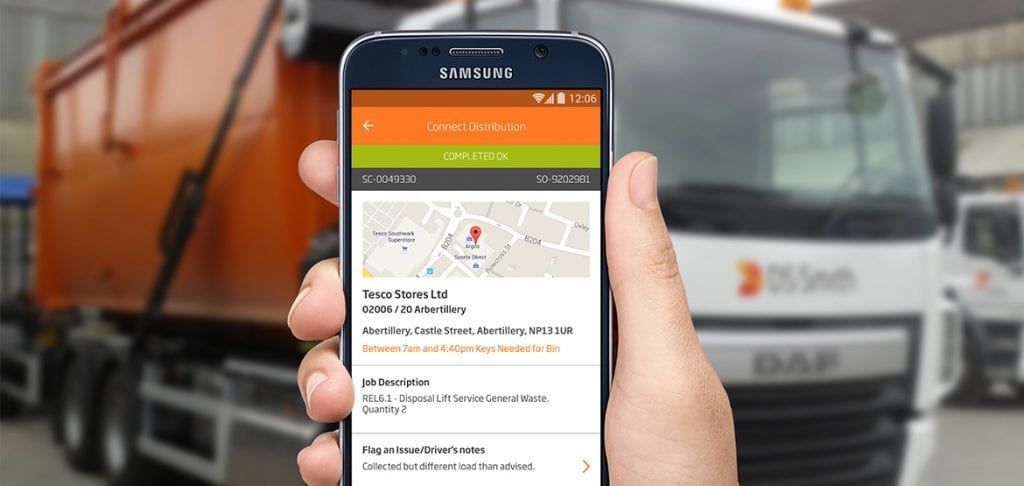 Are you looking for a partner to help you create a successful logistics app?
OUR APPROACH
We interviewed a cross-section of DS Smith's team.
We worked with DS Smith to establish a key goal for the project: real-time reporting in a way that drivers really buy into. This meant that we had needed to find a solution that helped DS Smith, its clients and its employees all at the same time.
We started by mapping out the company's entire collection process. Through this research, we identified the key challenges that come with managing such a huge number of collections on a daily basis. All the way from when a job is assigned to when a delivery driver checks it off as complete.
Based on this discovery process, we identified a couple of sub-goals. We needed to help DS Smith drivers keep on top of their busy schedules, making sure all information is recorded along the way. This would let the DS Smith customer service team be more proactive when it comes to support, empowering them to improve the DS Smith's client satisfaction.
THE OUTCOME
Connect Live is being rolled out to thousands of DS Smith employees.
The solution, Connect Live, allows DS Smith to track the progress of its deliveries in real-time. This system replaces time-consuming paperwork and provides a central platform for DS Smith employees to track every step of their waste management service.
This means that DS Smith has complete visibility at all times. So if a driver encounters an issue during a delivery, they can report it to head office with just a couple of taps. And DS Smith's customer service team can respond while the driver is still on-site. This improves customer experience, increases satisfaction and boosts client retention.
Similarly, the bespoke app is also a game-changer for delivery drivers. It gives them access to a personalised, up-to-date itinerary for the day with full job details, expected arrival times and relevant collection information. Even when they're in areas with little or no reception.
Since DS Smith rolled out Connect Live across its network of drivers, the mobile app has become an integral tool to the day-to-day running of the business. It has a significant impact on customer satisfaction and retention of clients. It's available for on the Google Play store for DS Smith employees only.
Let's build a best-in-class logistics app.