THE PROBLEM
Sales teams wanted instant access to their lead info on-the-go.
CommuniGator is an advanced B2B lead generation platform that lets sales teams identify and track the valuable leads that visit their website. The software draws from a wide range of information to automatically score leads. It then highlights the most engaged leads that the sales team should focus on.
But sales teams are often on-the-go travelling between meetings and networking events. Waiting until they get back into the office to check their leads wastes valuable time. And it stops salespeople from striking when their leads hot. So CommuniGator approached us to empower their clients' sales teams with lead data on-the-go.
We worked with CommuniGator to establish the key business goal for the project: to increase the value of CommuniGator's product offering. This helped us to create real value for our client instead of just focusing on a list of features.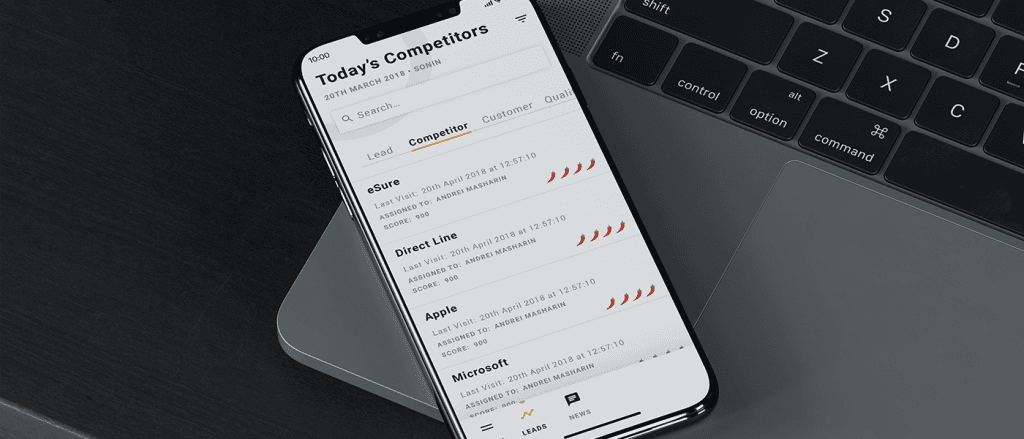 OUR APPROACH
We balanced game-changing features with CommuniGator's key goals.
The challenge of this project was taking all this detailed information and putting it into a simple and intuitive app interface. So before we began wireframes, we mapped out the user journey from start to finish. This helped us understand what users wanted to do and how they wanted to do it.
Our design team then built an app user interface and experience that would reduce cognitive load. We wanted to make sure users could do more with less effort. To do this, we used reachability heatmaps to pinpoint the most convenient areas on the screen. We then put the most important items like essential lead information in these spots.
All of this meant that as soon as users launched the app, they saw what was most important to them straight away. And that they could take actions like managing leads with just a few taps.
THE OUTCOME
29% of CommuniGator's clients downloaded the app in the first week.
As soon as users launch the GatorMobile app, they're able to see their most engaged leads straight away. Tapping on a lead then shows users a real-time lead score along with all the essential info they need. From here, CommuniGator's clients can quickly update records and assign leads to colleagues.
We also built a 'News' feature into the app which lets CommuniGator share product updates and marketing content. This opens up a direct channel between CommuniGator and its clients, boosting engagement while letting the company advertise updates and upsell additional services. The 'News' feature makes sure that users take advantage of new features. This increases the amount of value they get out of the product, driving up customer retention and loyalty.
Through the GatorMobile app, we were able to:
Empower CommuniGator clients with lead info on-the-go
Create a direct channel between CommuniGator and its users
Increase the value of the CommuniGator software suite
Drive up customer retention and encourage long-term loyalty
For any new feature that it develops, CommuniGator sets a target for 10% adoption among its clients. But in under a week, GatorMobile had been downloaded by 29% of all clients. The app is now available on the iOS and Android platforms. CommuniGator is excited to continue working with Sonin, adding more features and empowering its clients.
Start transforming your business.