10,000 +
Timesheets processed per month


67%
Reduction in Timesheet Processing Steps

0.5 days
Faster payroll processing for improved accuracy and greater employee satisfaction

Project Aims
Sonin worked with Nursdoc to produce a bespoke digital platform that has replaced manual timesheet processing with a seamless digital management platform.
The primary goal was to build a platform that allowed Galago to increase the efficiency of their timesheet process and reduce overall costs, whilst improving client and candidate experience and visibility for all stakeholders.
A faster, more efficient business and happier customers.
A Win, Win for Nursdoc.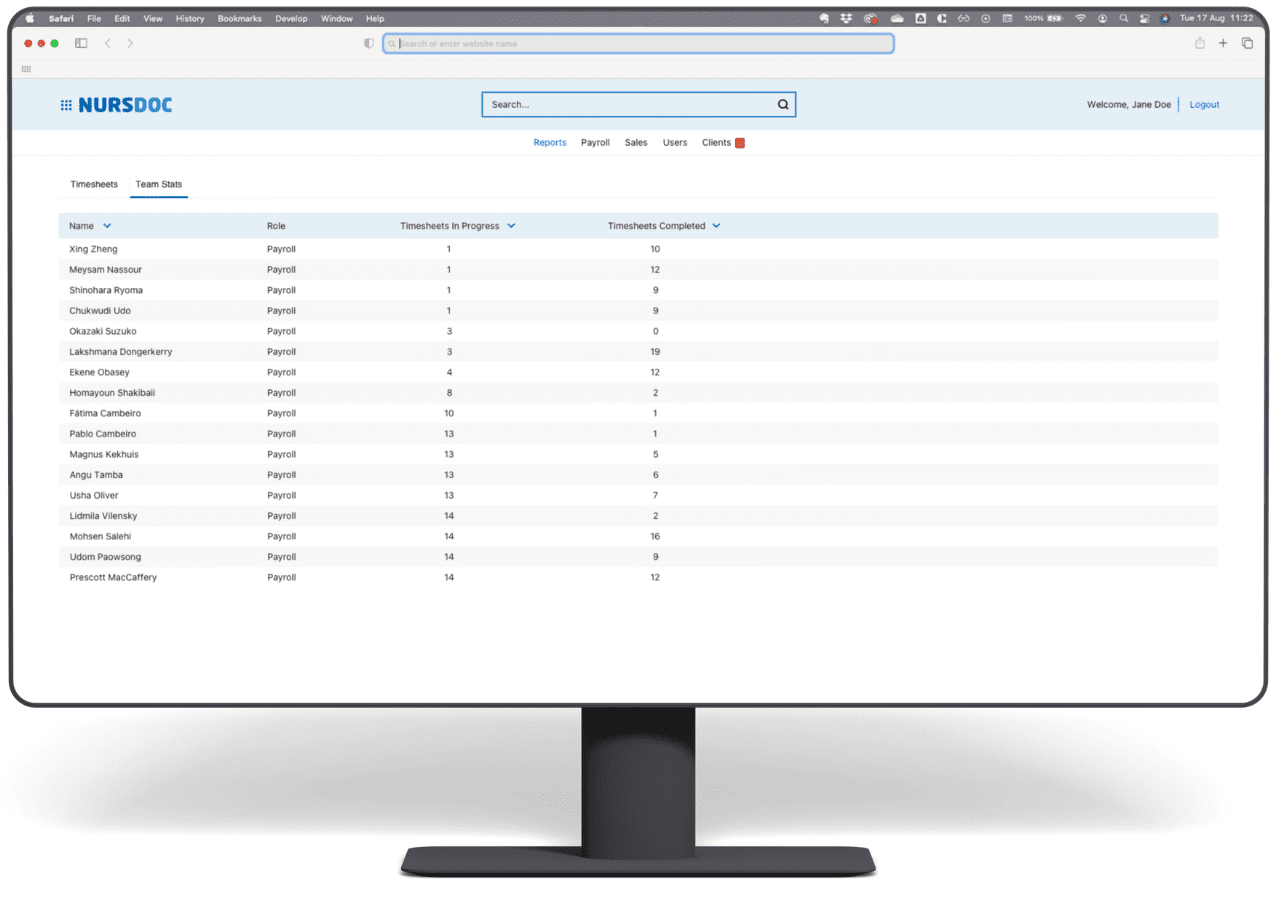 Are you looking to deliver results?
PROBLEM STATEMENT
Every week candidates submit thousands of timesheets for the work they have carried out over the previous seven days. To ensure their candidates get paid promptly and clients are happy, Nursdoc review each timesheet manually for errors or missing information.
Due to their success and the businesses growth, Galago's healthcare staffing agency faced the challenge of manually processing more and more sheets each week. Nursdoc partnered with Sonin to create a custom digital platform, improving productivity and efficiency.
KEY FEATURES ON THE PLATFORM
Pre-validation Processing Alerts – To speed up processing and reduce manual work, the platform checks each timesheet automatically. It ensures that users can only submit a timesheet if it meets the Company's specific requirements.
Automating Workflow – To help Nursdoc process timesheets more efficiently, reduce payment delays and improve payroll for employees and clients, after a timesheet is accepted by the platform, a "case" is created. The platform logs the date and time the timesheet is submitted and automatically sets a maximum number of days to process it.
Analytics Dashboard – To help managers track team productivity and keep the team accountable, the dashboard displays key performance indicators, like the number of timesheets processed and paid each day. This gives insights into the audit trail of all uploaded and processed timesheets.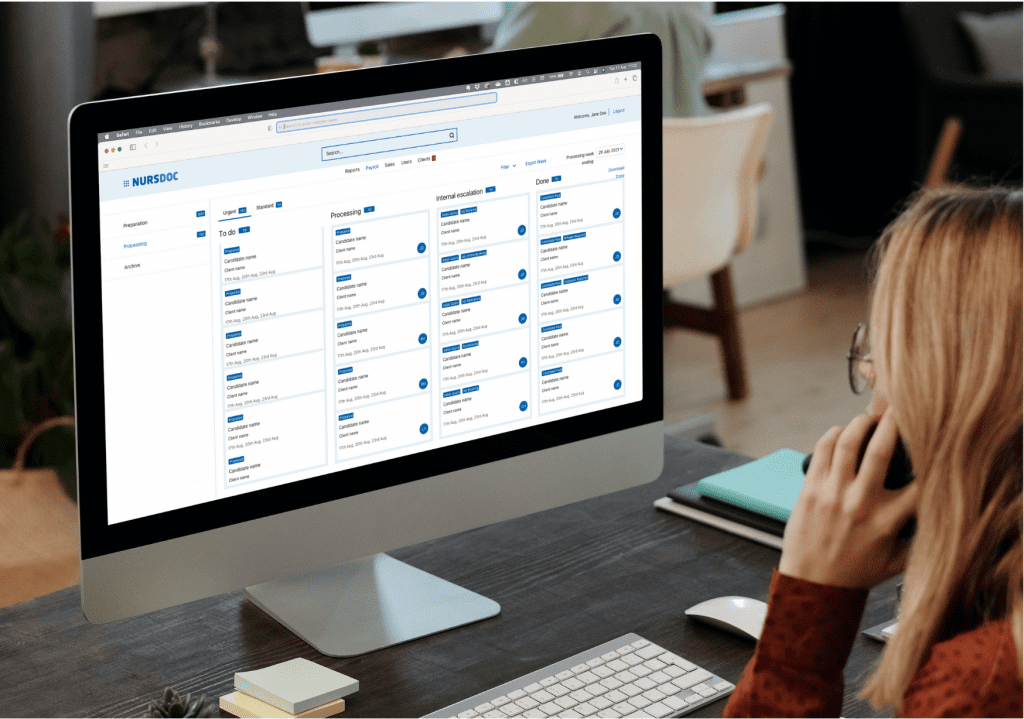 The Story
The Challenge
Due to Galago's growing business, staff had to manually process over 3,000 timesheets every week, which resulted in them having to work extra hours.
Galago, a healthcare staffing agency, recognised an opportunity to improve their workflow and increase efficiency when it came to processing timesheets.
They were facing a challenge of manually processing hundreds of thousands of timesheets every year using generic off-the-shelf tools, email, and shared drives. However, they knew that there was a better way. The team at Galago was eager to streamline their process and reduce the burden on their administrative staff, who were spending lots of time ensuring the accuracy of the timesheets. By implementing a new system, they were aiming to significantly reduce errors and cut down on the back-and-forth communication required to ensure proper payment.
In order to tackle this issue, Nursdoc, a subsidiary of Galago, decided to partner with Sonin. Together, Nursdoc and Sonin set out to create a bespoke digital platform that would replace the manual process and improve overall productivity and efficiency.
THE APPROACH
Identifying the need for a streamline platform that could transform operations
We worked with Nursdoc beginning with a thorough discovery and user research phase, where we were able to help them identify key pain points in their existing processes. Together we observed that administrative staff were frequently received incomplete timesheets that required additional information, leading to bottlenecks in certain areas of the payroll journey. Additionally, there was a lack of visibility on the progress of timesheets, making it difficult to identify the root cause of these issues.
Using these insights, we worked together to generate a list of feature ideas aimed at resolving these challenges and prioritised them based on their potential to deliver value quickly to both the business and its staff. This list formed the foundation of the comprehensive plan for the design and development of the Nursdoc Platform.
THE RESULT
A bespoke digital platform fuelling productivity and visibility for Nursdoc
Adopting a strategic and data-driven approach, Galago now use their robust digital platform to process the thousands of timesheets they receive each week quickly and efficiently! Our solution has allowed for easy tracking of over tens of thousands audit history records, further enhancing transparency and accountability within the business.
Thanks to our collaborative efforts, Nursdoc has successfully transformed its operations, achieving greater productivity and efficiency in timesheet processing that will have lasting benefits for the organisation.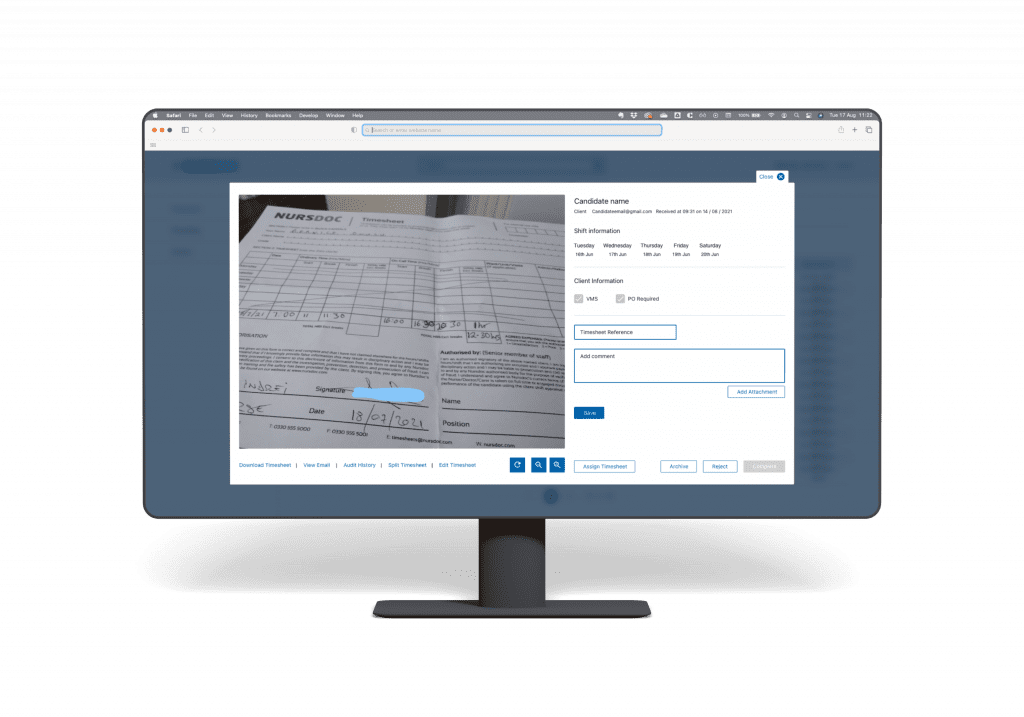 Transform your business by building the Right Product.
Since its launch, Nursdoc have seen over 10,000 timesheets processed each month and facilitated over 14,000 emails and 60,000 data entries onto the platform.
With the help of this platform, administration staff are now more efficient, productive and happier than ever before.
Are you ready to improve your business efficiency?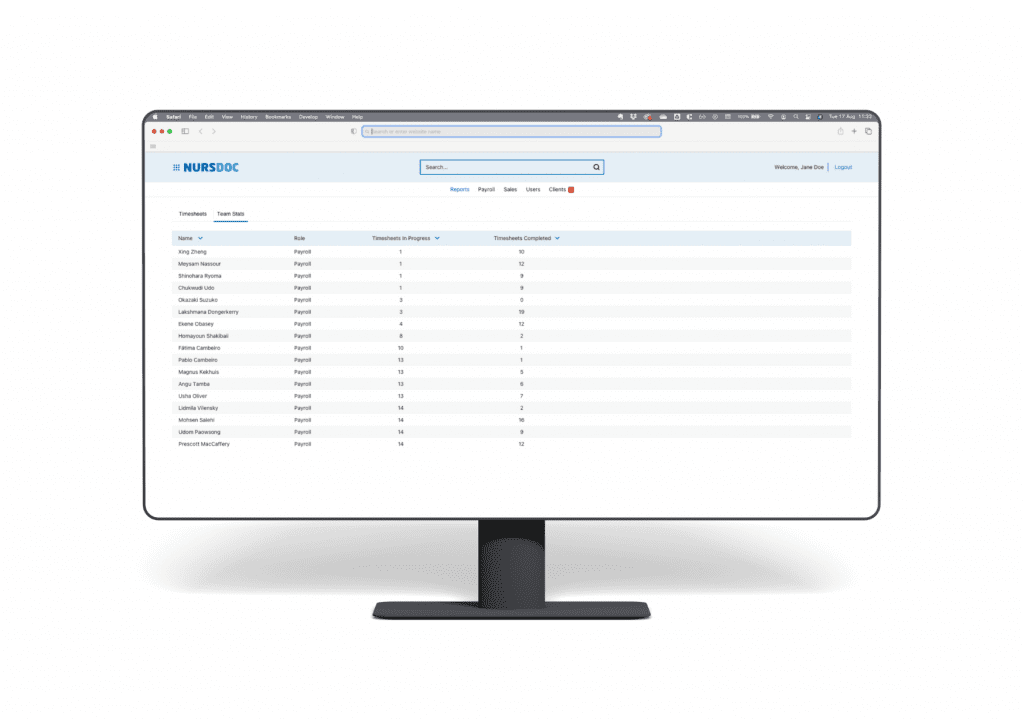 THOUGHTS FROM THE PROJECT TEAM
It's great to see the product is making a real difference everyday internally and will play a big part in shaping the future of the organisation.

Project Manager, Sonin
Let's build a Best in Class Enterprise Platform
The Nursdoc Payroll system has been rolled out internally and is used by staff every day!
The platform proudly facilitates over 10,000 interactions each month – transforming Galago's business for the better!
To see what we could help you achieve, get in touch today!
Start Transforming Your Business