DS Smith
Delivery Driver App
DS Smith is a leading recycling and waste management provider, servicing clients like Tesco, Ikea and Primark in 37 countries around the globe. Since starting in 1940, DS Smith has grown to employ 28,500 worldwide with a revenue of £5.7m. Committed to continually improving its service, DS Smith is always looking for ways to do more with less waste and greater efficiency.
Problem & Process
With over 1,000 staff in its recycling division and thousands more subcontractors across the globe, DS Smith required a solution that supported its service offering. One that would connect its dispersed workforce wherever they are in the world. All while providing accurate, real-time reporting for its customer service team and clients alike.
To achieve these objectives, we worked alongside DS Smith's team to fully understand the company's entire collection process. Through this research, we identified the key challenges that come with managing such a huge number of collections on a daily basis. For such a large operation, lack of visibility has a huge impact on almost everything.
DS Smith needed a bespoke delivery driver app to help contractors keep on top of their busy schedule. One that would also ensure the details of every single pickup are recorded and that nothing slips by unnoticed. Ultimately, the solution needed to let DS Smith's customer service team be way more proactive, enabling them to exceed customer expectations.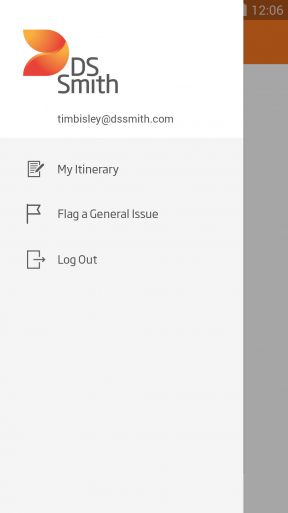 The Solution
The solution: Connect Live allows DS Smith to track the progress of its deliveries in real-time. The mobile app and accompanying web services back-end integrates seamlessly into the DS Smith ecosystem. Replacing time-consuming paperwork and providing a central platform for all users to access accurate, real-time data at every stage of the waste management service.
What this means is that DS Smith has complete visibility at all times. So, if a driver has a problem during a delivery he can report to head office with just a couple of taps. DS Smith's customer service team can then respond while the delivery driver is still on-site. This improves customer experience, increases satisfaction and boosts client retention.
Similarly, the bespoke app is also a game-changer for delivery drivers. It gives them access to a personalised, up-to-date itinerary for the day with full job details, expected arrival times and relevant collection information. Even when they're in areas with little or no reception.
Since DS Smith rolled out Connect Live across its network of drivers, the mobile app has become an integral tool to the day-to-day running of the business. It has a significant impact on customer satisfaction and retention of clients. It's available for on the Google Play store for DS Smith employees only.