We're fascinated with mobile technology, especially when it's new technology. So every month, we take a look back at the announcements, apps and tech stories that we enjoyed. Here's what caught our eyes in September 2019. To get the latest mobile news straight to your inbox, sign up to the Sonin Newsletter.
North's Taps the TrueDepth Camera to Bring its Bespoke Service to New Customers.
Getting your hands on North's Focals smart glasses are somewhat of a challenge, unless you happen to live in Brooklyn or Toronto.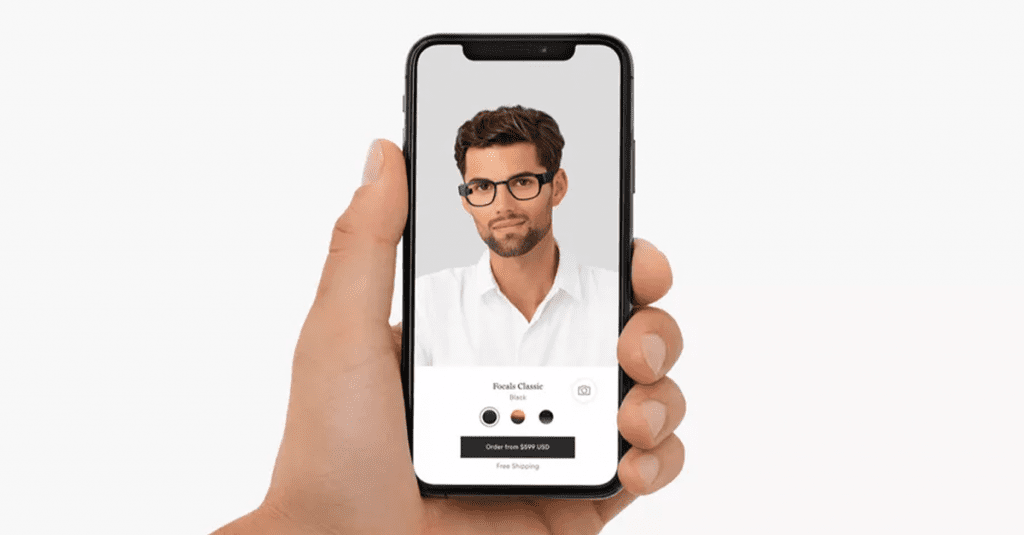 The trouble is the bespoke smart glasses provider requires customers to be measured and fitted for its new custom-built glasses before they can be purchased. And with only two stores in the US and Canada, the availability of their product has been fairly limited.
Broadening the availability of Focals has been a real challenge for North. With short term fixes like pop-up shops and showrooms expensive to operate, North has turned to Apple's TrueDepth, an in-depth-scanning system on the iPhone X and 11 cameras to meet its needs.
The new Focals showroom app makes use of the latest iPhone camera to gather measurements of customer's faces using a 3D scan. Through the Focals showroom app, customers can use their 3D face scan to preview different colours and designs in real-time. This means customers can upload a prescription, select a design and place an order without requiring an in-person visit, allowing North to maintain its exclusivity while opening up their services to new customers and different demographics.
This has significantly widened the Focal's availability and giving North a new channel to interact with consumers and in a way that enhances their experience.

The Apple Event's Blink and You'll Miss It Moment.
Now that the Apple event has finished and we've had a chance to try out some of the new releases. We thought we'd take a look back at the feature we're most excited about, and yes, we're going to act like slofies never happened.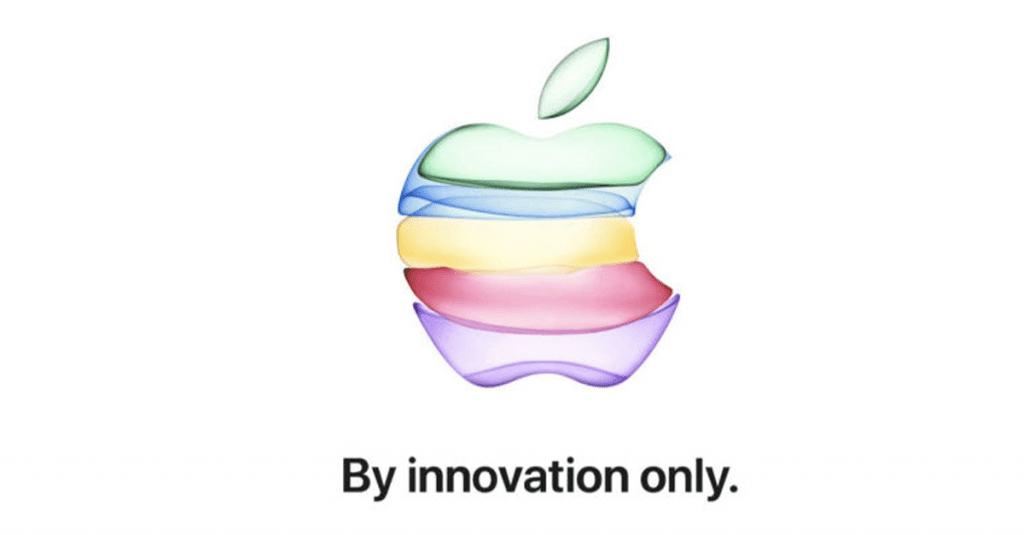 Here's some of the highlight we took away from the event.
A new iPhone 11, also an 11 "Pro" and an 11 "Pro Max"
A new Apple Watch, Series 5
An updated iPad
A date, Nov. 1! For the launch of its streaming service
A price, £4.99/month for its new Apple Arcade gaming service
The U1
Perhaps the biggest thing to be included in the iPhone 11 is a chip called the U1. The U1 will enable "ultra-wideband" positioning powers, that'll function a bit like Bluetooth (only faster and more accurate, and more capable)
Devices will be able to determine each other's location when they're in close proximity to each other, letting you locate things with your iPhone. For now, the feature only lets you share photos with AirDrop by pointing your phone at someone else's phone.
So why has this got us excited? Well, we're pretty sure Apple won't stop there. Apple's own iOS13 code showed they're testing a Tile-like tracker you could presumably attach to other things. Stick one on your keys and you should be able to find them through Apple's Find My app. We also think that it's a pretty good bet Apple will include the U1 chip in future iPads, which will make finding them down the back of the sofa a lot easier.
We're also excited to see whether this expands into the enterprise market where the tech could help companies track tools and other assets.
Travellers Now Prefer Chatbots over Humans. Here's why.
People now prefer booking through chatbots over humans according to the State of Messaging: Travel report that highlights the growing need for companies to rethink and improve their booking process.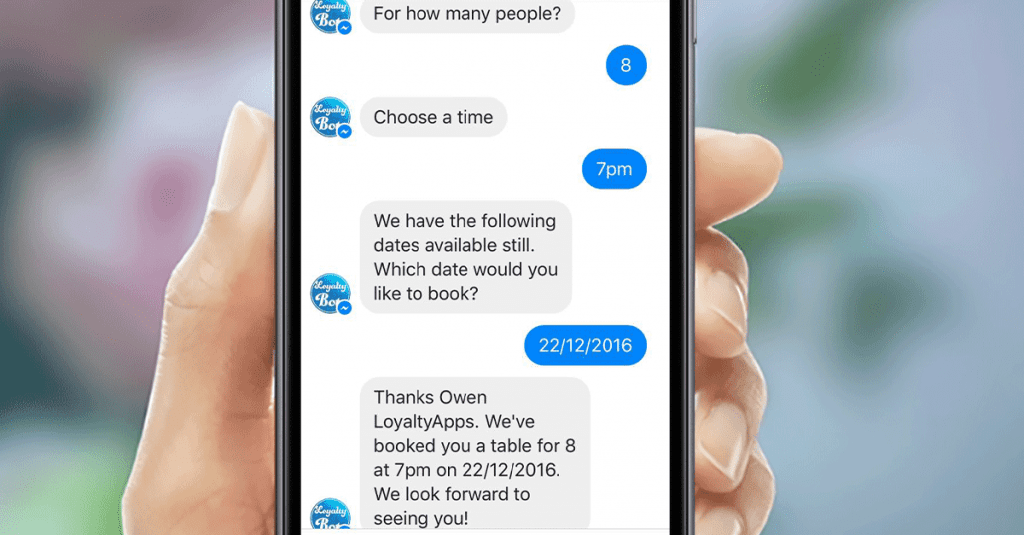 According to the research, 46% of customers would choose to use a chatbot over a person if it meant they received a faster service. And it's easy to see why, chatbot technology has come on leaps and bounds over the last five years to the point where they're now able to give realistic and helpful responses to customers when they need them most. Dealing with people, on the other hand, can be more hit and miss, having navigated your way through the various message navigating scripts, you (usually) join the back of the queue waiting on hold to be connected to an operator.
With 88% of travellers saying they would switch booking apps if they weren't satisfied with the booking process, companies in all industries are under more pressure than ever to deliver a frictionless and efficient booking process to remain competitive.
Already 70% of travellers admit they'd rather be notified of an update or change via messaging and a number of luxury hotels have revealed that guests are more comfortable messaging the front desk than calling it.
The rise of social media and instant messaging have already seen the likes of WhatsApp and Instagram introduce new business messaging tools to embrace the new channels of communication customers are turning to, and Chatbots role in instant messaging systems is set to have a big impact on businesses' future communication with customers.
Yelp's New App Emphasises Personalisation.
Yelp is set to begin letting users tailor their search results and home page preferences.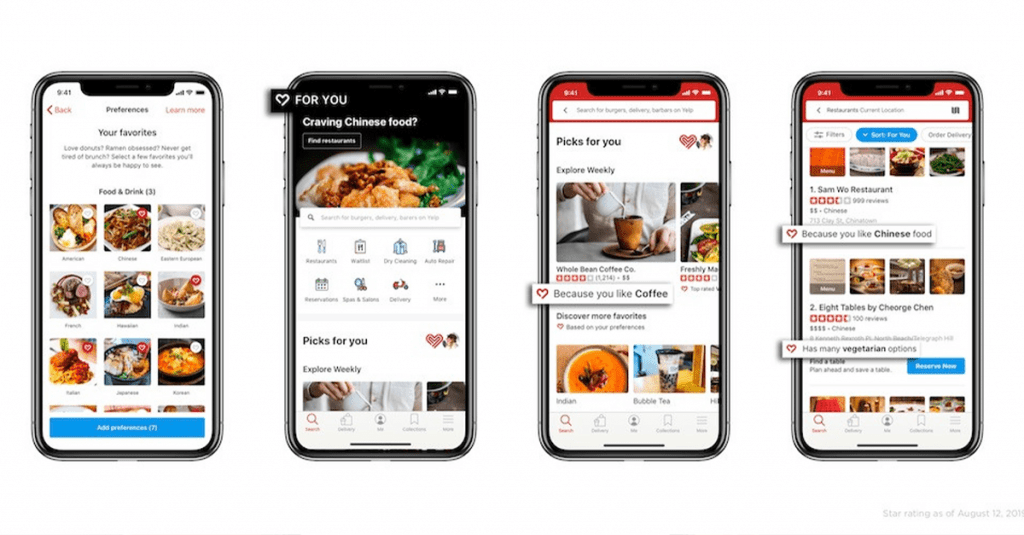 This will allow people with recurring preferences such as parents looking for child-friendly restaurants or vegetarians or vegans, avoid having to reenter that information every time they do a search. Instead, they'll be able to enter it once and Yelp will prioritise those results moving forward.
How has this been made possible? Well, over the last few years Yelp has been significantly expanding its AI and machine learning capabilities so that its algorithms can sort through the thousands of restaurants listed to prioritise restaurants that specialise in a specific cuisine. This marks the first time in Yelps history two people searching for the same thing in the same context will see different, and personalised results.
In improving its AI and machine learning capabilities, Yelp is set to deliver a better and more efficient customer experience, that is a step ahead of the competition. Delivering results that are personalised to individual users and that prioritise their values, not only encourages repeat bookings but also helps Yelp cater to customers on specific diets (such as the keto or gluten-free diets).