We're fascinated with mobile technology, especially new technology. Every month, we take a look back at the announcements and tech stories that we enjoyed. Here's what caught our eyes in February 2019.
Three foldable phones in as many weeks
One of the biggest digital trends from the last couple of weeks has been the appearance of foldable phones. In a time of phone-tablet-hybrids, several big manufacturers are trying to bring back some distinction between the two… By giving users both.
A foldable phone is essentially a small-ish tablet that bends into a more manageable-sized phone. The first glimpse we got into the world of foldable phones was the Royole FlexPai which was met with mixed reviews. But now the big players like Samsung and Hawaii are backing the concept too.
For now, despite both manufacturer's claims, the fold is a novelty. It's a useful feature at a premium cost ($1980 for the Galaxy Fold and €2,299 for the Mate X). But it's a novelty with a lot of backing. Google, for example, has announced that they'll natively support foldable devices this year. And Apple updated its foldable screen patent just a couple of years ago.
The concept is interesting but there's clearly a business case that needs to be made. And no mainstream manufacturer has answered that yet, they're just focusing on the features.
Microsoft's Hololens 2 focuses on the enterprise
When Microsoft first launched its mixed reality headset, there was an undeniable focus on creative and social tools. The most buzz coming from the E3 demo of an Augmented Reality (AR) Minecraft world. But the rollout plan seemed slightly disconnected with the AR future Microsoft showed off. Instead, the reality was expensive developer headsets and a focus on the enterprise.
But there's a challenge with the enterprise too and it's development. Right now, there aren't enough resources for developers and companies to take advantage of AR quickly. To solve this, Microsoft (along with a network of partners) have developed a wide range of tools to help businesses create AR applications quicker. This will drive down the time-until-value and help businesses see a return on their investment faster.
5G phones, 5G phones everywhere
5G is on track to be in place across the UK by 2020. What's all the fuss about? 2.8GBps download speeds, that's what. But faster streaming and quicker downloads aren't just a nice-to-have. They're necessary, here's why.
Gartner predicts that there will be 20.8 billion connected devices by 2020. As it stands, our networks just aren't able to support that many devices. Especially if the remote workforce continues to grow and makes more use data-hungry apps like Augmented Reality tools.
The only catch? Infrastructure. 5G signals will likely sit on high-frequency spectrums which don't travel as far as older, lower-frequency signals. According to Mckinsey, this means that 5G infrastructure will cost up between four and six times as much as LTE deployment. But all that will be worth it for the $35 trillion economy boost over the next fifteen years.
Oral-B introduces an AI-powered toothbrush
The average person brushes their teeth for between 30 and 60 seconds. With Genius-X, an AI-powered toothbrush, Oral-B are looking to boost that figure to the recommended two minutes. How will it do this? By providing users with personalised brushing recommendations based on their habits.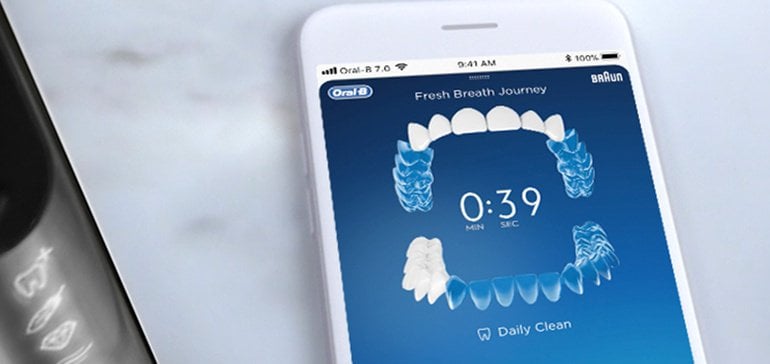 The results speak for themselves. By using the Internet of Things (in collaboration with big brands like Disney), Oral-B found it increased brushing time in up to 90% of kids who use the app. Genius X is a great example of a company using mobile technology to increase value for their customers. But in a way that also drives revenue.