What We Loved This Month: Google's New AR Features, IKEA's Mars Collection and Microsoft's New Fluid Design
6 min read - Sonin News
We're fascinated with mobile technology, especially when it's new technology. So every month, we take a look back at the announcements, apps and tech stories that we enjoyed. Here's what caught our eyes in December 2019. To get the latest mobile news straight to your inbox, sign up to the Sonin Newsletter.
Microsoft's New Fluid Design System
In a bid to speed up productivity Microsoft is re-imagining mobile experiences, with its new 'Fluent Design System' set to launch on its mobile office apps.
Fluent Design embraces a simple set of principles that emphasises speeding things up on the go. And in a nod to developers, Microsoft is letting third-party app developers embrace these design elements and apply them to their own apps.
Microsoft is determined to bring consistency to its app, and to achieve this Microsoft will be building its hardware and software together. This might seem a bit of an obvious move, but over the last decade, Microsoft has had to learn the hard way that having small teams work independently from each other doesn't always produce the best results. Remember the Courier tablet that after years of hype never launched? Or the Surface Mini that was cancelled just weeks before its announcement?
Microsoft has realised it needs to change the way it develops and designs products. And this means building apps faster. Under the old system, ideas took years to develop, which meant that Microsoft needed to imagine what customers would want from their products two years in advance.
Something had to give, and so Microsoft has moved to a more Agile approach which means product updates every few weeks, rather than a big release every few years.
So, what does this mean? Well, Agile development means creating something in its simplest form and building on top of it, adding in more features over time. This enables both Microsoft and its users to see and produce higher quality products.
This open design philosophy is set to apply the same set of rules across the entire company prioritising experimentation and collaboration. This means that a design piece build for one product, say Microsoft Word should be easily incorporated into another, enabling Microsoft to bring product innovations and enhancements and apply them consistently throughout its product offering.
And it also just so happens that here at Sonin we also run an Agile approach, that lets us build better and more innovative products.
Interested in finding out more about Agile? Why not give us a call to put our experts to the test.
Google's New AR Features Is Coming Soon to Mobile Apps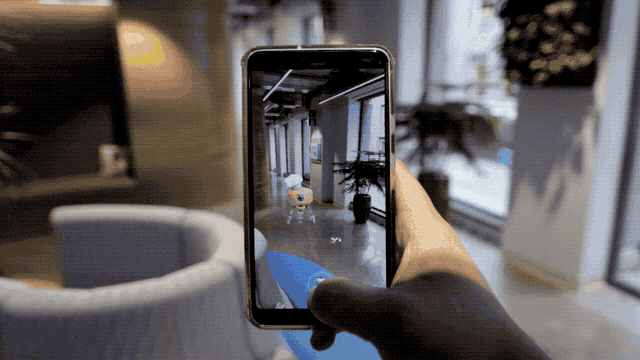 Since launching its ARCore augmented reality platform last year, Google has been working behind the scenes to bring in next-generation depth detection and physics upgrades. Which instantly caught our attention. Why? Because these upgrades promise to make AR experiences more realistic, and more importantly because it will also allow developers to bring in Occlusions.
Occlusions for those who aren't familiar with the term happen when virtual objects are blocked from view by other real-world things. This causes AR scenes to be more believable, and better yet it'll mean your smartphone can understand every object in a scene, including how far apart each object is from one another. Which will enable developers to create apps that make better use of AR and provide users with more realistic interactions.
Facebook Users Can Now Transfer Picture to Google Photos
This month Facebook stepped up its involvement in the Data Transfer Project. The project which includes the likes of Apple, Google, Microsoft, Twitter, and others, makes it easier for users to transfer data from one server to another.
This is set to be particularly useful for Google Photos users who haven't opted to automatically backup pictures from their phones. While Facebook users who haven't backed up their photos or lost their original copies also stand to benefit from Google Photos remote storage.
IKEA Helps Design Mars Habitats
IKEA revealed this month that it has been working with an Earth-based research facility that mimics a Mars like habitat. The original arrangement between IKEA and the Mars Desert Research Station would have allowed an IKEA designer to explore the station to gather inspiration for creating functional furniture for small apartments. Instead, the arrangement grew into a two-way agreement, that will see IKEA's designer, Christina Levenborn create an IKEA collection inspired by her time at the station. While IKEA will return the favour and develop organisational strategies and interior design layouts that emphasises a sense of privacy and personal space in cramped quarters and critically it gives IKEA a say in how future human colonists will live on other planets.
Apple Pay Speeds up Tube Payments
In an effort to reduce queues at London Tube-stations Apple has tweaked its Apple Pay service. Through removing the payments authentication process and enabling users to select a specific designated bank card to be their travel payment card, Apple is promising to speed up the tap in system at tube station barriers. Apple's announcement has been welcomed by commuters, who are increasingly turning to their Apple products to complete payments but have become aware that transactions on Apple products had been marginally slower than alternative payment systems. As Ben Wood, an analyst at CCS Insight explains it had become increasingly noticeable that queues were forming during peak times as Apple users took a few extra seconds to complete transactions.
Apple's announcement could not have been more timely as commuters and travellers alike struggle through the busiest time of the year to travel.
Monthly Tech & Mobile Insights Straight to Your Inbox
Every month, we send out a newsletter with our top tech stories and mobile insights. Sign up using the contact form below to get these insights straight to your inbox.