NEWS
This Month in Tech: October 2018
In an industry that's constantly evolving, we feel it's important to give you the latest mobile and tech news. Whether you're new to mobile, an industry leader, or an international brand, having the latest mobile news is vital for your mobile app development. So, here are the top tech stories from October 2018. With a heavy dose of hardware news, in October we've seen announcements from giants like Apple and Samsung as well as a potentially huge partnership between Snap and Amazon.
To make sure you don't miss out on the latest mobile news, sign up for the Sonin newsletter today. Here are the quick links to the top stories of our October Mobile & Tech news:
Adobe Launches New Tool for Augmented Reality Experiences
At its Max conference this month, Adobe showed off its new Creative Cloud tool for building Augmented Reality experiences. The iPad app, Project Aero, integrates with Dimension and Photoshop to make AR creation more streamlined and intuitive. According to Adobe, immersive experiences are closing the gap between our devices and our senses. And with Project Aero, creators will be able to deliver these experiences to mobile faster and easier.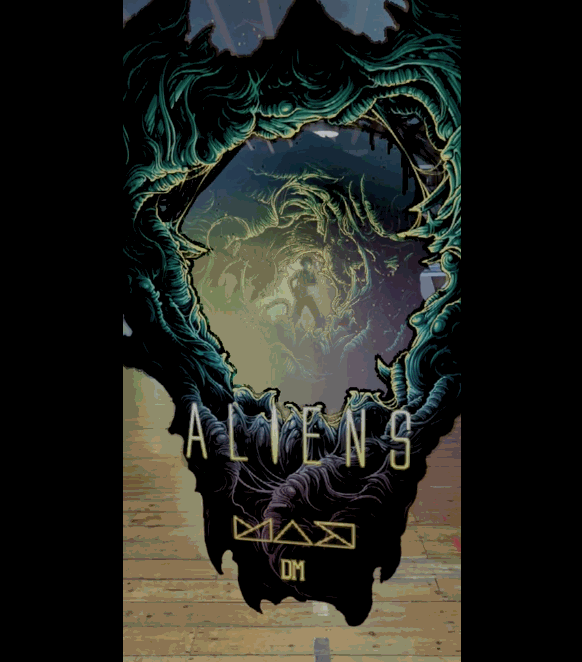 Source: TechCrunch
Project Aero makes use of the USDZ file format from Apple's ARKit announced during its WWDC 2018 event. This new file format is a "zero-compression, unencrypted zip archive" that's optimised for Augmented Reality app development. With Project Aero and the USDZ file format, we'll be able to create shared AR experiences much faster. Allowing our clients to engage their employees and connecting with their customers in unique ways.
Google Debuts Pixel 3, Home Hub and More
Google Home Hub: One of the key challenges in the smart home or smart office is control. So many different Internet of Things (IoT) devices requiring their own separate apps. This encourages a disconnected and inefficient system. So, to answer this problem, Google is introducing the Google Home Hub. It's a 7-inch touchscreen tablet from which you can control a wide range of Google and third-party smart home devices.
Google Pixel Slate: The new Chrome OS tablet is Google's first in three years! With an attachable keyboard, the Pixel Slate looks to be Google's answer to the Surface Pro. One of the device's key features is that, rather than a hybrid tablet/laptop user interface, the Pixel Slate can detect how it's being used and switches its UI accordingly.
Google Pixel 3 and Pixel 3 XL: Google's latest devices in the Pixel line pack in two front facing cameras at the cost of an extended screen notch. The benefit of this, however, is a larger edge-to-edge screen that takes up 82% of the front of the device.
A New (Updated) Chromecast: In addition to the design overhaul, the new Chromecast device is 15% faster and now supports 60fps video at 1080p. Of course, like almost everything in Google's current line up, Chromecast now supports Google Assistant.
Android's 10 Year Anniversary
Ten years ago on the 22nd October 2008, Android OS debuted on the T-Mobile G1. But you probably wouldn't recognise it today. After all, there was no on-screen keyboard and no multitouch. But the foundation was there for an operating system that's used by over two billion users every single month. For example, the pull-down notification bar was there from day one. And so was the ability for users to customise their home screen. Over the years, these features were refined, forming the foundation for the Android OS we know today.
10 YEARS OF ANDROID OS
1, 1.1, Cupcake & Dounut
2. Eclair, Froyo & Gingerbread
3. Honeycomb
4. Ice Cream Sandwich, Jelly Bean & Kit Kat
5. Lolipop
6. Marshmallow
7. Nougat
8. Oreo
9. Pie
1, 1.1, Cupcake & Dounut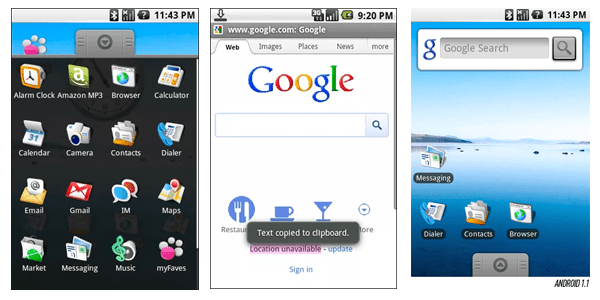 Launched with the T-Mobile G1, Android 1 introduced several key features that still remain in the OS today. And saw the start of Google's "sweet" naming convention with the 1.3 Cupcake update. But it also started off missing key features like an on-screen keyboard, a quick search box and even the ability to run on different sized screens. Over the course of its lifespan, though, Android 1 was refined to form the foundation of the operating system we know today.
2. Eclair, Froyo & Gingerbread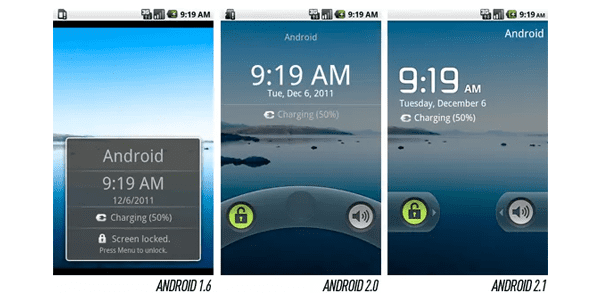 Android 2 featured:
Support for multiple Google accounts
Google Maps navigation
Live wallpapers
An all-new lock screen
Support for front facing cameras
3. Honeycomb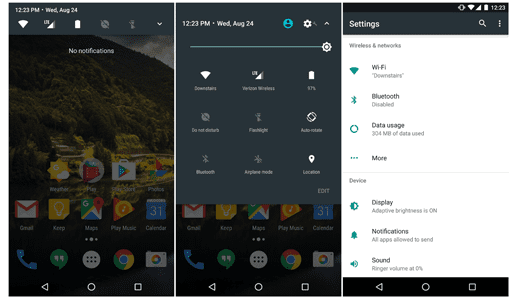 A Droid exclusive operating system for tablets with features like:
Improved multitasking and support for multicolumn app layouts
Introduction of the "system bar" meaning no reliance on home buttons
Introduction of the customisable Android action bar
4. Ice Cream Sandwich, Jelly Bean & Kit Kat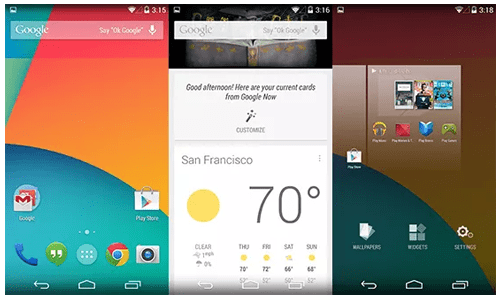 Android Beam: Using NFC to allow users to share data just by touching their phones together.
Face unlock: Arguably more of a novelty, and easily tricked by a photo of the person, but Android 4 used the phone's front-facing camera for a face unlock feature.
Data usage analysis: Giving users a much better breakdown of their data usage
Actionable notifications: For the first time, Android users could expand notifications to reveal more info and controls without opening the app.
Predictive Text: The keyboard shifted focus from text correction to prediction.
Full-screen apps: Apps now had the option to hide the status bar and navigation buttons entirely, providing a much more immersive experience.
5. Lolipop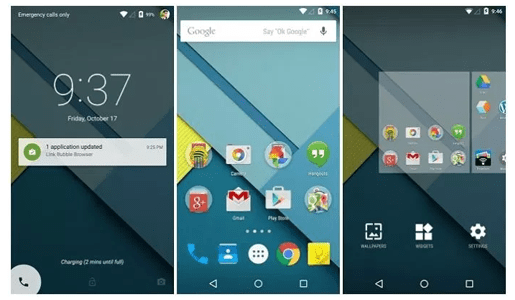 Material Design: The introduction of Google's iconic design language which would soon be rolled out across its web apps and desktop interfaces too.
Multitasking redefined: Rather than simply letting users preview recent applications, Android Lollipop's new multitasking let users hump straight into the part of the app users were interested in.
6. Marshmallow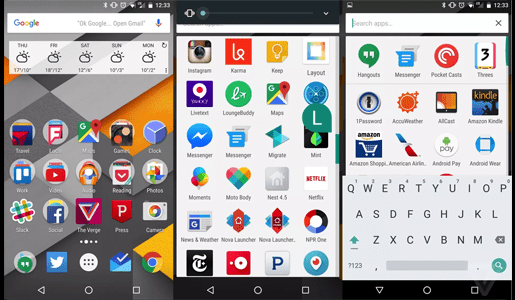 Android Pay: Preinstalled on Marshmallow devices, Android Pay (Now Google Pay) allowed users to make payments with their phone using NFC.
Now on Tap: A precursor to Google Assistant, users could hold down the home button to activate Google Now. The feature would then pull up relevant info, laying the groundwork for smarter app actions and functions.
7. Nougat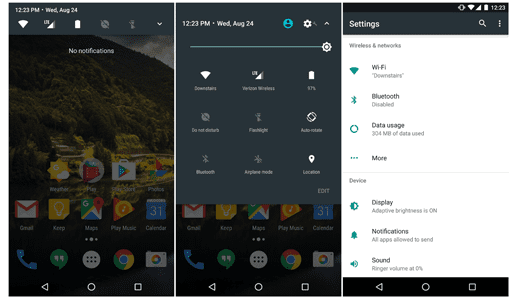 Split screen support: Two apps running fully in split screen mode along with a new way to quickly switch between recent apps by double tapping the overview button.
Quicker quick replies: For the first time, developers could add quick replies to their apps' notifications. Again, continuing the trend of smarter app interactions.
8. Oreo
Further improving the Android lock screen, Oreo organised notifications by priority. For example, media controls and people-to-people messages were now right at the top. Followed by other notifications like news alerts or promotional push notifications.
Other features included:
Halved the booting speed
Auto-filling details for app logins
'Notification dots' which quickly show which of your apps have new notifications
'Picture-in-Picture' which lets you see two apps at the same time
Android Instant Apps launch instantly from your browser without the need to install first
Google Play Protect will scan apps to keep your device and data
Improved battery life
9. Pie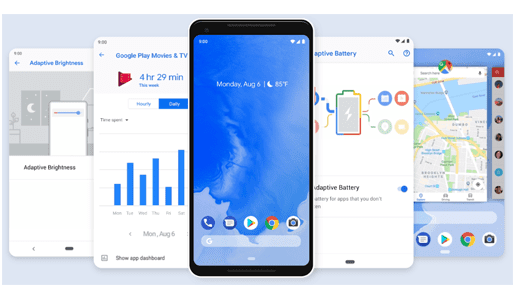 Android P has a huge focus on artificial intelligence. Using it to deliver a smarter, faster user experience that adapts over time. Its features include:
Smarter app suggestions
Gesture control for switching between apps
Digital health tools giving users more transparency over the time they spend on their phones
Wind Down mode that switches to a grayscale colour mode and automatically turns on Do Not Disturb before bed
Indoor navigation by using Wi-Fi RTT
Next year, if Google sticks with its naming convention, we can expect Android 10… Q. We're not sure what Android Q has in store for us (it'll likely continue the trend of smarter app interactions) but we do know it's Google's biggest naming challenge yet. After all, how many sweets or treats can you name beginning with Q?
As a junior developer, I loved the RecyclerView (the successor of ListView). It has the ability to render any adapter-based for a large data set. It's perfect for displaying lists (vertically or horizontally)!
Another one will be Constraint layout. It is a ViewGroup which allows you to position and size widgets in a flexible way. It made the implementation of UIs so much easier!
MARTHA – ANDROID DEVELOPER
A Closer Look at HTC's Blockchain Phone
HTC just officially announced the specs for its Blockchain phone. The Exodus 1 contains a secure wallet where you can store all those crypto keys and tokens. HTC is now accepting pre-orders but, you guessed it, you can only pay in cryptocurrency.
Effectively a beta test device and "not for the mass market yet," the Exodus 1 hopes to act as a middle ground Blockchain device. Somewhere between the inconvenience of keeping your cryptocurrency offline and the risk of storing it in a centralized market. After all, earlier this year Japan's Coincheck exchange lost $532 to hackers.
With the device, HTC is also championing a 'social key recovery' tool. This way you can lose your phone without losing all the keys stored securely inside. All you need is three trusted friends to download the official app. Your unique recovery key is algorithmically split between them.
We're yet to see whether the Exodus 1 and similar devices can help usher in the age of mass decentralisation. But it's interesting to see big name brands willing to let consumers test with emerging technologies. All on a platform that's convenient, accessible and personalised: mobile!