At Sonin we feel it's important that we deliver the latest mobile app development news to our readers. From an industry that's constantly evolving! Whether you're new to mobile, an industry leader, a start-up or a multinational brand, having access to the latest mobile news is vital for your app development.
So, here are the top stories from May 2018. To make sure you don't miss out on the latest mobile news, sign up for the Sonin newsletter today. Here are the quick links to the sections of our May Tech News:
📰 Featured Tech News and Mobile Stories
Google I/O – What Does it Mean for App Development?
It's such an exciting time for app development! But after Google I/O 2018, we're even more excited about what's next for mobile apps! Because at I/O 18, Google showed off new a whole host of new Android P features with improved UI, material design updates and new Augmented Reality capabilities for ARCore. As well as releasing Android Things 1.0, Google's OS for the Internet of Things (IoT).
But when following events like these, it can be hard to cut through all the noise. We've heard about all the new features and tech, but what do they really mean for the future of app development? Watch our video insight below to find out.
One thing is for sure: mobile apps are getting smarter. And so much news out of I/O 18 revolved around this. Google are using AI, ML and emerging tech to streamline the Android user experience. Helping users to solve specific problems, even if that means interacting with their apps less.
Full article: Google I/O 2018 – What Does it Mean for App Development?
Virgin Trains First to Sell Tickets Through Amazon Alexa
Last year, Virgin Trains launched their Alexa skill allowing passengers to inquire about rail information with just their voice. But now, customers can go one step further. In a partnership with Amazon Pay, the company is speeding up the train ticket booking process by letting passengers simply say "Alexa, ask Virgin Trains to book a ticket from London King's Cross to Edinburgh Waverley on 3 September at 10 am." Their Alexa-enabled device will then do the rest.
In addition to this, customers can ask Alexa essential info about their journey with just their voice. So, for example, disabled passengers can easily check their train's accessibility. By harnessing the power of voice assistants, Virgin Trains is streamlining the purchase process and giving passengers peace-of-mind.
But the benefits don't stop there because voice assistants are also invaluable for user research. So, thanks to the more conversational nature of voice tech, Virgin Trains will get in-depth insight into their customers. Helping them to provide more personalised and more valuable experiences.
Read more: Virgin Trains on Alexa
Forrester Say Mobile is No Longer an Option, It's a Preference
The Mobile Mind Shift Index (MMSI) by Forrester measures people's reliance on mobile compared with other more traditional channels. Right now, the majority of consumers are still transitioning into mobile for their digital lives. But for the key digital behaviours, smartphones are already the preferred platform.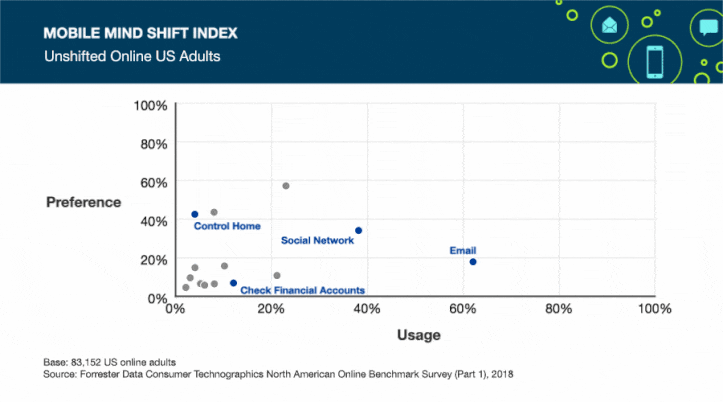 But a recent report by Forrester says the shift towards mobile convenience will only continue. With areas like finance apps in particular rife for mobile disruption. As this shift intensifies, it's important for businesses to anticipate which trends will see mobile preference and which will see mobile dependence.
Read more: Forrester
Metro Bank Launches AI Money Manager
In an effort to make their customers' lives easier, Metro Bank is turning to Artificial Intelligence (AI) tech for its newly-announced money management service. Which will use Machine Learning (ML) to identify patterns in customers' transactions as well as recognise duplicate payments and irregular bill amounts. The new service will then generate accompanying prompts and notifications, giving customers more insight into their financial situation and more control over their banking.
The financial services revolution is all about putting the customer first. Banks that embrace this will be well-positioned to win customers' trust and earn their business. Mobile is at the heart of today's customer experience. Investing in finance apps today will give companies a competitive advantage right now. But soon, it'll be an expectation for many.
Related reading: The Future of Finance Apps
📈 Mobile and Tech Stats of the Month
Recent Posts from Sonin App Development
We bring you the latest mobile and technology news on our Sonin Mobile Insights Blog, here are some featured articles from May 2018:
App vs Web: Why you should develop a mobile app Developing a mobile app just for the sake of it won't provide you with an ROI. But understanding exactly what your users need to achieve helps you to prove the value an app can bring to your business. But this also often means completely new competition from app-first companies.
Minimum Desirable Product (MDP) Approach for App Development At this point, it's been ingrained in many of our brains that the Minimum Viable Product (MVP) is best practice for new products. After all, it ticks all your business requirements. But what about your users? In today's digital world, who wants the minimum any more?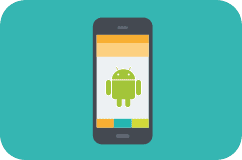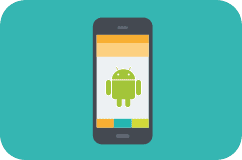 Android Instant Apps: What Do They Mean for Your Business? Instant Apps are all about helping your users get their tasks done ASAP. By giving your users access to the features they want the most, straight away. So, how you can take advantage of them to enhance your user experience, encourage engagement or boost business performance?
What is Android Jetpack? And what does it mean for app development? Since Google I/O, our Android team have been busy playing with all the new features and releases. One of which is improved functionality for Android Jetpack. Our Android developer Martha explains what Jetpack means for us and our clients.
Every month, we send out articles like these in our Sonin Newsletter. Sign up now to make sure you get the latest insights in an industry where no two months are the same.