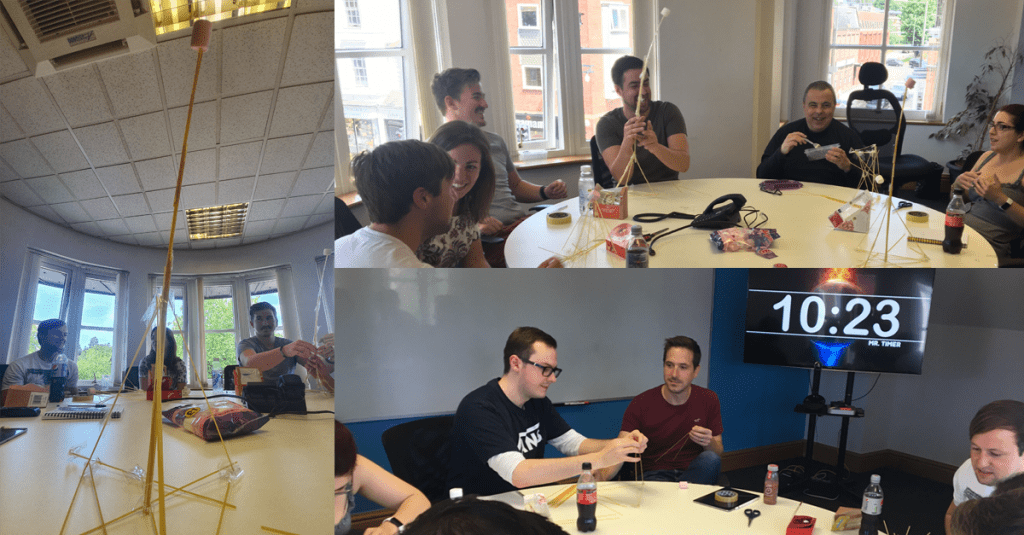 On the last Tuesday of every month the office descends (with their lunch in hand) on the conference room for the latest Knowledge-Sharing Session held by one of the Sonin team.
These Tuesday lunchtimes have become fascinating insights into the passions and interests that make the people at Sonin tick. And we've discovered some hidden skills and talents that had so far managed to slip under the radar. Here's what happened this month…
The Marshmallow Challenge
This month Project Manager Sophie lead the team through the infamous Marshmallow challenge. The challenge for those of you who aren't familiar with it, is a fun design exercise that had us scrambling for resources within seconds. In hindsight, it was more important to secure the shared Sellotape first.
The challenge seems simple enough. In small teams build a structure that can support a marshmallow using 20 sticks of spaghetti and a yard of Sellotape within a 10 minute time limit. The winning structure is the tallest free-standing structure.
As you can imagine with a bag of marshmallows and the reputations of Lead Developers, Project Managers and Account Directors on the line, the competition was fierce. No design was deemed too radical or too impractical.
With seconds to spare over-ambition brought disaster, as one by one structures fell to the weight of the marshmallow (also never underestimate how heavy a marshmallow actually is). In the end, of the five structures that started, two remained and a clear winner was decided.
What we learnt
So why did we spend our lunchtime playing with marshmallows and spaghetti? In a word, Agile. As the successful marshmallow structures demonstrated. An Agile approach of starting with the marshmallow and making it central to every design and prototype, gave teams instant feedback on what did and didn't work.
Involving the marshmallow from the off, rather than using it at the end, gave Agile teams the advantage. This iterative process will always trump the 'build it and hope' method a few teams attempted.
Needless to say, our Project Managers who have built up a history of using Agile in the projects they manage littered the winning team.