At Sonin we feel it's important that we deliver the latest mobile news to our readers from an industry that's constantly evolving. Whether you're new to mobile, an industry leader, a start-up or a multinational brand, having access to the latest mobile news is vital for your app development. So, here are the top stories from February 2018 Mobile News. Make sure you don't miss out on the latest mobile news by signing up for our newsletter in the footer below.
Quick links to top stories from February 2018 Mobile & Tech News:

25% of Customer Service Operations Will Use Chatbots By 2020
A good chatbot or virtual customer assistant (VCA) doesn't just provide information, it enriches the customer experience. Chatbots help to guide users through whatever task they need to achieve. According to research firm Gartner, over 25% of all customer service operations will integrate virtual customer assistant (VCA) or chatbot tech by 2020.
Companies already using VCAs said that inquiries have dropped by 70%! Chatbots were also responsible for a surge in customer satisfaction and savings of 33% per voice call. This is because of chatbots' conversational nature. Chatbots and VCAs are able to gather much more contextual data about your customers and use this to understand exactly what they want.
Source: Gartner
Recommended Reading: Using Chatbots & Voice Assistants for User Research
Average Smartphone User Accesses 40 Apps Every Month
According to research firm App Annie, the average smartphone user accessed close to 40 apps every month throughout 2017. This is part of a trend we're seeing as mobile becomes increasingly integral to our day-to-day lives. It's estimated we now spend an average of three hours a day in mobile apps which is 30% more than two years ago.
But what does this mean for businesses and brands? Mobile has become the most crucial channel for interacting with your customers. As engagement continues to grow across the board, businesses need to focus on enhancing their mobile offering and using tech to add value to their customer journey.
Source: AppAnnie
Google Introduces 'Visually Rich' AMP Stories to Search
AMP Stories are Google's way of introducing more visual, mobile-focused format for engaging with news and information. Similar to Snapchat Discover and Instagram stories, users can tap through sequences of photos, videos, and text. AMP stories will work on both desktop and mobile devices but they'll be made with mobile in mind.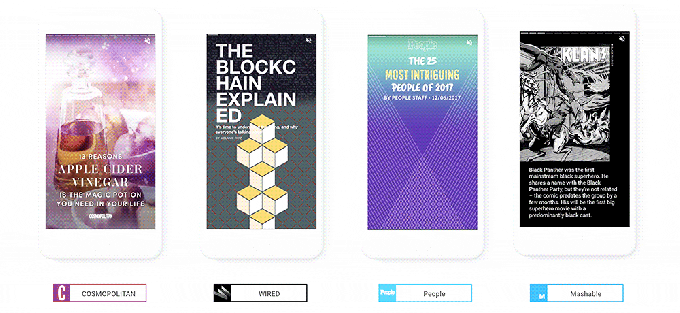 This new format will help brands to enhance their content for mobile users. These fast-loading stories will help businesses to engage both users and potential customers. See it for yourself: Wired's first AMP Story guides you through the format.
Source: TechCrunch
Facial Recognition Will Be On 1bn Smartphones in 2020
Facial recognition will be one of the fastest adopted mobile technologies, according to Counterpoint Research. This is mostly due to 2D facial recognition already being native to the Android platform. But it's estimated that more advanced 3D tracking will quickly take over and account for 60% of all smartphones with facial recognition. This will have a huge impact on the rise of emerging technologies like Augmented Reality, Virtual Reality and Artificial Intelligence.
Facial recognition technology is a huge opportunity for both brands and businesses. For example, skin care brand Olay is using facial recognition in their 'Skin Advisor' app. Each user can access a unique skin analysis with suggestions on which Olay products would best suit them. Through mobile, businesses can offer each customer a personalised customer journey. This improved user experience boosts engagement and encourages long-term loyalty among your customers.
Source: Counterpoint Research
Oreo Launches Augmented Reality Scavenger Hunt
Cookie brand Oreo is partnering with Google to offer consumers a virtual scavenger hunt. The augmented reality (AR) app will take advantage of Google's object recognition tech. Users will get daily clues which they'll be able to solve by scanning the correct object. Prizes include a trip to Google's headquarters, Pixel phones and Google Play points.
Justin Parnell, director of brand marketing, said: "people are spending more time on mobile than any other device." She added Oreo is looking to follow in Pokemon Go's footsteps, "keeping players engaged, sharing with friends and building a groundswell movement."
Source: Digiday
Global Smartphone Shipments in 2017 Reached 1.55bn
Earlier this month, market research firm Counterpoint released its stats for the global smartphone market through 2017. Here are the highlights:
A staggering 1.55bn smartphones were shipped last year with many big brands seeing year-on-year growth
Apple managed to maintain its yearly growth, overtaking Samsung as the number one smartphone brand
Smartphone sales dipped by 5% in Q4 2017 for the first time ever, suggesting a slower average replacement cycle
Source: Counterpoint Research
About Sonin App Development
Sonin develops mobile apps and digital solutions to support your business. As your users' needs and expectations evolve, we're here to help you evolve too. By using the latest technology, we create frictionless experiences for your users in today's 'always on' world.
Our expertise lies in innovative business tools, engaging consumer apps and secure enterprise applications. We've been developing mobile software since the dawn of the smartphone. And today we continue to create smarter, more intelligent solutions by integrating emerging technology into our apps. By utilising AI, machine learning, bots and IoT devices we create apps that help everyone achieve more wherever they are in the world.
We can help with android app development, iOS app development, enterprise app development, mobile software development and more. Get in touch with us today to find out more.