At Sonin we feel it's important that we deliver the latest mobile news to our readers from an industry that is constantly evolving. Whether you're new to mobile, an industry leader, a start-up or a multinational brand, having access to the latest mobile news is vital for your app development. So here are the top stories from December 2017 Mobile News. Make sure you don't miss out on the latest mobile news by signing up for our newsletter to stay informed.
Quick links to top stories from December 2017 Mobile News:
Warner Bros & Intel partner to offer a new immersive experience for autonomous cars
Intel and Warner Bros announced they would partner to deliver in-cabin, immersive experiences to autonomous vehicles. The project, AV Entertainment Experience, will take advantage of time made available thanks to self-driving tech.
Because as Intel CEO Brian Krzanich points out, "the rise of the AV industry will create one of the greatest expansions of consumer time available for entertainment we've seen in a long time." So with Warner Bros' help, Intel will look to establish its reputation as an industry leader in entertainment for self-driving technologies.
Source: Mobile Marketing Magazine
Amazon unveils 'Alexa for Business'
With its new 'Alexa for Business' platform, Amazon is looking to make Alexa the go-to voice-assistant for the enterprise. The new platform will let companies develop their own unique skills and find innovative ways for Alexa to improve internal processes, employee engagement and the customer experience.
For example, voice recognition can be used to control access to company data. And perhaps most practically, Alexa for Business has all the same capabilities as an Echo; including timers, alarms, questions and calendar commands. This makes it an ideal addition to employees' personal diaries.
Alexa: Engaging employees and empowering organisations
But Amazon's first focus is in the conference room. And they're working closely with communications companies like Polycom to integrate Alexa into video and voice conference calls. Businesses could use Alexa to read out meeting agendas as well as make a recording and transcript of the meeting that's automatically shared with all participants when it ends.
Source: TechCrunch
Recommended Reading: Sonin MD Paul Jarrett talks what's next for the virtual assistant
Apple begins rollout of Pay Cash with iOS 11.2
Apple Pay Cash, now available in the US as of the iOS 11.2 update, lets users send money to one another directly through iMessages. Payments made through Apple Pay Cash are authenticated by either TouchID or FaceID. And recipients can instantly access the funds from their Apple Wallet.
Apple Pay Cash, in combination with Apple Pay and Wallet, gives users more transparency over their spending. Because all users can see a history of transactions between themselves and their friends, as well as any payments they've made in-stores via Apple Pay.
Source: TheVerge
Global Spending on app stores will exceed $110bn in 2018
Global spending on mobile app stores is set to exceed a staggering $110bn next year. According to App Annie's App Ecosystem Forecast, worldwide app store spend will grow 30% year-on-year in 2018. And growth will be driven by several key areas including AR, mobile banking and voice assistants.
Finally, over the years mobile as becomes more and more essential to the customer journey. With Black Friday 2017 being the first $2 billion mobile shopping day in history. And mobile making up 90% of all sales during Alibaba's Singles Day this year. And looking forward, mobile will become a core part of the retail experience no matter regardless of sector or channel.
Source: Mobile Marketing Magazine
BBC to focus on immersive experiences with new virtual reality production studio
The BBC has launched its own virtual reality production studio to continue growing its library of VR and 360-video content. Through its new VR Hub, the BBC will explore the impact of immersive experiences on its audiences. A spokesperson for the BBC said that VR offers the opportunity to create "moving, engaging and memorable experiences that are unparalleled when compared to other traditional mediums."
Immersive experience as part of the BBC's popular Blue Planet series
Rather than rapidly increase its VR output, however, the BBC VR Hub will focus on creating a small number of high-impact pieces. And with every project, there'll be a specific set of audience needs in mind. This will ensure the best user experience possible and help catapualt VR into the mainstream.
Source: Mobile Marketing Magazine
Customer-centric innovation in logistics
Since announcing their 'innovation partnership,' Huawei & DHL have worked together to provide supply chain solutions using industrial-grade intelligent things. With a customer-focused approach to innovation, they've taken advantage of IoT infrastructure to connect a huge number of devices with minimal power consumption. And this increased connectivity creates a more integrated logistics value chain. And gives every stakeholder with a more transparent and streamlined process.
Source: Huawei
Augmented Reality named Global Disruptor of the Year
Projected to hit $83bn in the next five years, augmented reality is quickly becoming an essential part of every major brands' mobile marketing strategy. Since the first AR app in 2008, the technology has seen a huge rise in popularity. And it's even set to overtake VR in the AR/VR market by 2021. The primary driver of this growth, according to Mark Zuckerberg, will be mobile rather than wearables.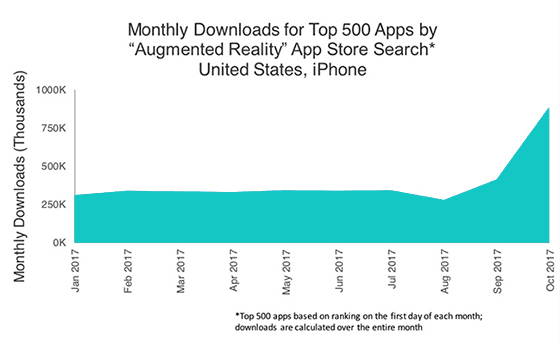 The key to creating successful augmented reality experiences is focusing on your user needs first, rather than your marketing or business goals. By focusing on the real-world benefits, you'll ensure your immersive experience will provide long-term value to every one of your users.
Source: Mobile Marketeer