As part of our ongoing Career Stories series, we sat down with our Project Manager Sophie to talk about her role and experience at Sonin so far. We talked about what life's like at an app development agency, how she ended up in Project Management and what's changed since she started.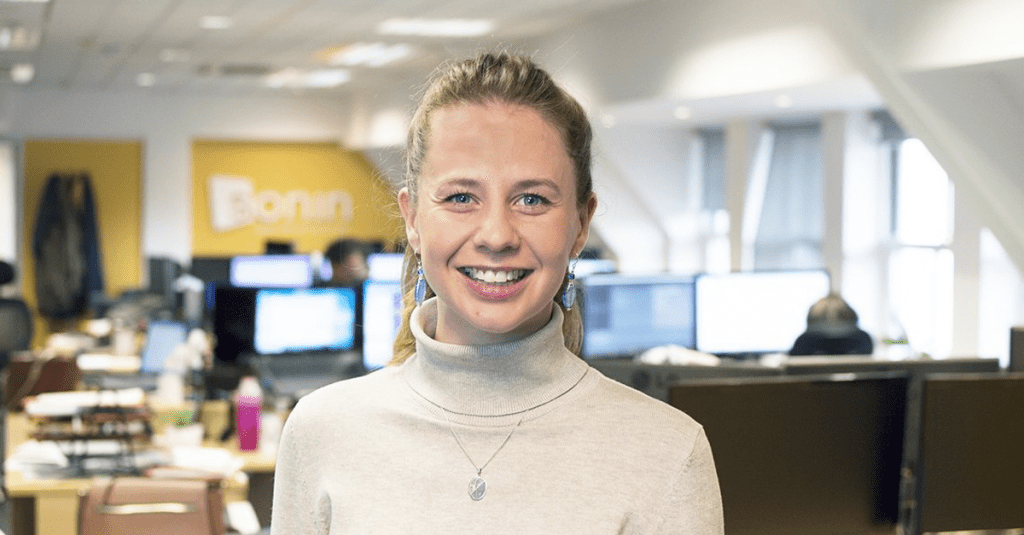 How long have you worked at Sonin? What did you do before?
I've been at Sonin for about a year and a half. Before that, I was a Project Manager in my previous role. And before then, I was a Full-Time Researcher. That's what I did for five years during my PhD where, for my final thesis, I explored the value of social media for UK emergency management. I've always had a keen interest in how we can use technology to help people.
What's life like working at Sonin?
Exciting! It's fast-paced and no day is boring. It's always busy. At Sonin, there's always something to do and something new to be thinking about. And when I say that, I don't just mean the practical day-to-day operations. You also get the opportunity to impact processes on a company-wide basis.
So, what does a typical day look like?
There is no typical day for me! I work on a various number of projects at once and every day, things are changing. On one side, I'm working with our product design team where I make sure clients' requirements are clear at every stage through wireframing, UX and UI.
And then at the same time, I'm also working with the development team to do the same. We have a stand-up every day where everyone working on the project feeds back what we're working on, what we achieved the day before, what our aims are for today and whether there are any blockers or risks that we need to be aware of.
This means that if something could end up impacting development down-the-line, I can mitigate it well in advance.
So, across the board, I'm monitoring and planning our resource every day. It's not just about my projects, though, I make sure that everyone in our entire team of app developers has their priorities sorted.
On top of this, I'm the first point of contact for many of our clients. So, I'm also working to update them on project progress, make sure their requirements are clear and answer any questions they may have.
During the design and scope phase, I'll write up scope documents and outline exactly what the user will be able to do on each screen of the app. I'll then work alongside our Design Lead Sarah to present this back to the client before we move forward.
Depending on the type of project, I'll then send out weekly email updates throughout the sprints. These outline precisely what's happened this week and what we're moving onto next.
Leading up to launch, I work with our in-house QA team. I love getting involved in User Acceptance Testing (UAT) to make sure the product will align with clients' expectations. If we're coming up to a release, then I'll run through the go-live plan which includes helping them with setting up any credentials that they need.
Being able to make recommendations to clients regarding releases is why I work with them from day one. Understanding their long-term plan and desired outcomes helps me focus on their goals instead of just features. It's how we make sure clients get the most value from their products.
A lot of that understanding is based on the business discovery workshops we carry out at the beginning of each project. How has this changed with the move to remote?
It's not that new for us, actually. We've run remote workshops before where people have had to conference in. As you said, workshops are about understanding specific business needs. So, for that, you have to be adaptive anyway.
You have to select the best activities and find the best way of opening up communication. So, whether you're in the same room or all remote, the principles stay the same.
Of course, it's not without challenges. You've got weak internet connections and people's shyness to be on camera. And, most importantly, it can be a challenge to read the conversation cues we all rely on every day for context.
For all these reasons, preparation has never been more important. That's why I'll always send round instructions and information on the workshop ahead of time. These include links to set up collaborative tools we might be using so everyone can be ready to start.
As a facilitator, I need to be more direct with questions and make sure no-one is talking over anyone else. I also make sure the exercises we carry out are as simple as possible. All of these measures combined means we understand each client's long term goals and the context behind them.
Are there any projects that you're really proud of?
I'm really proud of the process that I've implemented on the Alpine Talent Management system. It was the very first project I worked on at Sonin and straight away, I switched from monthly updates to regular, weekly reports. These gave the client a clear and concise overview of what we had achieved during that time. And it meant that the client knew exactly what the project status was at any point.
It took time to implement that process but the added visibility and focus meant we could move to more frequent product updates. That's what everyone wants. Knowing that my process is one of the key reasons we're still working with Alpine today is something I'm incredibly proud of.
What's your favourite thing about working at Sonin?
It has to be the people! I'm sorry if that's cheesy, I don't mean it to be but it really is the people. I love the people here and what we do. Of course, I get excited by the products that we produce but I get my energy from the people behind those products.
I feel like we're on a really exciting path at Sonin where we're working together to build a product lifecycle process that covers discovery, design, development and success. But underneath it all, it's the people that make that process amazing. That's what makes it fun coming to work every day.
You know that when you've got challenges, everyone's in it together. No matter what department you're in, you've got that support surrounding you. Knowing there's always someone to talk through a problem is a great feeling.
As long as you're working towards that same goal, you're valued at Sonin and made to feel appreciated.
We're always on the lookout for ambitious people like Sophie to join our team. For more information about how to join Sonin, see our vacancies.
If you don't see your role in the list but still want to join the Sonin Team, then we would love to hear from you. Please email paul.jarrett@sonin.agency with your CV to discuss your requirements. We look forward to hearing from you.