Last year, online Black Friday sales hit an all-time high totalling $5 billion. 2017 was also the first year that computers accounted for less than half of those sales.1 That's right! Because as desktop sales continue to drop, smartphone shopping is soaring. In fact, mobile commerce accounted for a whopping 42% of all Black Friday sales in 2017. (An 11% jump from last year).2 So, why is mobile winning the war for customers? And what do retailers need to do to reach today's mobile shopper?
Why Mobile is Winning the War for Shoppers
Simply put, mobile streamlines stuff. And in the case of Black Friday 2018, it reduces the friction of your customers' shopping experience. Apps are easier to use and they're way more engaging. But, most importantly, consumer apps reach your customers on their terms wherever they are. Whether they're at home, work or on-the-go.
As a retailer, mobile also increases the number of touch points you get with each customer. Let's say someone browsing your desktop site added an item to their basket on Black Friday morning but then abandoned it. With mobile, this isn't even a problem! You can just send them a personalised push notification reminding them that those product discounts won't last the week!
Even if they're still not keen, you'll still get valuable insight into their intent. Did they dismiss the notification? Or did they open it, swipe through the product photos and re-read its reviews? All this customer info can be yours with a well-designed consumer app. Customer Experience is Your Biggest Challenge for 2019, and mobile is an essential part of that.
M-Commerce for Black Friday 2018: Mobile Website vs App
First off, there's no point building an app for the sake of it. Run in the opposite direction of any agency that tells you otherwise. If it can be done in your mobile website, then it should be part of your mobile website.
So many big brands hold back features from their mobile website or stifle development on purpose. Instead, choosing to herd their users to download their app. Often because they're desperate to spam push notifications down their customers' throats.
This doesn't work. Any short-term gains you win won't outweigh the damage it does to your brand in the long-term. So, make sure your mobile website is fully functional and supports as much of the customer journey as possible.
Consumer Apps for Black Friday
Your consumer app should enhance your customer journey, not replace it. This means making the most of mobile in ways that websites can't efficiently. Taking advantage of device features like location, the camera and push notifications. This is why 58% of millennials prefer purchasing through apps over websites.3
For example, look at the way Amazon uses customers' camera below. This isn't just using mobile for mobile's sake. Instead, it's combining emerging technology (artificial intelligence and image recognition) with mobile to enhance Amazon's customer journey.
Imagine you're standing in a store, deliberating over whether to purchase an item or not. You could try typing the item description into Google and start jumping from comparison site to comparison site. Or, you could pull out your phone, point it at the item and Amazon will tell you if you can get it cheaper. (With a very convenient link to add it to your Amazon Pantry basket). So, using mobile and emerging technologies, Amazon is capturing customers while they're in the competition's store!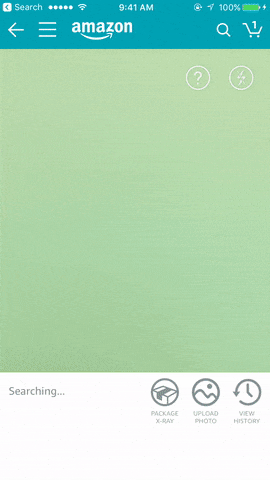 Similarly, mobile opens up a direct channel between you and your customers through push notifications. But you have to keep in mind that, while people do want push notifications, they also want them to be highly-personalised. They want relevant, targeted discounts and real-time delivery updates. Again, something Amazon does really well.
Finally, like with so much of marketing, just doing it won't be enough. Just like writing a great bit of content isn't enough. You have to shout about it! You need a plan post-launch. 25% of people Google asked didn't even know their favourite brand had an app.4 So, make sure your customers know about your app.
Long-Lasting Customer Loyalty
Let's face it, 'Black Friday 2018' and 'calm' don't quite go together. We all know that it won't be long until we see short-lived discounts and urgent calls-to-actions everywhere. But mobile isn't about quick wins. So many big brands use events like Black Friday to push their apps on people. What happens? At best, the app sits on the user's phone. At worst it's deleted and the customer relationship is damaged.
Need a Bespoke Consumer App?
On last year's Black Friday, shopping apps saw millions of downloads. Mobile is now the go-to for your connected customers. They want instant access to your brand and product range from wherever they are. Mobile meets this expectation.
Do you need a bespoke consumer app? One that delights your customers from the very first time they launch it? Or are you keen to enhance your existing retail app and boost customer engagement? Either way, we'd love to hear from you. We're an award-winning app development company and we've already helped many brands use mobile to connect with their customers. If you'd like to talk about an app development project, then call us today on 01737 45 77 88 or send us a message at info@sonin.agency.
Sources
1. Holiday Predictions 2017 (Adobe)
2. Holiday Shopping Flash Report: Black Friday Sales Up 32%, Digital Clearly Dominates The Season (SalesForce)
3. When Buying with Smartphones, US Consumers Like Apps and Mobile Web Just About Equally (eMarketer)
4. Four insights into how shoppers use apps and mobile sites (Think with Google)