This is part of our ongoing Sonin Create innovation lab, a hackathon-style event where we explore and experiment with the very latest tech. Because even though innovation is a priority for many businesses, they often lack the capacity to support it. And when it comes to emerging technologies, it can be hard to cut through the hype without seeing a real-world case use first. So, during Sonin Create, we deliver actionable advice and working prototypes. Demonstrating the benefit of integrating new tech into your business.
Expected to have over a billion users by 2020, Augmented Reality (AR) is set to completely change how we interact with businesses and brands. So, for our latest Create project, we tasked the Sonin team with finding a common problem and using AR to fix it.
We started with a presentation from our mobile developer (and resident AR expert) James where we explored existing and upcoming hardware like Hololens, Google Glass 2 and Magic Leap.
We also discussed how AR works best when it's combined with other emerging technologies such as Artificial Intelligence (AI). Because tools like AI and Machine Learning (ML) still need a way to convey information to the end-user. Augmented Reality is an intuitive and unintrusive way of doing just that.
Thanks to AR platforms like ARCore and ARKit 2, as well as low-cost mixed reality headsets like Holokit, developing and prototyping augmented reality apps is becoming much more accessible. Looking forward, more and more businesses will take advantage of the technology to create immersive and engaging experiences for consumers and employees alike. Let's look at what the teams came up with.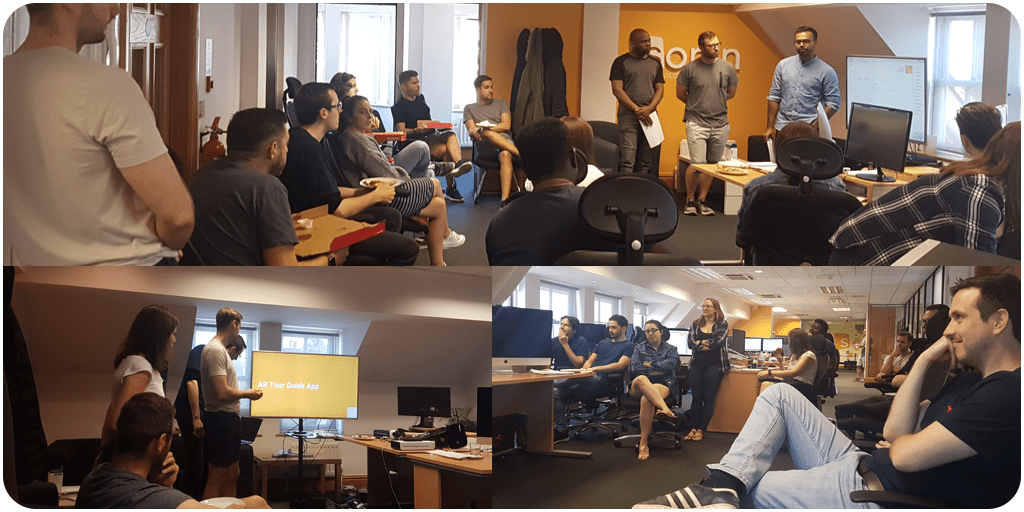 Looking back, we've always split the office in half (iOS vs Android) but we decided to shake things up a bit this time. So, during this Sonin Create, we had four teams meaning we could tackle the topic from a variety of approaches. But even though they were working independently, there were two clear themes that came out of the session. Two of the teams looked at the travel and tourism industry while the other two explored using AR with facial recognition. One for increasing airport security and one for delivering real-time, bite-sized information during face-to-face meetings.
Augmented Reality in the Travel and Tourism Industry
The tour and activity industry is a multi-billion dollar market. With more money being spent on sightseeing than shopping, souvenirs and nightlife combined. However, one of our teams spotted a problem: personalised tours are expensive and time-intensive. So, they set about exploring how we could use AR and mobile to improve the tour-booking process.
The solution: an AR Tour Guide App that would let users create their own custom itineraries. Voting on a list of destinations for the general group as well as choosing content unique to each individual. So, as soon as the group reaches the site, an AR tour guide appears and talks them through points of interest tailored to them. Augmented Reality can be used to bring up information on various features or even show full-scale reenactments through the app. Imagine being at the Colosseum and seeing gladiators battling it out below you!
Another team also tackled the idea of augmented reality in the travel industry. They split 'Travel' into three core areas: food, transport and buildings. They then explored the various ways AR could enhance each one. For example, showing the dietary and allergy details of restaurants. Or displaying routes and distances for unfamiliar tourists. As well as opening times, reviews and descriptions for personalised recommended locations.
70% of travelers already do travel research on their phones, with one out of every two journeys starting on mobile. Mobile apps and emerging tech are changing the way we go on holiday. As an unobtrusive and easy-to-understand medium, AR is the perfect way of showing information to tourists in unfamiliar places.
Augmented Reality and Facial Recognition
The other two teams explored the possibilities behind AR and facial recognition. Using augmented reality headsets to deliver real-time information. But each team took a slightly different approach. While one discussed AR to streamline security processes, the other looked at empowering employees in their everyday business tasks.
Firstly, AR offers a lot of opportunities for the security sector. When paired with a camera and machine learning model, AR can quickly show security officers information about the person they're looking at. This helps to streamline security checks, driving efficiencies and empowering employees.
Secondly, there are a lot of salesmen and account managers who have to work with a huge number of prospects and clients day in, and day out. Unfortunately, though, this can end with people forgetting names, details and history with certain clients or prospects. Which ultimately impacts the business performance.
So, to avoid this, one of our teams proposed an augmented reality app that would work with more subtle AR hardware like Google Glass or Intel's discontinued Vaunt glasses. This would present bite-sized information, in real-time, to wearers based on the people they're talking to. Helping users to improve client relationships and drive business.
Are You Excited by the Augmented Reality Uses for business?
Are you excited by the augmented reality uses in your business? Then we'd love to hear from you. We've helped many of our clients to take advantage of new tech and emerging technologies. Send us a message or give us a call on +44 (0)1737 45 77 88.