How is Mobile Technology Changing the Hospitality Industry?
Customers' expectations are skyrocketing across-the-board and the hospitality industry is no exception. Guests today expect an instant service, one that's tailored to their specific needs. And mobile provides the perfect platform for this. So, what can food services, hotels, events and travel companies learn from their new mobile-first competitors? And how is mobile technology already helping to drive revenue in the hospitality industry?
Drive Revenue per Guest
Mobile provides hospitality companies with a platform to increase their revenue per guest. This lets them upsell services, add-ons and upgrades in a much more natural and personalised way. With a hotel app, for example, guests can request food and drinks to be ready upon their arrival. Or with a travel app, airlines can advertise airport lounges on the day for a quick way to enhance their holiday experience.
To boost sales of these services and upgrades, hospitality companies can use the insight mobile provides. After all, by 2020 our personal devices will know us better than our own families!1 Using mobile, companies will be able to experiment with personalised push notifications. Because the more relevant the promotion is to the user, the more engaging it is. Using this insight, upgrade offers and service promotions become much more enticing.
Streamline the Check-In Process
In a study, 65% of travellers indicated they would prefer to use mobile check-in.1 For hotels, many business travellers will prefer to skip the hotel lobby check-in and head straight to their room instead. With mobile, guests can check in from anywhere and get a push notification as soon as their room is ready.
This doesn't have to involve investing heavily in the Internet of Things. Using the hotel example, one cost-effective alternative would be to provide mobile check-in users with an in-app code. This would then open a corresponding lockbox with their key or keycard in it.
When it comes to hospitality, mobile offers up a cost-effective way to accommodate those guests who wish to streamline their check-in process. This drives customer satisfaction up whether it's hotel guests, travellers or event attendees. All while still offering the traditional lobby check-in to those that still want that more personal touch.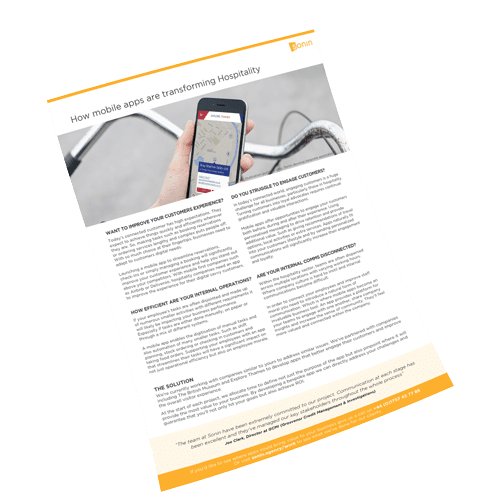 Download Our One-Pager 'How Mobile Apps are Transforming the Hospitality Industry'
Ensure Guest Satisfaction
A key benefit of mobile is that it opens up a direct channel between hospitality providers and their guests. This way, companies can be much more proactive when it comes to ensuring customer satisfaction. For example, a hotel could set up an automatic push notification to guests half an hour after they check in. This would ask them how happy they are with the room and service so far, giving them the option to raise any issues quickly and conveniently.
Similarly, with a bespoke app, a restaurant could send a push notification following a meal. Mobile makes collecting customer feedback faster and more convenient for everyone. All while helping hospitality companies to provide a more proactive service.
Encourage Long-Term Customer Loyalty
Last but not least is the challenge of customer loyalty in the hospitality industry. With so much choice and so many different comparison sites out there, it can be difficult for brands to build long-lasting relationships with their customers. But a bespoke app is the perfect platform for building an engaging customer loyalty program.
With mobile, companies are able to gamify customer loyalty through a system of points programs, challenges and goals. This gives customers a sense of accomplishment and encourages them to consider that hotel, travel company or event organiser first.
But thanks to the direct channel mobile opens up, a bespoke hospitality app also lets hospitality companies re-engage their customers through tailored push notifications. Restaurants can send time-sensitive discounts, organisers can suggest similar events and travel companies can advertise relevant holiday offers.
Mobile App Development for the Hospitality Industry
Mobile technology is changing the hospitality industry. Looking forward, customers will expect more and more from hotels, restaurants, travel companies and events. As one of these companies, a bespoke hospitality app meets your customers where they are: their smartphones. Mobile opens up a direct channel between you and your customers.
This helps you to:
Streamline hospitality processes
Ensure guest satisfaction
Upsell services and upgrades
Encourage long-term customer loyalty
We're Sonin, an app development agency and we build apps that transform businesses. Over the years, we've built hundreds of successful apps. There's something that links all the business apps we build. Our mobile app development process is built around your specific business goals. This helps to ensure to ROI, providing value for both you and your users.
Call us on 01737 45 77 88 or send us a message today to discuss your app development project.