Land Tech are the fastest-growing Prop Tech company in the UK, whose mapping platform allows property developers to make quick decisions about land purchases and beat their competition to renovate.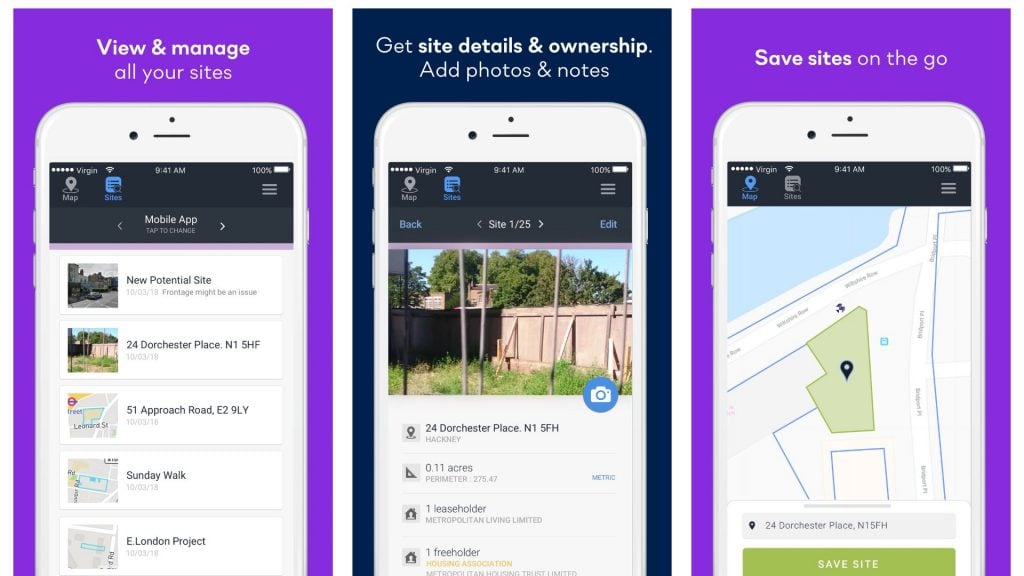 Land Tech identified a problem with property developers who commonly came across land that had the potential to be renovated whilst travelling. The property developers would stop, note down any information about the land that they could see i.e., street address and approximate size of the land, and then do extensive research to find out more information about it later.
Land Tech identified this as a process which could be more efficient with a tech solution.
Sonin worked with Land Tech to build an iOS, Android and web platform that resolves these challenges and helps property developers retrieve information about land quickly, easily and on-the-go.
The LandInsightGo app uses geolocation mapping functionalities to allow property professionals to quickly find the land and details about it. As well as this, they can save the sites they like to their pipeline if they wish to monitor the purchasing process.
These features impress customers by giving them the ability to be always in control, provide them with information at the touch of a button and increase their efficiency by giving insight into regulatory requirements for the land, too.
"We have worked with Sonin over the last eighteen months, during a period of rapid growth for our company. They have worked with us across both our main web-based mapping app and on the companion mobile platforms. The Sonin team were incredibly understanding, knowledgeable and always ready to help."
Chris Fleck, Chief Technology Officer, Land Tech
Build the Right Product
At Sonin, we help our clients build the right product by identifying their biggest challenges and discovering digital solutions that work for their business and their customers.
Experienced in using Artificial Intelligence, IoT, Virtual Reality, and Augmented Reality, we take advantage of the latest technologies to create intelligent and immersive experiences.

"Over the time working together, we have continued to develop a great product that aligned with both our user and business goals, and I have no hesitation in recommending the team."
Chris Fleck, Chief Technology Officer, Land Tech