Checkmate REDI
Streamlining Surveying
Checkmate is an innovative insurance provider, delivering structural and new home warranty insurance all across the UK. Being at the forefront of its industry, Checkmate has a wealth of experience in the areas of property, development and building. Keen to leverage technology in the insurance sector, the company approached us to develop a bespoke surveyor app for its builders and surveyors. One that would streamline projects and increase visibility across-the-board.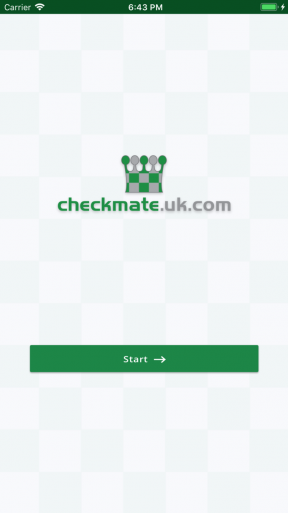 The Problem
It's essential that every building element is thoroughly inspected during a project. This is an absolute must to reach an acceptable level of risk that's required for each insurance premium. But with only three days on-site, visibility is incredibly important. Because during those three days, misinformation, lack of communication and clutter can lead to inefficient and delayed projects.
Looking back, Checkmate builders and surveyors would rely on digital cameras for capturing images of the site. They would then have to take these photos off-site then spend more time, later on, uploading them. To top it off, these images would be saved to a project database unorganised and in a random order.
This process wasn't just time-consuming, it made it incredibly difficult to track project progress. So, to solve this problem, Checkmate asked us to replace their old on-site system with a bespoke mobile app solution. The key aims of the mobile app were to:
Allow builders and surveyors to capture photos and videos wherever they are, whenever they want; even if they have limited or no reception.
Capture more information, providing much more context for all media uploaded to Checkmate projects.
Improve the visibility of Checkmate projects and provide real-time insight between team members.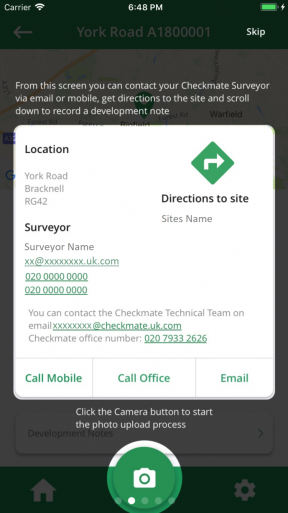 The Solution: A Bespoke Surveyor App
The mobile app, Checkmate REDI, allows builders and surveyors to quickly capture photos and videos on-site. But, more importantly, the mobile app allows users to assign project plots and stages to every single photo they upload. What this means is that every media file has the information required and projects overall are much more organised. In addition to this, builders and surveyors don't have to spend time at the end of a busy day uploading photos from their camera.
The automatic in-app optimisation means that uploading media is super fast and doesn't take up device storage. And as soon as images are uploaded by users, they can be seen by other team members. This means that there's no confusion over whether specific images have been uploaded or not.
One potential frustration we identified was surveyors finding their way to each site. To make this as easy as possible, we added a 'further details' view of each site. Through this screen, surveyors can see the site location on a map. And through API integration, Checkmate REDI links to Google and Apple Maps for easy navigation.
Finally, builders and surveyors are often based in locations where signal strength is poor or non-existent. To combat this, we built in an offline mode lets them use the app wherever they are. As soon as they then re-connect to the internet, any images or videos they've taken are instantly uploaded and can be seen by other team members. This ensures that everyone has consistent access to the most up-to-date project files.
The app has maximised site-to-office integration for Checkmate. By giving builders and surveyors the real-time tools they need, Checkmate REDI has streamlined their day-to-day process. Eliminating their frustrations, saving them time and allowing them to collaborate in real-time.
The app is available on both the Google Play Store and App Store for Checkmate members only.