Chancellors Estate Agents
Chancellors Group are one the UK's leading independent Estate Agencies who have an extensive branch network across the south of England and Wales. From Berkshire to Buckinghamshire, Surrey to Oxfordshire and even North West London, many people use Chancellors to buy, rent and sell properties every day. The Chancellors estate agent app was designed to assist people with the latter.
The app serves both enterprise and marketing purposes. It was designed as a tool to both keep estate agents working efficiently whilst assuring clients that their properties were being properly managed at all times.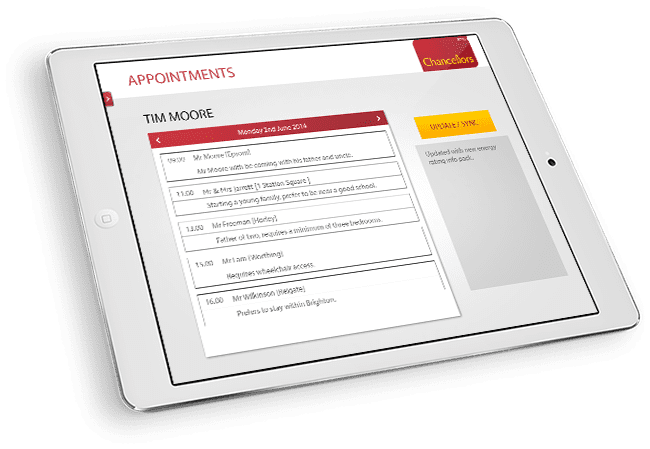 A number of useful features were implemented in this project, including an in-app seven-day itinerary of past and upcoming appointments, the ability to take and upload photographs of properties straight from the app, and an auto-sync feature where all files were backed up to a web-based server every day. The app also allows staff to present other marketing-focused documents to clients.
One of the main aims of the project was to transform Chancellors' client agreement document into a digital alternative, which in turn would save time and resources for staff both on-site and in the branch. Upon estate agents and clients agreeing terms with one another clients could then sign this agreement simply by using their finger. This was then saved as a PDF document and sent to the relevant branch for filing and also sent as an email to the client for their reference.
The app has been distributed to hundreds of Chancellors staff across all branches and its benefits are being felt on a daily basis.