45,000,000
Designs Viewed
on Platform
125 Design Studios
Using the Platform every day
35,000
Video Designs Created
Over 150 years
Industry experience
800,000
Designs Added
to Pinboards
B2B E-commerce
Platform Running
24/7
Are you looking to deliver results?
Project Aims
Sonin worked with The Pattern Cloud to produce a bespoke platform containing hundreds of thousands of designs.

The primary goal was to build a platform that made buying designs more efficient and accessible for their customers.

Key Features of the Platform
Studio Set Up & Analytics – Studios can run their design businesses through the Pattern Cloud platform. Publishing designs, managing sales and reviewing analytics of their online design store.


Built-in Design Search Feature – With this, users can quickly and easily perform complex, multi-faceted searches, helping them find the perfect design for their project.

Motion & Video Designs and Image Mapping – The software also supports motion and video designs and image mapping, dynamically mapping the patterns onto garments, giving users the ability to create stunning visuals that can be used for promotional campaigns, websites, and more.

With all of these features, Pattern Cloud's software makes it easy for agents and businesses to create and purchase the perfect designs.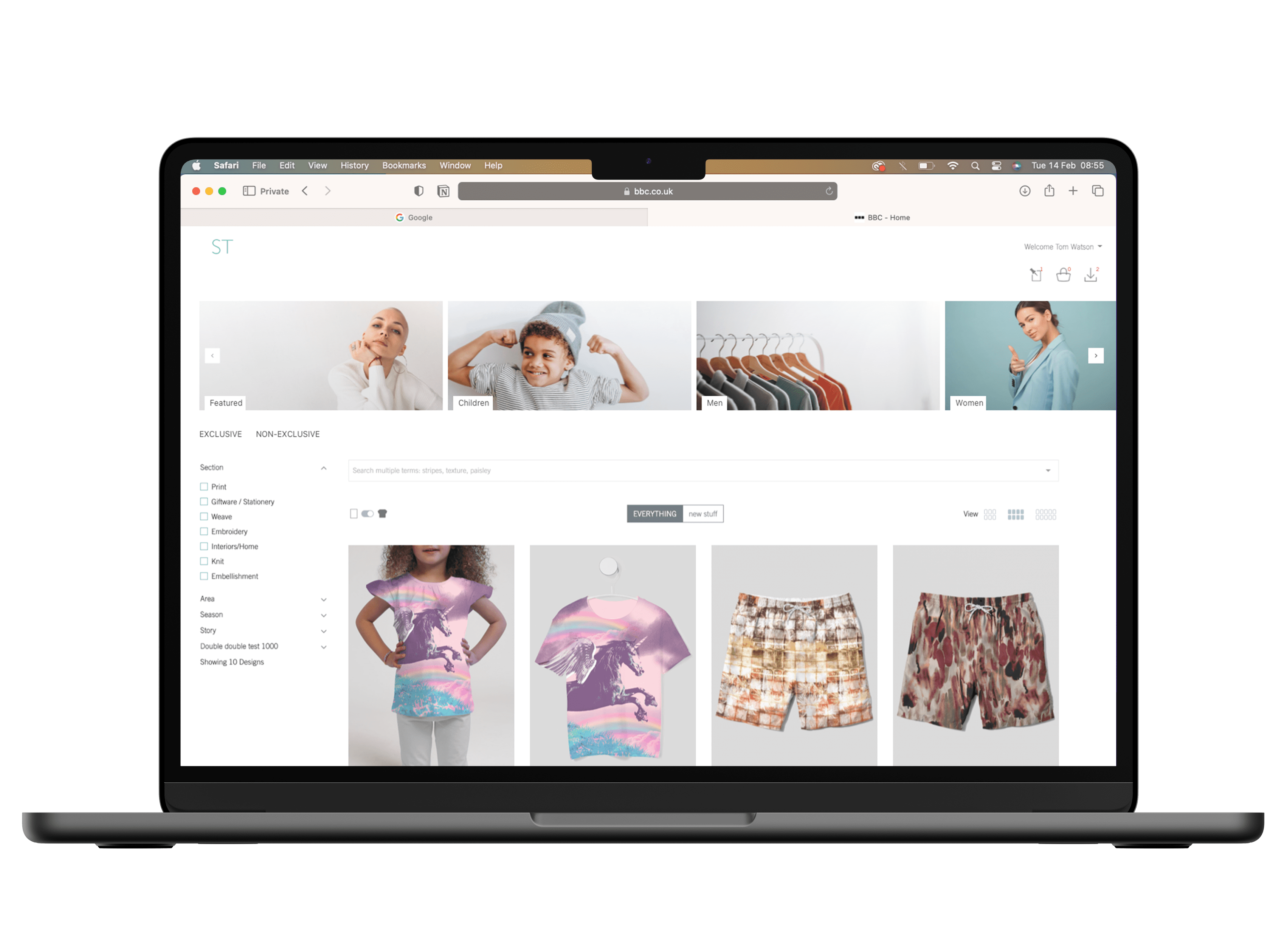 Do you have a project in mind?
Our experts are on hand to help you build the right product.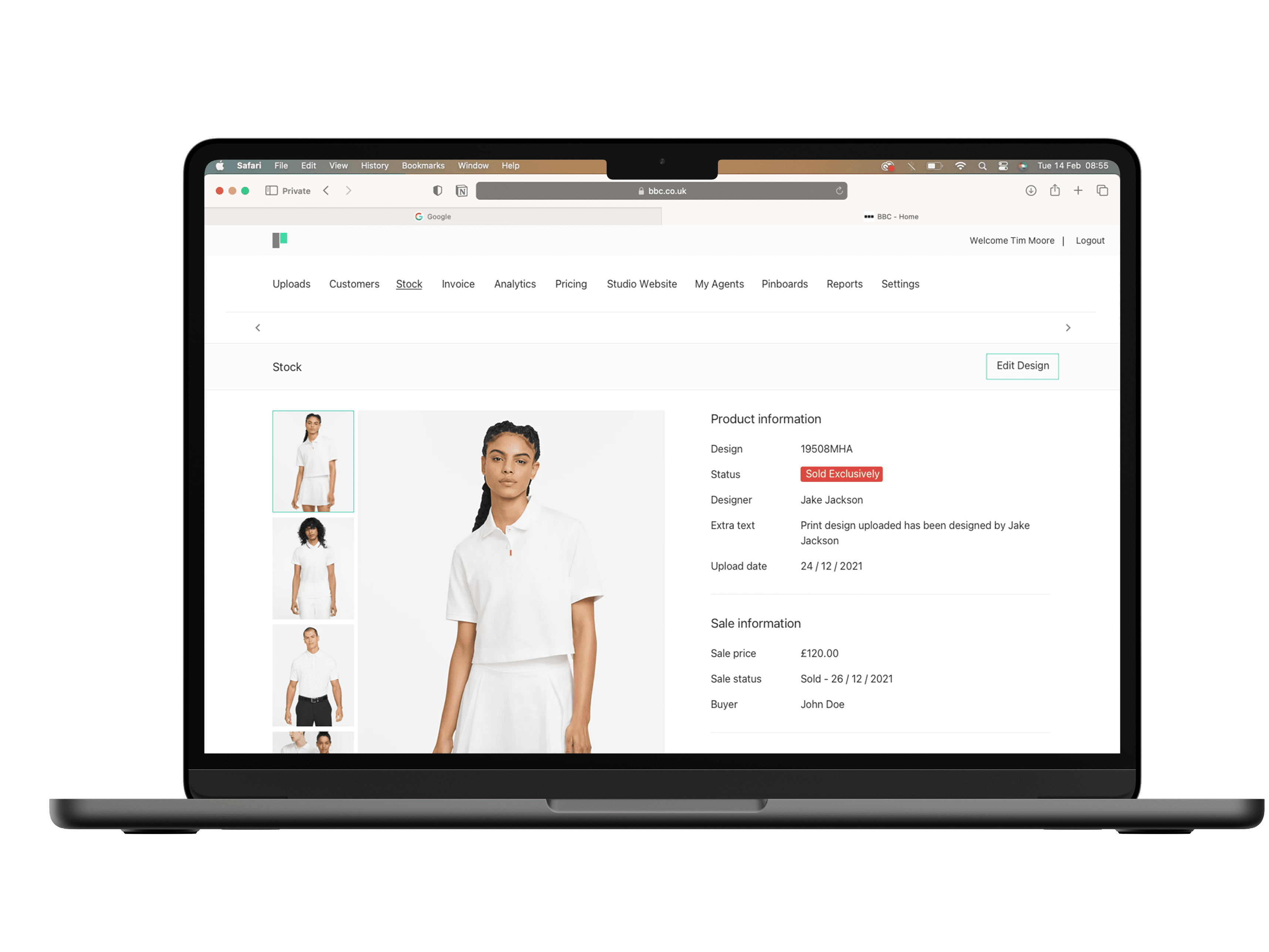 The Story
The Challenge
TPC wanted buying textile designs to be more efficient and accessible.
The Pattern Cloud approached us to make buying designs more efficient and more accessible. In today's world, that means moving the textiles industry online.
When it comes to the textile industry, there are still many design studios that have yet to embrace modern technologies. For example, relying on physical designs can be inefficient and costly for textile design studios.
That's why The Pattern Cloud approached Sonin to build a bespoke, native web platform.
The Approach
Delivering a bespoke 24/7 textiles B2B e-commerce platform.
We worked with The Pattern Cloud to build a bespoke 24/7 textiles B2B e-commerce platform.
We conducted extensive user research to determine the needs of the platform's users, allowing us to create a platform with multi-user access. This includes distinct areas for studios to market their designs, agents to buy and sell designs on behalf of studios, and end-customers to purchase designs for themselves.
The Result
Over 125 Studios are elevating their businesses to new heights and more.
Through the TPC web platform, over 125 design studios have been empowered to manage their businesses more efficiently and reach an unprecedented level of success.
The platform allows agents and customers to view over 45 million designs, all of which can be saved offline. This bespoke software solution also allows studios to set up online shops, analyse their data, and create customer accounts to browse and buy.
Transform your business by building the Right Product.
Since its launch, The Pattern Cloud has seen over 45 million designs viewed on the platform, 800 thousand designs added to pinboards, and over 35 thousand video designs created.
This is a testament to the success of the platform, which continues to empower studios and elevate their businesses to new heights. With the help of The Pattern Cloud, the design industry is now more interconnected, efficient, and successful than ever before.
Are you ready to lead the way in your industry?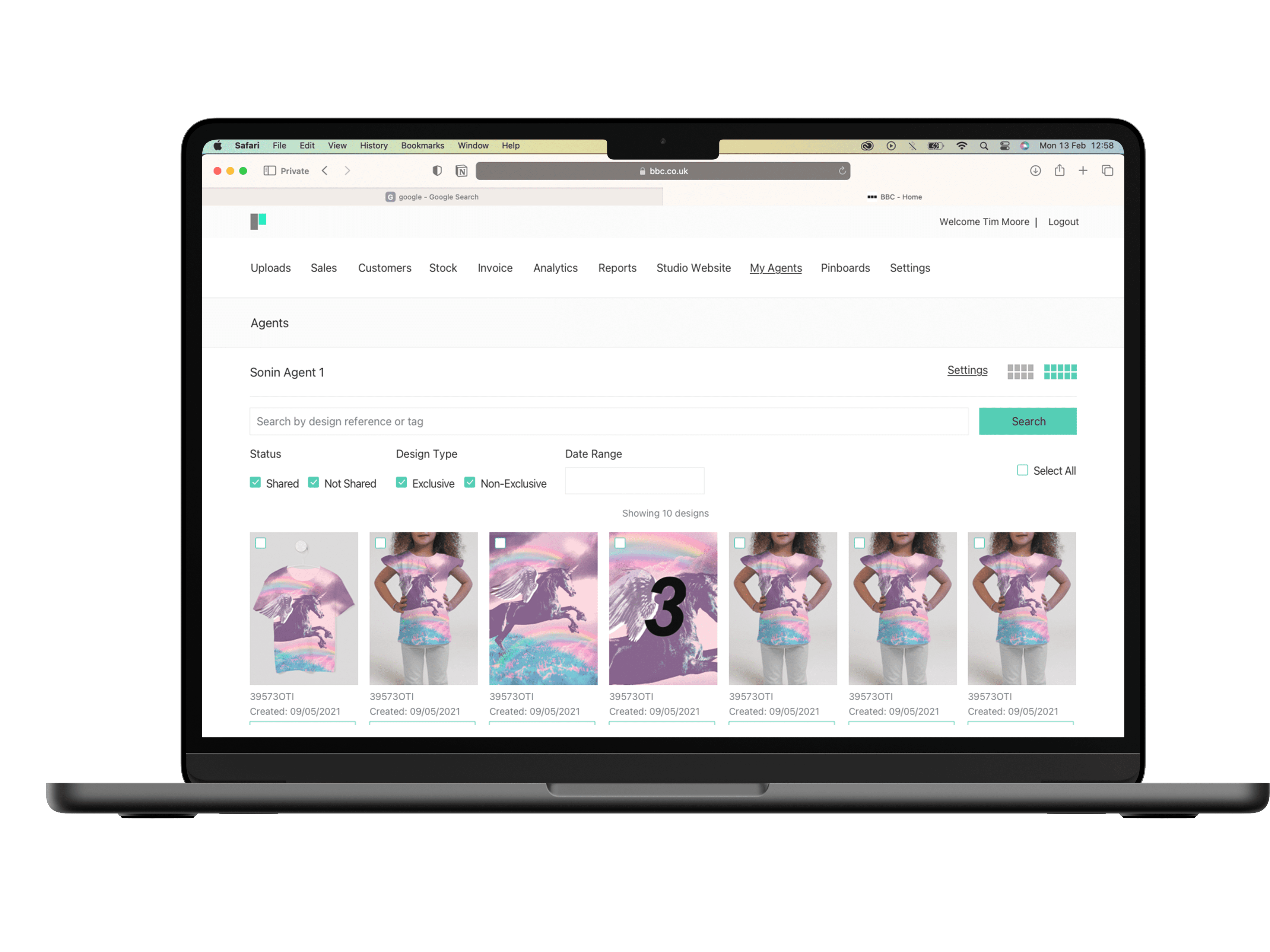 Disrupting the Textiles Industry For the Better
B2B E-commerce
Platform Running
24/7
With 150 years
Industry experience
And 125 Design Studios
Using the Platform Everyday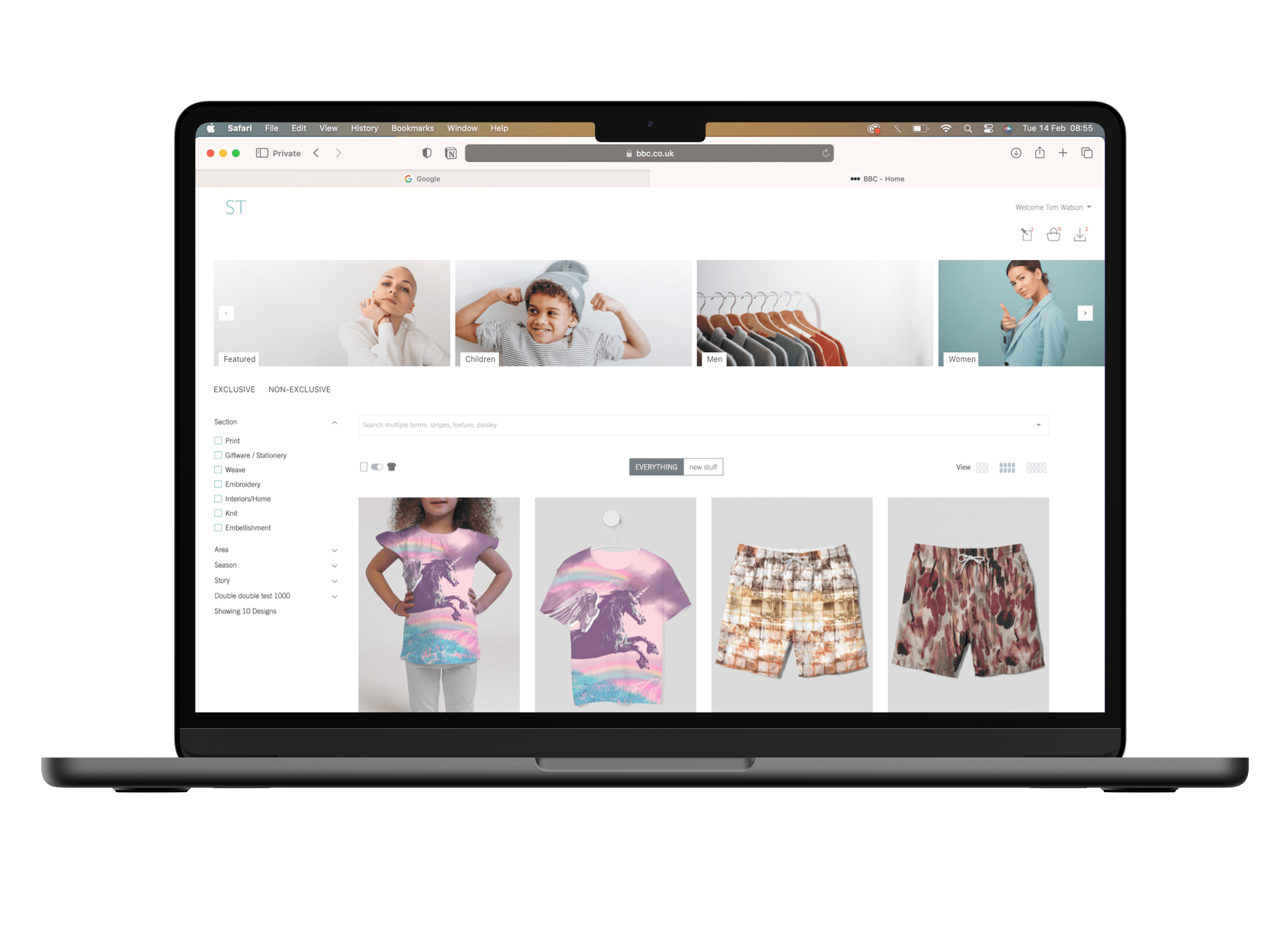 Empowering The Pattern Cloud to Thrive in an Evolving Market Place
45 Million
Designs Viewed
on Platform
800 Thousand
Designs Added
to Pinboards
35 Thousand
Video Designs
Created
Are you ready to revolutionise your industry?
CLIENT'S THOUGHTS
"Sonin communicate very well. They ensured the solution we asked for was going to give us the best result.""

James Hartley, Director, The Pattern Cloud
Let's build a B2B E-commerce Platform
The platform proudly facilitates over 300,000 designs of 150 design studios worldwide.
To see what we could help you achieve, get in touch today!