In an industry that's constantly evolving, we feel it's important to give you the latest mobile and tech news. Because whether you're new to mobile, an industry leader, or an international brand, having the latest mobile and technology news is vital to the success of your mobile app development. So, here are the top tech stories from November 2018.
To make sure you don't miss out on the latest mobile news, sign up for the Sonin newsletter today. Here are the quick links to the top stories of our October Mobile & Tech news:

Snapchat's Success with Shoppable AR
Right now, Snapchat offers advertisers something unique. Through the app, marketers can replace static ads with memorable and immersive experiences. Snapchatters can try on virtual product lenses and just tap a button to launch the accompanying mobile website page. This way, through augmented reality (AR), brands can connect with their customers like never before.
According to Snapchat, over 70 million people play with its AR lenses every single day. Some lenses enhance reality, adding 3D objects and layers on top of the live camera feed. Others, like the 3D World Lens, transport the user to a completely new location. Netflix was the first to make use of this feature, using it to promote the Season 2 premiere of their series 'Stranger Things.'
When done right, these immersive experiences drive brand engagement. They help companies to create memorable and, more importantly, fun experiences. Here are some Snapchat Success stories:
Ford: 32.2 million impressions, 13.26% open rate and a 406x lift in test drives.
KFC: For every Snapchatter who used the KFC Lens, 20 more users saw it. This resulted in an 18% lift in store visits, costing just $0.21 per visit.
PlayStation: The first ever use of Audience Lens by a gaming company resulted in a 9+ point lift in brand favorability and a 9+ point lift for intent to purchase.
The secret to Snapchat's success? Turning adverts from something you ignore while waiting for your video to play into something people are actively engaging with and even sharing. In today's connected world, people are turning to friends, family and social media to discover new products. Snapchat meets customers where they are in a way that delights them instead of irritating them. Something that other platforms are struggling to catch up with.
Recommended Reading: Customer Experience – Your Biggest Challenge in 2019.
Source: Snapchat for Business


HSBC Drives Down Wait Times with Smartwatch Tech
HSBC partnered with Samsung to explore the impact of mobile technology on its branches. Specifically, the banking group was interested in how smartwatches could its streamline operations and improve its customers' experiences at its brick-and-mortar branches.
Between 2008 and 2013, the number of phone calls to banks dropped by 43%. Even though more than three-quarters of people prefer face-to-face interaction for complex banking tasks. When you think about the traditional bank branch experience though, that's hardly surprising.
With a bespoke smartwatch app, HSBC bank associates can send alerts to colleagues wherever they are in the building. Preset instant messages and replies make it easy for staff to determine who's best to handle the customers' request. Through mobile, HSBC has been able to drive down wait and response times in the pilot branches.
Recommended Whitepaper: What Digital Natives Want from Financial Services
Source: Mobile Marketer


Say Hello to Samsung's Foldable Touchscreen Phone
Samsungs first foldable phone, arriving early next year according to reports, will carry a heavy price tag of between £1,500 and £2,000. Unfolded, the handset boasts a 7.3-inch panel with a 1536×2152 resolution. This has huge potential for multitasking on-the-go, enabling remote workers to effectively carry a small tablet in their pockets.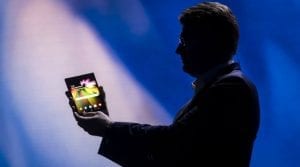 As more and more people begin to work remotely, mobile will become an increasingly essential part of employee engagement. Yes, staff will need to achieve more from wherever they are and mobile answers tech this demand. But it also opens up a direct channel between employees and remote workers. Through which companies can engage their employees in a completely new way. One where every interaction is recorded for future reference, helping businesses better understand their staff going forward.
Recommended Reading: Engaging Remote Teams with Enterprise Mobility
Source: Digital Trends